Film and TV
Netflix: The Future Is Now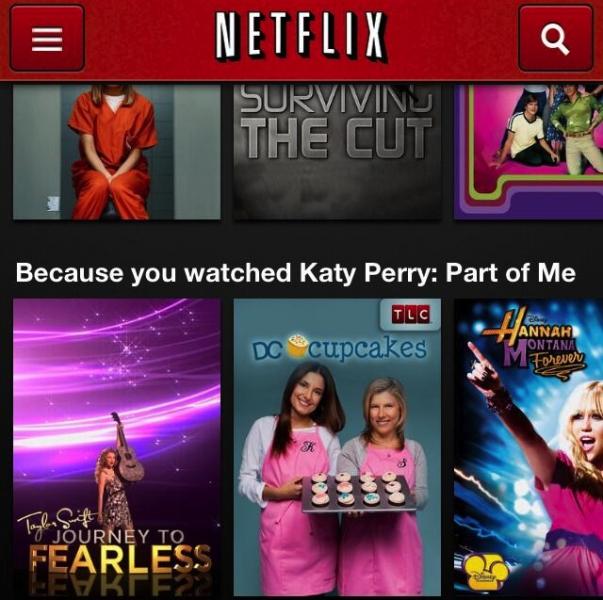 Charles Darwin once said, "It is not the strongest of the species that survives, nor the most intelligent... It is the one that is the most adaptable to change." This quote has proven true time and again in every aspect of life from evolution to technology.
READ MORE: 10 Movies On Netflix Worth Watching
Sixty years ago, no one could have predicted that one day people would be able to sit down at a computer and watch their favorite TV shows from both the past and the present. In fact, no one even had a personal computer back then. Today, most people have come to rely on mobile, tablet, and computer technology to watch TV. The ways in which society has adapted to the digital age are because of companies that have made it possible for them to do so.
READ MORE: The Netflix & YouTube Traffic Jam
Especially in the modern world, the ability to adapt has become essential to surviving in business. Technology has forced businesses to become more innovative and creative, and it is because of this push that Netflix was able to make a comeback when it was on the brink of extinction. By utilizing the advancements of the age of technology, Netflix went from a DVD-by-mail provider to a trailblazer of online streaming video. The company, which started as a DVD-only provider of small indie films, came to terms with their unsuccessful business model just three years ago. They began to shift focus to the streaming business, which allowed them to begin to revolutionize and revitalize the TV industry (NYTimes). With the addition of original content through series like "House of Cards," "Orange is the New Black" and "Arrested Development," Netflix's subscribers reached over 40 million last month, surpassing HBO's viewership (Netflix). After finally finding a system that works, Netflix has made it clear that this is only the beginning.
READ MORE: 'Orange Is The New Black' Review
Think about where we are in our TV watching experience today; now imagine if new major motion pictures were added into the mix. In a keynote speech at the Film Independent Forum last month, Netflix Chief Content Officer Ted Sarandos revealed that the next step for the company was trying to release feature films closer to or on the same day as their theatrical release. His comment was greeted with much disdain from film executives, who believe that Netflix's plan will kill the film industry and shut down movie theaters for good (Deadline.com). However, the concept of Netflix taking over the movie business should not come as a surprise. Despite movie executives' resistance to this idea, Netflix has already proven that they can transform the TV industry in countless ways. Its success and affect on the TV business have made the plan to change the movie business inevitable as Netflix has learned how to successfully adapt in the digital age. Although, it's still amazing to think about the fact that this used to be the underdog company that mailed red envelops to our homes.
Netflix has since changed the way the world sees TV through both the creators' and consumers' experience. Sarandos explained that moving into TV was not something the company anticipated because it originally only made up 15% of its content. (Film Independent) However, through original programing and releasing full series through online streaming, Netflix has become the future of TV. Just last year the company landed 14 Emmy nominations, and won for its original show "House of Cards" in Outstanding Directing, Cinematography, and Casting in a Drama Series, making it the first web-only series to win during a Primetime Emmys. Netflix's original content has demonstrated the company's ability to make a high-quality product for a viewer-friendly distribution. Its shows are released on a full-season system, where viewers don't have to wait a week to find out what happens next; according to a survey conducted by Cowen and Co, 90% of consumers prefer this model (Deadline.com).
READ MORE: 'House Of Cards': Why You Should Care About Its Emmy Win
Thus, shows like "House of Cards" not only increased subscriptions but also improved subscriber loyalty (The Atlantic). Netflix's full season release has started the trend of 'binge watching' shows. Through the creation of these shows Netflix was able to rebrand itself as a company, "built on giving the consumer what they want." (Film Independent) Netflix original series also changed the TV business as it solved the risk of series being canceled after the release of their pilot or mid-season. Since the response to this business model was so successful and well received, NBC and FOX have followed Netflix's lead by ordering full series, but for network broadcasting (Film Independent). The widespread popularity of Netflix has can also be connected to the recent fall of TV sales and subscriptions. According to the Cowan and Co. study, approximately 23 percent of Netflix subscribers said they had cancelled their cable or satellite TV service (The Atlantic), while several reports have shown the growing decrease of TV sales in the past two years (NYTimes).
READ MORE: Netflix's 'House Of Cards' Marks Turning Point In History Of Television
Not only has Netflix made a name for itself in the TV industry, but it has also improved preexisting shows by helping them gain viewership. Although Netflix does not determine the success of its content based on individual ratings like the Nielson report, its impact on series' success is not all that mysterious. The company's purchase of the AMC series "Breaking Bad," demonstrated the beneficial results that series releases have for network viewership. After Netflix added the first 5 seasons of the show to its streaming content, the on-air final season premiere drew in 5.9 million viewers, which was almost double the audience for the previous year's premiere (Variety). Although "Breaking Bad" snagged the Outstanding Drama Series Emmy from "House of Cards" this year, it was still a win for Netflix. The success of the series showed Netflix's powerful role as a helpful adjunct for TV, not just a competitor.
Now the company wants to change the movie business by streaming films closer to their theater release. Film executives have warned against this idea claiming that this would kill the movie theater business. "The only business that would be helped by [same-day] release to Netflix is Netflix," said National Association of Theater Owners President and CEO John Fithian (Deadline.com). Although Netflix would undoubtedly benefit from the addition the company believes that it would also save the movie business as theaters have already begun to kill it. Netflix has stated that the movie industry's system of releasing films to DVD 90-days later needs to go, as it does not serve the consumer's desire to get content faster (Sarandos).
The film industry's lack of innovation and the resistance to change has already driven people out of theaters and box-office sales to become risky than ever. Just last year a report came out that more than 61% of adults said that they rarely or never go out to the movies (TIME Magazine). This decrease in theater attendance is also because of an increase in ticket prices, which has led to a surge in illegal streaming and downloading of films online. Film production costs millions of dollars more than used to, and because theaters have to pay a higher rate for studio distribution ticket prices continue to rise. It can now cost up to 15 dollars to go see a film and compared to Netflix's $7.99 monthly subscription fee it's not hard to guess which one consumers would prefer. Another issue with the increase of these million or billion dollar movies is that they're not all that spectacular. These blockbuster flops end up costing studios more than they make in box-office sales. Just this summer Disney lost upwards of $150 million on their would-be blockbuster "Lone Ranger."
READ MORE: Film Review: 'The Lone Ranger'
Netflix believes it is time to step in and revitalize the industry, much like they did to TV. Sarandos does not believe releasing bigger films closer to their theater release date will drive crowds away from movie theaters because people still want to go out and see a spectacle. Essentially it's the same reason you wait in line to see the "Hunger Games" premiere or to see "Gravity" in 3D: people will show up for a special event film. Netflix also believes it will eliminate the risk of high budget movies failing because of its license payment, which is a flat distribution rate the company pays a studio for its content that is not affected by how well a film does individually. However, the film executives dislike this idea because they believe they would be losing major profit despite the recent limited success of blockbuster films.
READ MORE: Film Review: 'Gravity'
Regardless of the movie industry's resistance to change, Netflix has already proven that the evolution of the film industry is imminent. Since converting to a streaming system, Netflix has played a critical role in the decline of the video age. When the company became the leader in DVD-by-mail services, Blockbuster, the video chain that dominated the business in the 1990s, began to lose popularity. This November, the company announced that it would close its 300 remaining U.S. retail stores as well as its DVD-by-mail service (Deadline.com). Not only has Netflix done a successful job in eliminating outdated competition, it has made steps to making a name for itself in the movie industry by purchasing content that is likely to land it an Oscar nomination (TIME Magazine). Netflix has acquired the first-run rights to "The Square," a documentary on the Egyptian protests in Cairo's Tahrir Square, which will debut exclusively on Netflix early next year. While it's impossible to say how close Netflix is to making the idea of releasing new feature films a reality, it seems to be affecting all of the right areas of the film industry in order to make it a contender in movie industry success.
While there are still obstacles to overcome, the ways in which Netflix has been able to both conquer and help the TV industry and affect the film industry demonstrate that it is well on its way to changing the future of the entire media business. The company has proven that the entertainment business is not a winner-takes-all game, but an adaptation to keep up with the advancements of supply and the increase of faster demand. Netflix was able to revitalize TV by bringing shows more fans, creating new content and giving consumers what they want when they want it. While it will be a process to find a system that works for movies, it's not a far-fetched idea that you could be watching new releases from the comfort of your own couch very soon.
READ MORE: Netflix Looks To Simultaneously Release Movies Online And In Theaters
Reach Staff Reporter Elisabeth Roberts here. Follow her on Twitter.