Entertainment News
In Case You Missed It: The Entertainment Industry Throws It Back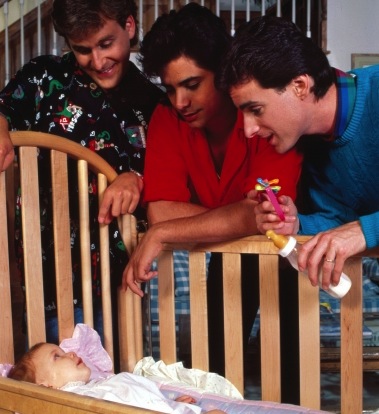 Every Friday, Film Editor Kathy Zerbib brings you the top five highlights of the entertainment world. In case you missed it, here's what's going on this week!
Is A "Full House" Reunion Series In The Works?
Short answer: no. Bringing back "Full House," a beloved family-friendly series, would be the ultimate throwback to the '80s and '90s. Remember Mary Kate and Ashley Olsen, the twins who played cute little Michelle? Remember Uncle Jesse (AKA John Stamos), the guy with the great hair and dazzling charm? Remember DJ and Stephanie (Candace Cameron Bure and Jodie Sweetin, respectively), and their constant love-hate relationship? Bringing them all back together would be an endearing reunion… But would the show actually maintain ratings?
Well, we'll never know. DJ, Stephanie, and Michelle won't be the focus of a new "Full House" spinoff. The comeback rumors have been shot down by anonymous sources for Warner Brothers and ABC. Looks like another Internet prank or the naive hope of a super fan.
Still, don't write off the idea just yet. Bure recently tweeted, "Are the Full House rumors true? The original article was an old April Fools hoax that resurfaced. So no, not true. But-never say never." Never say never? Hmm…
NBC Casts Carrie Underwood In "Sound of Music" Remake
"The Sound of Music" is the throwback of musical throwbacks. NBC is hosting a live performance of Rodgers and Hammerstein's classic with Carrie Underwood as Maria and Stephen Moyer as Captain Georg Von Trapp. Though there isn't a prepared trailer for the movie - it is live, after all - NBC has released clips from rehearsals.
Watch the sneak peek video below. The musical airs on NBC on Thursday, December 5th.
READ MORE: A Tough Act To Follow: Underwood To Play Maria Von Trapp
"High School Musical" Alum Olesya Rulin Cast In R.L. Stine's "Eye Candy"
Two throwbacks here - "High School Musical" and "Goosebumps" author R.L. Stine. MTV is taking Stine's best-selling book and turning it into a cyber-thriller television show named "Eye Candy." Victoria Justice was cast as the lead Lindy, a tech guru who tries online dating and believes one of her dates to be a Manhattan cyber killer. With a group of hackers on her side, Lindy will go after her mysterious suitor and see who he really is. Olesya Rulin will play her best friend and roommate, who coaxes Lindy to start online dating. Also part of the cast are Justin Martin ("Flight"), Lilan Bowden ("Suburgatory"), and Harvey Guillen ("The Internship").
Does this show's plot sound familiar? Maybe it's a little too "Pretty Little Liars" meets "Catfiah." Maybe that's a good thing, or maybe it's a flop. Do we really need another Penelope Garcia from "Criminal Minds"? Her fabulous computer genius self is doing great on her own. It's all too soon to tell, of course. Hopefully, Victoria Justice does R.L. Stine's book justice.
Eminem Releases "MMLP2"
Rapper Eminem was welcomed back by his fans after a hiatus in a big way. His new single "The Monster" featuring Rihanna went number one on Britain's charts. His eighth studio album "Marshall Mathers LP 2" is set to become the fastest-selling album of 2013 in the United Kingdom and the United States. His only competition is Justin Timberlake's "20/20 Experience."
Eminem's last album "Recovery" was released back in 2010.
Listen to "The Monster" below.
READ MORE: In Case You Missed It: Super Fans, Crazed Celebs, & More
JBiebs Caught On Video By Brazilian Woman
One lucky Brazilian woman now has a video for Throwback Thursday. Tati Neves filmed Justin Bieber asleep in a house in Brazil. Was this a commemoration video of her night with the Biebs? Was she just a random woman who snuck into his room?
Early reports said Bieber was in a brothel and the woman video taping him is a prostitute. The report stemmed from earlier allegations that Bieber visited Centaurus, an actual brothel, and thought it was an exclusive club. Since then, both sides have denied the accusations, stating Bieber hosted an after party at a home he rented in Brazil. She just happened to be one of the guests there and wanted some evidence she had been around the 19-year-old popstar. This begs the question… Will Bieber fire his security for their shoddy work? Guests are supposed to have their phones confiscated when partying with the Biebs, but this 26-year-old woman was able to film a grainy video anyway.
So just who is Tati Neves? She's a bodybuilder from Rio de Janeiro. She won the 2012 Miss Bikini Wellness pageant. She models. She's upset over the blacklash she's now faced with since the video went viral. See some of her pictures here.
Watch the 15-second video below.
READ MORE: Justin Bieber Needs To Take Responsibility
Find all the "In Case You Missed It" posts here.