Entertainment News
In Case You Missed It: Everyone In Entertainment Is Upset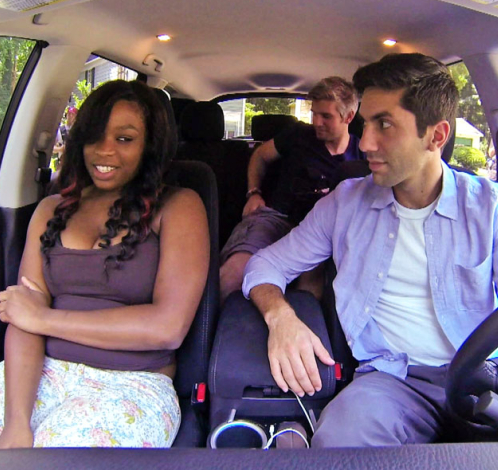 Every Friday, Film Editor Kathy Zerbib brings you the top five highlights of the entertainment world. In case you missed it, here's what's going on this week!
Catfish Impersonates Bow Wow, Does Poor Job
If you've ever seen MTV's "Catfish," then you know the hit show features some crazy-sounding stories. This week was no different.
Keyonnah, a single mom in North Carolina, believes she is dating rapper Bow Wow. She had messaged his fan page, and the "106 and Park" rapper supposedly messaged her back. They've been in a relationship ever since, but he makes excuses not to video chat with her and doesn't try to see her in person. Keyonnah calls on Nev and Max for help on meeting her dream man since childhood. Of course, the two investigators are skeptical from the start… Until Keyonnah tells them "Bow Wow" wired her $10,000. Money from a catfish? This is unheard of.
Nev isn't totally convinced during the investigation period that the person isn't Bow Wow. There are plenty of leads, but no concrete proof to tell either way. When it comes time to meet "Bow Wow," he sticks to his identity until the MTV crew and Keyonnah are at his front step.
READ MORE: Have You Been Hooked By MTV's 'Catfish'?
And… It's not Bow Wow.
Because, really, would Bow Wow have the time to carry on an online relationship? The person behind Bow Wow is a lesbian rapper who goes by Dee Pimping. The person on the phone with Keyonnah on a regular basis was Dee's cousin. Keyonnah is completely shocked.
What's truly hilarious is what Dee - now confirmed as a catfish - tells MTV. Apparently, Dee uses a "lambskin" dildo when engaging with straight women, so her sexual partners are usually unaware that she's not a man. That's the beauty of television… All those women will now know.
As for the $10,000 present, Dee had borrowed money from friends and family to send Keyonnah. Dee hoped Keyonnah would overlook her female-ness because of the money… Keyonnah just couldn't wait to get away.
So, where is Bow Wow in all of this? Oh, he's milking the attention. In a video for BET, Bow Wow waves his hands, shakes his head, laughs maniacally, and invites Keyonnah and Dee to do an interview and explain themselves. Overall, it was ridiculous. His excitement to be the focus of the night was adorable, but also annoying. Watch the video for yourself below.
America's Sweetheart Ariana Grande, A Cheater?
Let's break it down. Singer Ariana Grande was dating Jai Brooks, of the Janoskians (Just Another Name Of Silly Kids In Another Nation). Almost immediately after the two cut ties, she started going out with The Wanted's Nathan Sykes. Like, immediately. Sound suspicious? Brooks tweeted a long letter over the weekend that basically said Grande had cheated on him and that he wishes the best for her and Sykes. Yikes.
Of course, Grande responded with a series of tweets bashing Brooks. She claims Brooks told her he would make up lies about her if she left him, but that she was no longer scared of his threats. He naturally sent one last tweet to tell her he was shocked she would lie about it. Oh, celebrity drama.
READ MORE: Celebrity On-Off Relationships: A Genius Plan
Kanye West Goes On "Jimmy Kimmel Live!"
Jimmy Kimmel had Kanye West on his talk show to hash out their Twitter feud. Yes, it had the potential to be extremely awkward. Yes, it started pretty awkwardly and Kanye's death stares to Kimmel were quickly picked up on. But, hey, Kanye's rant about his last rant made for great TV and boosted Kimmel's ratings.
Kimmel had Kanye on to discuss their little fight. Kanye was mad at Kimmel for spoofing his interview with BBC and took to Twitter to call Kimmel out. Oh, and don't forget about the hilarious memes (NSFW) he made for Kimmel.
The host, without exactly apologizing, says he didn't know the music artist would take his jokes so harshly. As a little gift, he also gives Kanye a pair of mini leather jogging pants for North - which Kanye had insisted before was his idea.
Kanye goes on another rant, but this one isn't exactly aimed at Kimmel. Kanye goes off on everything from fashion to society's rules to the media. He starts off by calling himself a "creative genius," which he repeats throughout the interview. Kanye says he doesn't do publicity stunts (Answering some criticism towards him and Kim Kardashian, maybe?). Kanye then goes on to refer to the media a group of zoo animals. He also calls out the people behind the stars on Hollywood's Walk of Fame for not giving Kim a star because she does reality TV.
READ MORE: Yeezus Says The Darnest Things
Sidenote: Aren't Kanye and Ken Lawrence from "Project Runway" quite similar in how they act? They both go off on rants and lash out, but they do it while looking fashionably.
Interestingly enough, Kanye mentions some phones cost $4,000, which he disapproves of. Wait… How much does Kanye charge for his plain white tees? $120? …Oh.
In the nicest way possible, the talk show host tells Kanye he brings the controversy on himself, at times. "A lot of people think you're a jerk," Kimmel tells Kanye. Kimmel asserts the two of them "took it back to high school" when they engaged in an online battle.
Watch the first part of the interview below, and the second part here.
Kris Jenner & Bruce Jenner Split After 22 Years
Buckle your seat belts and brace yourself for another messy celebrity breakup.
The separated couple may be on the brink of a colossal divorce. About $125 million is at stake, and no prenup to facilitate.
The media is having a field day with the news. NY Daily News reported that Bruce's sons are happy with the breakup, Hollywood Life said Bruce is already out flirting with attractive girls, and Perez Hilton shot down rumors that Kris moved on with "Bachelor" star Ben Flajnik.
So… Imminent divorce or just a separation? It's too soon to tell for sure, but we'll stay tuned.
"Glee" Tribute To Cory Monteith Is Heartwarming
On this week's episode of "Glee," it was fin to Finn.
The tribute to Cory Monteith, appropriately entitled "The Quarterback," is heartfelt and memorable. "Seasons of Love" from "RENT" opened the show. Lea Michele, also Monteith's real-life girlfriend, sang "Make You Feel My Love." Naya Rivera covered "If I Die Young." Chord Overstreet sang "Fire and Rain."
The episode focused on Finn's life, without going into his death. There was no mention of drug use, which was to be expected. The show chose to celebrate his existence, not his passing. Was this a sensible decision, or did the show miss an opportunity to educate people on the dangers of drug use? That's up for debate.
One thing is for sure - the cast's emotions were very real. The tears, the grief, and the heartbreak flew through the television screen and touched every Gleek watching. This was not just good acting, this was a group of people who mourned the loss of a friend together.
Find some reactions to the "Glee" tribute below.
Find all the "In Case You Missed It" posts here.
Reach Film Editor Kathy Zerbib here. Follow her on Twitter here.