Los Angeles and Region
LAPD Calls Shooting Of Two Women 'A Tragic Misinterpretation'
During the ongoing manhunt for fugitive ex-LAPD cop Christopher Dorner, at least seven LAPD officers fired multiple rounds at two women delivering newspapers in Torrance early Thursday morning.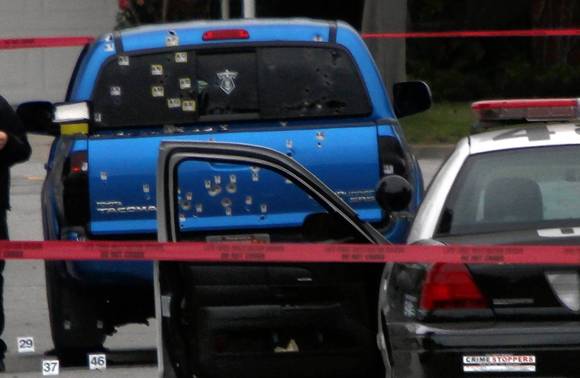 In an interview with the Los Angeles Times published Saturday, LAPD Chief Charlie Beck called the shooting "a tragic misinterpretation" by officers working under "incredible tension," in the search for Dorner, 33, who is wanted for the double homicide of a young couple in Irvine with ties to the LAPD and two officer-involved shootings in Riverside County, in which one officer was killed.
READ MORE: A Timeline Of Dorner's Alleged Crimes
Armed LAPD officers are still guarding more than 40 people mentioned as targets in Dorner's online manifesto. In the piece, posted on Facebook, Dorner vowed to use "every bit of small arms training, demolition, ordnance and survival training I've been given" to bring "warfare" to the LAPD and its families.
The Los Angeles Times recounts the shooting of the two women:
"...around 5 a.m. Thursday in Torrance, police from nearby El Segundo saw a pickup truck exit a freeway and head in the general direction of the Redbeam Avenue residence of a high-ranking Los Angeles police official, which was being guarded by a group of LAPD officers.

A radio call indicated that the truck matched the description of Dorner's gray Nissan Titan.

As the vehicle approached the house, officers opened fire, unloading a barrage of bullets into the back of the truck. When the shooting stopped, they quickly realized their mistake. The truck was not a Nissan Titan, but a Toyota Tacoma. The color wasn't gray, but aqua blue. And it wasn't Dorner inside the truck, but Carranza and her mother delivering copies of the Los Angeles Times."
READ MORE: LAPD Shot Women During Manhunt For Christopher Dorner
The two women have been identified as Margie Carranza, 47, and her mother, Emma Hernandez, 71.
NBC LA reported the mother, Hernandez, remained hospitalized in the intensive care unit on Friday, recovering from two bullet wounds. Her daughter, Carranza, suffered minor wounds caused by broken glass and a wounded finger.
According to the Los Angeles Times, Hernandez was shot twice in her back and is expected to recover. Carranza suffered minor wounds from broken glass.
The LAPD declined to confirm exactly how many officers were involved, the type of weapons used and the number of rounds fired. Additionally, the Department would not release information about whether or not verbal warnings were given to the two women before the shooting began.
NBC LA reported that the officers involved in the shooting have been placed on administrative leave. Officials stressed that the investigation is in its infancy, but the community is demanding answers.
Neither woman is associated with Dorner, who is described as African American, 6 feet tall and weighing 270 pounds.
The two women are now being represented by attorney Glen T. Jonas, who told NBC LA, "There were two women there. They are not black. They are not large. They were not in a car that matched. No danger was presented to the officers. It was such a mismatched identification."
READ MORE: Attorney Says LAPD Officers Guilty of 'Street Justice' In Dorner Manhunt (VIDEO)
In an interview with the Los Angeles Times, Torrance resident Richard Goo asked, "How do you mistake two Hispanic women, one who is 71, for a large, black male?" Goo is one of multiple residents whose houses or cars were struck by bullets during the shooting.
The women's attorney said the officers gave "no commands, no instructions and no opportunity to surrender" before opening fire.
Jonas said Hernandez was in the back seat handing papers to her daughter, who was driving. Carranza would briefly slow the truck to throw papers on driveways and front walks. Once the shooting began, Jonah said the pair "covered their faced and huddled down."
According to the Los Angeles Times, "Chief Beck confirmed that the gunfire occurred in two bursts: The first came from an officer positioned down the block from the LAPD official's residence, and the second when Carranza accelerated away from the gunfire and toward other officers."
READ MORE: Dorner Manhunt: Search For Ex-Cop Fugitive Enters Third Day As Trail Grows Cold
As the search for Dorner continues, the shooting in Torrance sheds a negative light on the LAPD. Chief Beck is expected to receive a full briefing on the shooting of the two women in the coming days. Once the investigation is complete, the LAPD said they will decide if proper procedures were followed during the shooting and whether or not the officers involved will face repercussions.
According to Associated Press, "thousands of heavily armed police remained on the lookout throughout California, Nevada, Arizona and northern Mexico for a suspect bent on revenge and willing to die."
Los Angeles Mayor Antonio Villaraigosa described Dorner as "a very sick individual," according to CNN.
Villaraigosa went on to say, "There is absolutely nothing that was done to this individual that would rationalize in any way the murder of three innocent people. The notion that somehow this deranged individual be given any credence boggles my mind."
Police presence at checkpoints along the U.S.-Mexico border has also been bolstered.
Read the full report from the Los Angeles Times here.
Watch the full video report from NBC LA here.

More coverage from Neon Tommy:
Dorner Manhunt: Authorities Say He's No Longer A Threat To Big Bear Ski Resorts
Social Media Reacts to Dorner's Manifesto
Christopher Dorner: Who Is He?
All Neon Tommy articles and multimedia coverage on the Dorner manhunt can be found here.
More coverage from our USC Annenberg sister publication:

ATVN: Memorial Honors Murdered DPS Officer
ATVN: UPDATED: Search for Former LAPD Officer Focuses on Big Bear (VIDEO)
Reach Executive Producer Vicki Chen here; follow her on Twitter here.