International
Israel, Hamas Truce Urged By Arab Leaders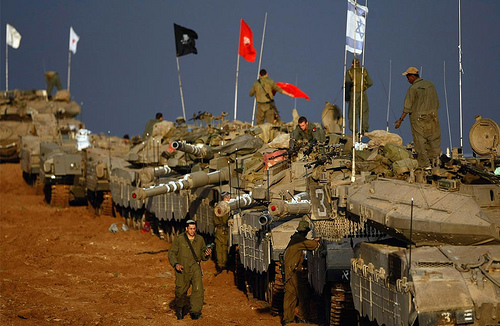 As violence escalated in the Gaza Strip on Saturday, talks began to surface that Arab leaders are supporting Egypt's attempts to initiate a cease-fire.
Reuters reported that Arab foreign ministers met in Cairo on Saturday, appearing willing to discuss the truce while also maintaining support for Palestinians in Gaza. Meanwhile, the White House has said it supports Israel's ability to defend itself, according to the Associated Press.
SEE ALSO: Tensions Rise On Both Sides Of Gaza Border
More than 400 rockets have been launched into Israel from Hamas since Wednesday, and Israel responded with more than 180 air strikes on Saturday. According to The Atlantic, it is difficult to pinpoint exactly which side triggered the past four days violence.

Recent events in Israel and the Gaza Strip have been unusual only in scope. Violence and fear of violence is a near-daily reality for the residents of Gaza and Israel's southern communities. There's a constant back and forth, and on both sides, there's always something or someone to avenge….
But it's genuinely impossible to date today's hostilities conclusively to one incident or another; even the "two-week lull" that some outlets have said preceded Nov. 8 (when the timeline below begins) was, according to Reuters "a period of increased tensions at the Israel-Gaza frontier, with militants often firing rockets at Israel and Israel launching aerial raids targeting Palestinian gunmen."
SEE ALSO: Gaza Death Toll Tops 30 As Israel, Hamas Renew Violence
According to CNN, Mohammed Shehata– Egypt's intelligence chief– contacted Israel and requested that it "calm down" the situation, a general with Egyptian intelligence told CNN.
He is trying to persuade both sides to reach a cease-fire, and negotiations are still ongoing with no clear conclusion yet, said the general, who asked not to be named.
In the meantime, other Arab leaders consider medical supplies to be just as vital as obtaining a truce.
"Today we will issue a statement. What will it mean? It won't mean anything," said Qatari Foreign Minister Sheikh Hamad bin Jassim al-Thani to Reuters. "We need to do something practical for those suffering, at least from a humanitarian point of view."
"I am not talking about war or military action ... I am talking about offering support to our brothers in Palestine," Sheikh Hamad said. Qatar's emir pledged $400 million to help develop Gaza during visit there in October. Eighty percent of Gaza residents in the coastal enclave live below the poverty line and real wages have declined by ten percent since 2005, according to the U.N.
SEE ALSO: International Efforts Fail To Bring Ceasefire To Gaza Strip
The Wall Street Journal reported that Egyptian President Mohammed Morsi verified that "intense efforts are underway" to create a cease-fire.
"Until now we do not have solid guarantees, but what I want to signal and affirm is that war and aggression in this manner and the blockade of Gaza, all of this cannot achieve peace and stability for the people of the region," Mr. Morsi added while warning Israel against proceeding with any ground offensive because it would inflame a region transformed by the regime changes ushered in by the so-called Arab Spring uprisings in Egypt and elsewhere nearly two years ago.
"The people and the leaders of the region are different from before," Mr. Morsi said.
According to Reuters, a shortage in medical supplies threatens to intensify the rage.
"There isn't enough medicine, and in this situation, we don't know how long it will stay like that," said Um Ahmad Hasan, a Gaza resident whose child was wounded during the strikes, as she waited anxiously in a Gaza hospital.
CNN reported there was no word from Israel that it would end its military campaign, which most recently involved assembling 75,000 reserve troops.
[View the story "Truce Between Israel & Palestine Takes To Social Media" on Storify]
Read more Neon Tommy coverage on the violence in the Gaza Strip here.
Reach Executive Producer Paige Brettingen here. Follow her here.