International
Conflict Between Israel, Hamas Escalates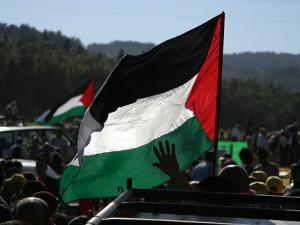 As international support for Hamas grows, the violence in the Gaza strip has escalated.
Israel conducted more than 180 air strikes over the Gaza Strip Saturday, responding to a rocket strike that targeted Jerusalem. Israel targeted weapons storage facilities and underground rocket launching sites. Six people were killed and dozens were wounded Saturday morning. The death toll has increased as a result to 43 Palestinians, including 13 civilians, and three Israeli civilians.
Also on Saturday, Hamas targeted Tel Aviv, shelling the city, and launching a rocket toward it. The rocket was halted by the Israeli Iron Dome missile defense system. Israel is now amassing troops and tanks, and convoys carrying tens of thousands of Israeli soldiers, near the border of the Palestinians' territory, indicating an impending ground invasion of 30,000 Israeli troops. Israel Defense Forces spokesman Brigadier General Yoav Mordechai said, "We are in the process of expanding the campaign."
Meanwhile, Hamas has obtained the support of the democratically elected governments of Egypt, Tunisia and Turkey. Egyptian President Mohamed Morsi's prime minister traveled to Gaza on Friday to show solidarity with Hamas.
Read more of Neon Tommy's coverage of the violence in the Gaza Strip here.