Los Angeles
Occupy L.A. Marches For First Anniversary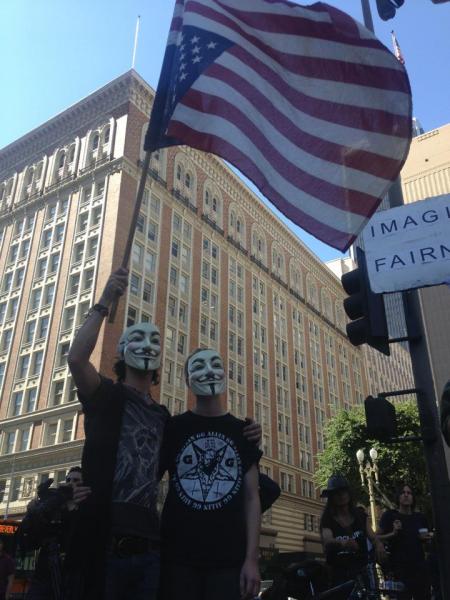 Over 100 protesters marched through the scorching-hot streets of downtown Los Angeles Monday afternoon for the first anniversary of Occupy L.A.
Starting at Pershing Square at noon, the Occupiers marched to six different locations downtown, including the Central City Association, the L.A. Community College District building, Bank of America, the Freemasons building, the L.A. Public Library and back to City Hall, where the protesters had set up camp one year ago today.
The police followed the protest closely, demanding that protesters stay on the sidewalk, remaining nonaggressive while Occupiers chanted "Fuck the police" and other insults all afternoon.
Many disregarded the LAPD's sidewalk demands and were given many "final warnings."
None were arrested.
ALSO SEE: "Occupy L.A. Celebrates One-Year Anniversary"
At one point, while resting in the shade at the library, the protesters played NWA's "Fuck the Police" and shouted at the cops who looked on from different points on Figueroa Street.
"Instead of being out arresting drunk drivers or responding to calls," one grim motorcycle cop said, "we have to be here to babysit these people."
The march continued for six hours, with downtown traffic jammed by the fickle and assertive movement of the mob.
A police helicopter circled through skyscrapers.
Around six o'clock, the group had reached the facade of City Hall, which they called "home."
"Evict us, we multiply," they chanted.
A year after its original incarnation, Occupy L.A. is still hitting its points, perhaps now with more perspective.
Various offshoot movements like 99Rise and Fort Hernandez have added more specific tension to a movement that has been criticized for lack of direction.
ALSO SEE: "99Rise Bank Of America Protest Starts New Movement"
Nobody seemed to be afraid of the police, either--even if many of those arrested at the raid last year could face more severe charges if arrested before the year ends.
The aggressiveness of the LAPD at last year's raid and at this summer's ArtWalk seemed to confirm the Occupy movement's suspicions that all forms of authority bastardize the truth.
See Neon Tommy's slideshow from Monday's march here.
Read more of Neon Tommy's coverage of Occupy L.A. here.
Reach Assistant News Editor Michael Juliani here. Follow him on Twitter here.