Los Angeles
Endeavour's Endeavor: What You Missed If You Didn't Watch The L.A. Journey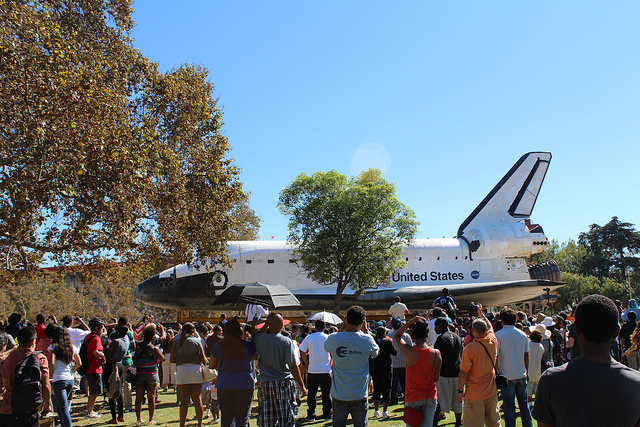 Misting dirt in the air as it rolled atop wooden platforms strewn end to end on a flat of malnourished grass, the space shuttle Endeavour began to turn its nose rightward to stare straight toward the makeshift pavilion -- off the southeastern corner of the Natural History Museum -- that it will now call home.
As the Endeavour completed the turn at 1:30 p.m. Sunday, thousands of cameras in Exposition Park paused long enough for a crowd of several thousand people to burst into cheers at the moment the shuttle settled into a straight line before them. They stared at the prominent display of the the American flag and the "United States" on the shuttle's body. Near its nose, the much smaller "Endeavour" name was shrouded by trees.
Endeavour's last trip to the International Space Station took about 45 hours. Endeavour's 12-mile trip from LAX to Exposition Park needed more than 63 hours. But by sunset Sunday, its 26th mission will be complete.
[gmap markers=yellow::34.01640803866195,-118.28753650188446 |zoom=17 |center=34.016241889667015,-118.28798174858093 |width=500px |height=400px |control=Small |type=Hybrid]
The shuttle's size is not exactly striking. Though the shuttle's slightly shorter and thinner, it's fairly comparable to USC's Waite Phillips Hall laid flat. The TV definitely adds 10 pounds. And at the age of 21-and-a-half-years-old, Endeavour is more french vanilla bean cream than pearly white. The engines on Endeavour's tail seem so fake; they couldn't possibly have rocketed something that weighs as much as a dozen large elephants through space.
But seeing Endeavour come within inches of light poles, phone lines, street signs and the fingertips of children atop their parent's shoulders was worth the often hours-long wait as the shuttle plotted a precise path across South L.A. Even baseball games move faster than the Endeavour did this weekend. In the end, the traffic, the double-parking, the dehydration and the missing of sports on television all seemed worth the once-in-forever opportunity to watch the engineering marvel that was the funeral procession of a modern dinosaur.
Hundreds of trees and hundreds more branches were cut down for Endeavour. Crews ahead of the shuttle -- and its entourage of volunteers from the California Science Center, paramedics, law enforcement officers and engineers -- trimmed branches up until the final 1,000 meters.
People along the route required constant reminders from police officers to keep off of the road. Endeavour needed every inch between the curbs it could get. But police reported zero incidents, and L.A. Police Chief Charlie Beck called the million people who saw the shuttle during a span of three days the best crowd he's ever seen in his 35-year career. Some people hopped atop billboards to get a better look. Others scaled walls or fences. Many more found their way on top of roofs. A handful of people brought ladders. On Saturday, bleachers were set up in one spot.
Officials had originally planned for an Expo Park arrival early Saturday evening, just past sunset. At one point early Friday, organizers thought it might reach ahead of schedule. In the end, its Sunday afternoon arrival made for a splendid day in the park for a diverse set of tens of thousands of Southern Californians. On a weekend without a USC football game, it was a boon for street cart vendors. An entrepreneur was even on hand to sell mini-American flags.
Everything related to the journey was to be paid for by donations, and the delay likely added several million dollars to the original $10 million tab.
Whether the space shuttle's Los Angeles parade actually sparks children to become astronauts, as Mayor Antonio Villaraigosa said, remains to be seen, but for three days, they and many others saw a spaceship travel their streets.
The free Endeavour exhibit opens Oct. 30, though there was discussion among officials of including it as part of USC game day festivities on Oct. 20.
PHOTOS FROM SATURDAY can be found here and here.
PHOTOS FROM FRIDAY can be found here and here.
PHOTOS FROM SUNDAY ARE BELOW:
Like reporter Paresh Dave on Facebook, follow him on Twitter, circle him on Google+ or send him an e-mail.