National
Romney Secret Video: Palestinians "Uninterested" In Peace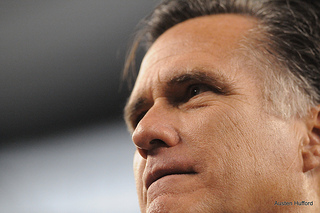 Mitt Romney denounced a possible two-state solution in Israel, characterizing Palestinians as uninterested in peace, according to video released by
Mother Jones
Tuesday morning.
Romney's remarks were surreptitiously filmed at a $50,000 a plate fundraising event in Florida in May. When asked how he would solve the "Palestinian problem," the GOP presidential candidate claimed Palestinians have "no interest whatsoever in establishing peace, and that the pathway to peace is almost unthinkable to accomplish."
"I look at the Palestinians not wanting to see peace anyway, for political purposes, committed to the destruction and elimination of Israel, and these thorny issues, and I say there's just no way," Romney said.
The video clip of his remarks is the second released this week. The first clip, released Monday, shows Romney claiming 47 percent of the country will vote for Obama because they "believe they are victims" and expect the government to provide them with food, housing and healthcare.
Romney held a press conference late Monday night as an effort at damage control. Rather than apologize for his statements, Romney said they were not "elegantly stated." He did not dispute the authenticity of the video but called for it to be released in its entirety instead of edited clips.
"Of course, I want to help all Americans, all Americans, have a bright and prosperous future," Romney said. He did not address his remarks about the Middle East, however.
The controversial video's release comes at an inopportune time for the Romney campaign. From the Associated Press:
Obama's campaign pounced on the first video, which was obtained by the magazine Mother Jones and released only hours after Romney's campaign outlined a new strategy to try to rejuvenate a struggling campaign. The video's emergence came as advisers to the former Massachusetts governor tried to reassure party leaders and donors about Romney's strategy amid concerns that the race could be slipping away.
Romney's harsh rhetoric aligns him with hardliners within the Israeli government, including senior cabinet ministers. Israeli Prime Minister Benjamin Netanyahu and Obama have both advocated a two-state solution. But while Romney's in sync with certain factions, his comments contradict his earlier statements on the Israeli-Palestinian conflict and his own party's platform.
"I believe in a two-state solution which suggests there will be two states, including a Jewish state," Romney told Haaretz in July.
The GOP party platform advocates a two-state solution which would cede Jerusalem to Israel.
Because his privately expressed opinions contradict his earlier public statements, there is concern the Republican nominee has been hiding his true beliefs, which are emerging to appear out of sync with conventional foreign policy.
This isn't Romney's first misstep over the Holy Land. Romney landed in hot water in July when he suggested that Israel's economic dominance in the region was due to their "culture."
Romney has no publically scheduled appearances Tuesday.
[View the story "Romney's remarks don't register with voters." on Storify]
Click here for more coverage of Romney's secret video remarks.
Reach Executive Producer Dawn Megli here; follow her on Twitter here.