National
Romney Overheard: "My Job Is Not To Worry About Those People"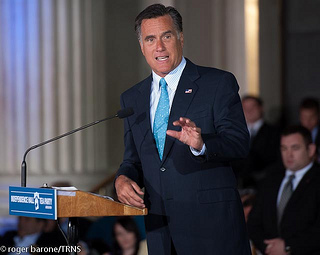 GOP candidate Mitt Romney was caught on tape earlier this year at a private fundraiser, where he said he will not focus on the Americans who do not pay income tax. Romney said his campaign would not be courting the 47 percent of people "dependent on government" because their vote is committed to President Obama.
From the video:
There are 47 percent of the people who will vote for the president no matter what. All right, there are 47 percent who are with him, who are dependent upon government, who believe that they are victims, who believe the government has a responsibility to care for them, who believe that they are entitled to health care, to food, to housing, to you-name-it. That that's an entitlement. And the government should give it to them. And they will vote for this president no matter what … These are people who pay no income tax. ... [M]y job is not to worry about those people. I'll never convince them they should take personal responsibility and care for their lives.
Read the full story at Slate.
For more of Neon Tommy's 2012 Election coverage click here.
Reach Supervising Executive Producer Amanda Martinez here.