Sports
College Football Preview: No. 22 Georgia
(Neon Tommy will be previewing the 2011 College Football Season throughout the summer. You can find links to each of our Top 25 previews here. Today, we preview the team ranked 22nd, the Georgia Bulldogs.)
Head Coach:
Mark Richt (96-34)
Georgia's 2010 season:
6-7 (3-5). Lost to UCF (10-6) in the AutoZone Liberty Bowl.
Offensive Analysis:
The Georgia Bulldogs return seven starters including sophomore quarterback Aaron Murray and 2010 All-SEC tight end Orson Charles. Mark Richt, who many believe to be on the hot-seat after his first losing season as the Bulldogs head coach, looks to build off of another top-ten recruiting class.
Three losses during Georgia's 2010-2011 campaign came without All-World wide receiver A.J. Green (who was suspended for the first four games). Green led the team in receptions (57) and receiving touchdowns (9) last season.
The Bulldogs are led by Freshman All-American quarterback Murray who finished with 24 touchdowns and just eight interceptions during his first year under center. Incoming running back Isaiah Crowell will look to fill the void left by the transfer of Washaun Ealey, the Bulldogs 2010-11 leading rusher.
Defensive Analysis:
The defense had its fair share of issues during the 2010-11 season, giving up 149.2 rushing yards per game. Justin Houston declared for the 2011 NFL Draft, leaving the defense with two holes to fill at the linebacker positions.
The Bulldogs secondary is a veteran bunch that will return all four starters. Commits from five star defensive end prospect Ray Drew and Junior College defensive tackle John Jenkins will bolster a 3-4 defensive line with an "Elephant" pass-rusher and a force in the middle.
Strength:
Richt and the Bulldogs return two 2010 All-SEC kickers in senior punter Drew Butler and Kicker Blair Walsh. Walsh made 20 of 23 field goal attempts last year and missed only one extra point attempt.
Georgia's special teams--which will be one of the best in the SEC--could swing a few close games.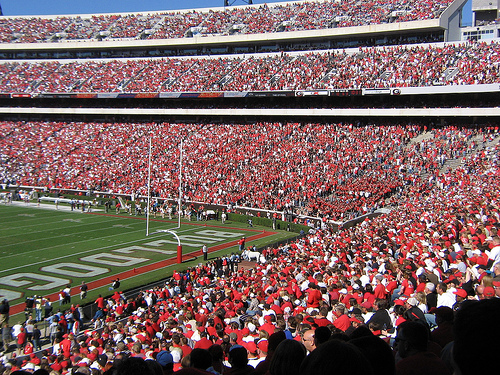 Areas of Concern:
The Bulldogs run game has underachieved the past two seasons with Caleb King and Washaun Ealy taking handoffs. And with only three starters returning on a rather inconsistent offensive line, look for Richt and the Bulldogs to struggle mightily with the ground game.
If Crowell can't perform well out of the gate, look for the burden to be placed on the shoulders of quarterback Murray and junior wide receiver Tavarres King.
Final Thoughts:
The defense, run game and offensive line are flawed, but a (comparatively) weak SEC schedule could help cool down Richt's hot seat. The Bulldogs will host South Carolina and Auburn at home and play two "neutral" site games against Boise State (in Atlanta, GA) and Florida (in Jacksonville, FL).
A weak SEC East will help Murray and the Bulldogs, in addition to the fact that they don't play Alabama in the regular season.
Prediction: 8-4 (5-3), 3rd in the SEC East
____________________________________
Reach Eric by email, or follow him on Twitter.