Sports
Top 5 Coaches on the Hot Seat in College Football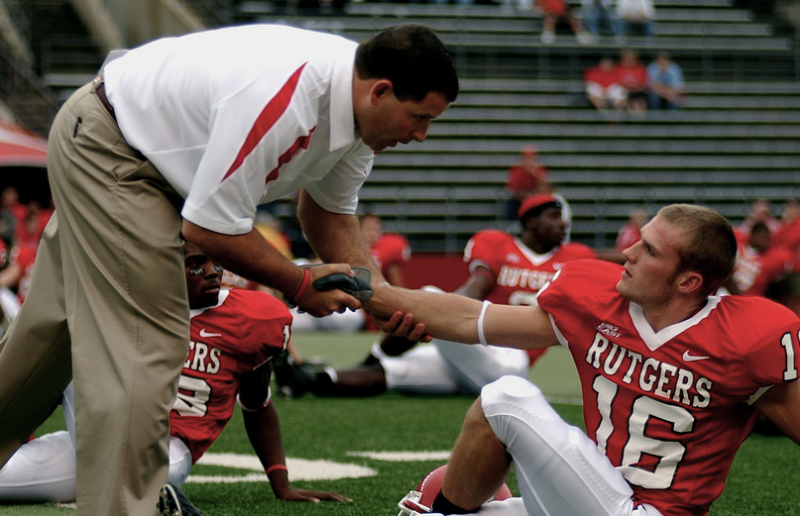 What have you done for me lately, Coach?
That question is all too common in the business-driven world of college football. Let's face it: as much as we would love the game to be about molding young boys into grown men, pure competition and the love of the game, it's not.
To be a successful college football head coach, you must win. You must beat your rivals every year and you must be able to sit down in a 17-year-old's living room, tell his mother that you will do everything in your power to take care of him and convince that boy to make a grown man's decision to put on your school's hat during National Signing day.
And if you don't? Well, you'll have anonymous posters on message boards calling for your job, dubbing you the worst coach in school history.
"We need to get back to our roots," they'll say. "No more of this gimmicky, spread option offense. I can't stand losing to our rivals, and if we lose out on one more in-state prospect..."
Sounds a lot like what happened to former Michigan Wolverines head coach Rich Rodriguez. Traditionalists wanting to see more Power-I football, boosters squawking at the average recruiting classes and alumni embarrassed at the shellacking the Wolverines took year after year from the Ohio State Buckeyes all helped force Rodriguez out of Ann Arbor.
It's sad, but true. Personally, I hesitate to question the job a coach has done. These men have families, and I am in no position to call for their firing.
With that being said, such matters have become a fact of life in the college game and some coaches are just one bad season from being sent packing.
Let's take a look at the top 5 head coaches on the hot seat in the upcoming 2011 college football season:
5. Greg Schiano, Rutgers
The Rutgers Scarlet Knights only managed one win in the Big East last year, going 1-6 and losing six straight to close the season. Those losses included an embarrassing 69-38 defeat at Cincinnati and two abysmal 20-plus-point losses to Louisville and West Virginia.
Perhaps the blame can be assigned to the lack of talent on the offensive side of the ball. The Scarlet Knights finished 101st in the nation in points scored per game (20.8), due mainly to a dreadful run game that finished 110th in total rushing yards per game (100.9). Not a single Rutgers running back made it to the 500-yard mark last season. The team managed just 11 touchdowns on the ground.
The bright spots returning for Schiano are slim, but promising. Junior wide receiver Mark Harrison returns after leading the Scarlet Knights in receiving with 44 catches, 829 yards and 9 touchdowns. In addition, Schiano snagged home-grown five-star running back Savon Huggins, who plans to have an immediate impact in bringing a boost to a stagnant backfield.
4. Jeff Tedford, California
The Cal Bears finished seventh in the Pac-10 conference in 2010, winning just five total games overall and just three games in conference (5-7, 3-6). Losers of their final three games, Tedford and the Bears were unable to mount up any consistency throwing the ball, as starting quarterback Kevin Riley did not play in the Bears' final four games.
The lone bright spot on an average Cal offense decided to declare for the 2011 NFL Draft. Running back Shane Vereen amassed 1,167 yards on 231 carries in 2010, finding the end zone 13 times before deciding to forgo his senior season at Berkeley.
Tedford looks to fill the holes from Riley's graduation and Vereen's early departure with a top 15 recruiting class that includes three top 100 recruits. The biggest get for Tedford, both literally and figuratively, was a commitment from 6-foot-3, 340-pound defensive tackle Villami Moala.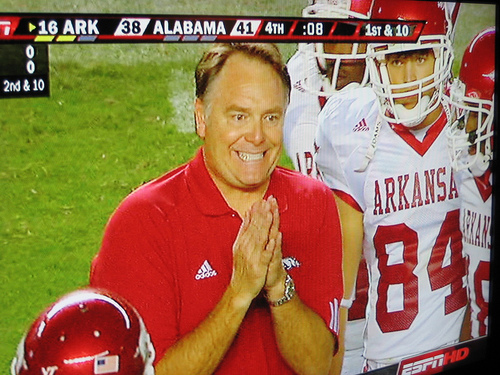 3. Houston Nutt, Ole Miss
Coach Nutt and the Rebels could not compete in one of the toughest conferences in the country last season, ending up dead last in the talented SEC West. The Rebels lost six of their last seven games, with their lone win coming at home against Louisiana-Lafayette.
Mississippi's offense was above average with Oregon transfer Jeremiah Masoli at the helm. Masoli and running back Brandon Bolden combined for 1,520 yards on the ground and 20 touchdowns.
The problems, however, surfaced on the other side of the ball as the defense finished the season 107th in points allowed (35.2), giving up 50-plus points three times.
Nutt has always found success with recruiting in the state of Mississippi. In the 2010 class, the top six recruits (three wide receivers) come from in state.
The Rebels will begin their season at home against BYU. They will be led on offense by Bolden, who decided to return for his senior season.
2. Rick Neuheisel, UCLA
Something was visibly missing for Neuheisel and the Bruins last year. Whether it was the Pistol offense or the inexperienced quarterbacks, the offense clearly lacked scoring ability, tallying just nine passing touchdowns all year.
The Bruins finished ninth in the Pac-10 with a 4-8 record. UCLA struggled passing the ball, averaging just 141.1 yard per game - 116th in the nation. The Bruins also lost six of their last seven games, including Neuheisel's third straight defeat at the hands of cross-town rival USC to close out the season.
The lone highlights of the season came from non-conference wins against the Houston Cougars and at the Texas Longhorns in Weeks 3 and 4, respectively. Neuheisel and a revamped coaching staff hope to bounce back in the 2011 season.
With incoming freshman and five-star quarterback Brett Hundley competing for the starting spot with Kevin Prince and Richard Brehaut, Neuheisel and the Bruins will begin their season at Houston on Sept. 3.
1. Mark Richt, Georgia
Mark Richt will bring the sixth-ranked recruiting class to Athens this year, and after an 8-5 season in 2009 and a 6-7 season in 2010, Richt hopes for some of this year's talented freshman to make an instant impact.
The Bulldogs ended up third in the SEC East on the back of freshman quarterback Aaron Murray. Georgia fans called for Richt's job after a 1-5 start, but the head coach rallied his troops to the postseason, though their run ended with a loss to Central Florida in the AutoZone Liberty Bowl.
With commits from five-star running back Isaiah Crowell and five-star defensive end Ray Drew, look for Richt and company to have the Bulldogs competing with the upper-echelon teams in the SEC East.
The Bulldogs begin their season with a tough matchup against Boise State on September 3rd.
____________________
Check back to Neon Tommy next week for another one of Eric's college football top fives. Look back on his Top Five Incoming Freshmen.
Reach Eric Watkins by email, or follow him on Twitter.