Sports
Top Five Incoming Freshmen in College Football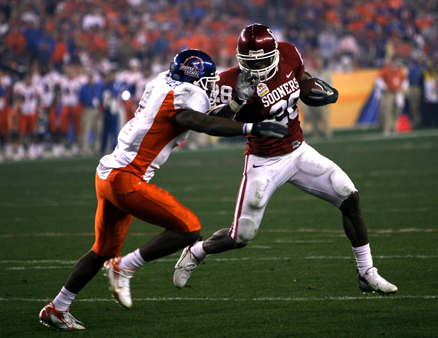 Oh, the beauty of a true freshman walking in to fall camp (or nowadays, spring ball), earning a starting spot, and making an impact from day one. We saw it throughout the 2010-11 season with the likes of South Carolina running back Marcus Lattimore and USC wideout Robert Woods.
Give me an 18-year-old Adrian Peterson, even then a man amongst boys, and I bet I could call a few plays to gain a few yards. A talented back like Peterson, who earned AP All-American honors and finished second to Matt Leinart in the Heisman Trophy voting his freshman year, makes a coach's job, much, much easier.
Do you remember Herschel Walker's 1980 freshman season with the Georgia Bulldogs? A blend of pure power and speed, (hell, the man still does 2,000 push-ups and 3,500 sit-ups a day) Walker was untamable in his first year as he led Georgia to an undefeated regular season and a Sugar Bowl victory, in addition to finishing third in the Heisman Trophy balloting.
What about the 1991 season when San Diego State running back Marshall Faulk dominated the college football landscape? And more recently, the 2007 season, when first-year Texas Tech wideout Michael Crabtree hauled in 21 touchdown catches and 1,861 receiving yards.
Truth is, every year there are a few bright-eyed, promising high school football phenoms who will make a splash. They'll sometimes even knock a head ball coach off the unwelcoming hot seat or a team out of the depths of mediocrity.
With instant impact from incoming freshman growing exponentially on the importance scale, let's take a look at this year's top five Diaper Dandies:
Number 5: Karlos Williams, Florida State, Safety
He definitely passes the eyeball test. With an already large frame (6-foot-2, 210 pounds) Williams will greatly benefit from time in a strict college football strength and conditioning program.
A ball hawk and absolute intimidating presence in the middle of the field, look for Williams to have an immediate impact for coach Jimbo Fisher and the Seminoles, a team many favor to win the ACC.
Though competition at both safety spots is thick, and sophomore Marcus Joyner and senior Terrance Parks are the projected starters, I see no reason why the Davenport, Florida native Williams can't find his way into the starting rotation.
Number 4: Lamar Dawson, USC, Linebacker
The linebacker tradition at USC is significant: Junior Seau, Chris Claiborne, Brian Cushing to name a few. Dawson, who will don the number 55 when he makes it to campus this summer, has a great chance of starting from day one.
The linebackers were a disappointing unit for the Trojans in the 2010-2011 campaign, as the defensive unit as a whole finished 63rd overall in points against (26.7).
The 6-foot-2, 230-pound Dawson seems to have all of the features of a strong-side linebacker: a very large frame, a contact instigator, and versatility to rush the passer.
The future looks bright for Dawson and the Trojans' defense.
Number 3: De'Anthony Thomas, Oregon, Athlete
De'Anthony "Change-your-mind, a.k.a. Black Mamba" Thomas might very well be the first Pac-12 Freshman Player of the Year. His speed gives him the ability to break one every time he touches the ball, that is, if he plays offense.
Look for Thomas to have a multitude of rolls: kickoff returner, punt returner, cornerback, option back, and decoy. Thomas's ability to stretch defenses and force them to make open-field tackles will give much of the Pac-12 fits throughout the season.
Oregon is already stacked at running back, but surely doesn't mind the overload in talent and speed at that position, with Heisman hopeful LaMichael James returning.
Number 2: Jadeveon Clowney, South Carolina, Defensive End
The number one prospect in the land, the most highly sought after recruit in this year's class, and a pure physical specimen, Clowney looks to fill the gap left by former Clemson Tiger De'Quan Bowers (an early entry into the NFL Draft) as the best defensive end in the state of South Carolina.
The 6-foot-6, 245-pound Clowney obviously has the potential to bulk up, a very scary thought to ponder. Already possessing the speed of a receiver, the wingspan of an NBA center and the physical nature of an NFL middle linebacker, Clowney will be one of the most dominant forces in the SEC for at least the next three years.
Frankly, the potential for Clowney to start is unmistakable. Whether or not he comes into summer workouts with that same mindset is a different story.
If this list were based strictly on potential (and yes, most of it already is) Clowney would run away with the show.
Number 1: Isaiah Crowell, Georgia, Running Back
Will Crowell be able to mimic the aforementioned 1980 clinic put on by Walker? Will Isaiah win Freshman All-American honors likes his new SEC foe Marcus Lattimore?
Georgia head coach Mark Richt sure hopes so. On signing day, Richt talked about how Crowell could get the first carry in their season opener against Boise State.
The 5-foot-11, 210-pound back has explosive speed, but will his body be able to hold up in the toughest defensive conference in the country? Competition in the backfield for Crowell will be manageable. He'll compete with junior Washaun Ealey and senior Caleb King during summer and fall camps.
But the explosiveness and breakaway speed that Crowell possesses should ensure that Richt gives him the carries to become a star right away.
____________________
Check back to Neon Tommy next week for Eric's take on college coaches who are on the hot seat.
Reach Eric Watkins by email, or follow him on Twitter.