Opinion
The 5 Things Jerry Needs To Do To Win: Part 4
There are two major players in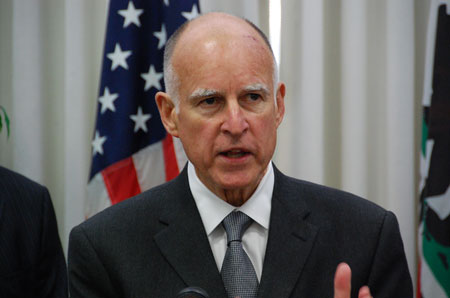 California's gubernatorial race: Republican Meg Whitman and Democrat Jerry Brown. Though preliminary polls have shown Brown
in the lead
, Meg Whitman is not the type to give up without a fight. Slowly it seems Brown is falling by the wayside and Whitman's marketing team continues to do a fantastic job. If Brown wants to maintain his lead and gather the votes he (desperately) needs, then he's got to kick up his campaign and kick it up soon.
Here are some words of advice to the Brown camp on what he needs to do to win.
#4: Tell us where you stand
Meg Whitman has told us a bit about where she stands, and it's reflected in the results of this poll. Statistically, she's tied with Brown, and it's because the public increasingly knows about her stance on major issues and has virtually yet to hear from Brown.
Whitman has said taxes aren't the right thing for California but raising the number of jobs is. That doesn't sound like much, but it's still more than we know about you, Brown.
Now that you've (hopefully) explained your past, we need to know where you stand. What exactly are you planning to do to fix our state? What's your word on education? What's more important, immigration or marijuana? What do you think about taxes and unemployment levels? What about police? Gay rights? Facebook privacy issues? Child predators? We need details, Brown!
Okay, maybe that's a little too specific, but maybe it's not. Since we haven't even vaguely heard from Jerry Brown, we're wondering what exactly he's thinking. While he may not want to go out and answer all of these questions, he has to hit at least the major ones so we can get an idea of who he is and why he should be in office.
He's done it before and we may be able to guess where he stands on education or taxes, but we shouldn't have to. And the fact is most people aren't going to try to guess if they don't hear anything from him soon.
Let's face it. We as voters need to be spoon-fed our facts. That's the only way we'll be able to form our decisions. Whitman has spoon-fed us information about Brown already, but those weren't exactly facts. That's why Brown needs to get out there now, spoon in hand, and tell us the truth.
His stance on Facebook may not be many people's priority, but there are clear-cut issues Brown needs to address: jobs, education, and (because Whitman's put it out there) taxes. These are three areas in California that need major reform and bureaucratic discussion and Brown needs to lay out his plan for bettering them all.
I think this one was pretty obvious, Brown. Tell us where you stand and you'll earn our votes.
Reach reporter Laura Cueva here.