California
The 5 Things Jerry Needs To Do To Win: Part 3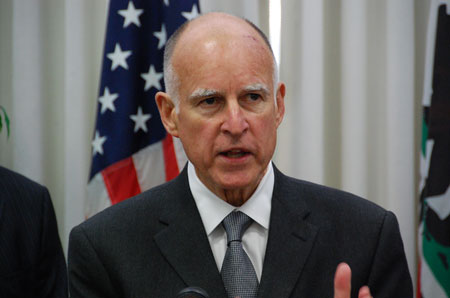 There are two major players in California's gubernatorial race: Republican Meg Whitman and Democrat Jerry Brown. Though preliminary polls have shown Brown
in the lead
, Meg Whitman is not the type to give up without a fight. Slowly it seems Brown is falling by the wayside and Whitman's marketing team continues to do a fantastic job. If Brown wants to maintain his lead and gather the votes he (desperately) needs, then he's got to kick up his campaign and kick it up soon.
Here are some words of advice to the Brown camp on what he needs to do to win.
#1: Attack Meg Whitman's past

#2: Face time, please!
#3: Explain your own past
Meg Whitman attacked practically your entire lifetime in politics. While her controversial ad is ripe with inaccuracies, the Brown camp has still got to work on cleaning up Jerry Brown's image.
Sure crime actually went down instead of up as Whitman's ad claimed it did while he was mayor. And sure Brown didn't run the school system into the ground as the ad claimed he did, but we've yet to hear it from your side, Brown. The public doesn't want to read statements put out by Brown's spokespeople, they want to hear directly from the source. Chances are the majority of people voting are not hitting up websites to see what Brown's response is to Whitman's attack of his past.
So just what did happen when you were mayor, Jerry Brown? You've been governor of California before, right? You've got a pretty clean past, minus a few failed attempts at becoming president of the United States. But hey, even that's impressive. Explain your past, put it all out in the open, show us that your past makes you a capable leader and you'll earn yourself some votes.
Brown's no dummy after all. He's done this before and now he's staying out of the limelight in order to save up his campaign money. The thing is California, and young people especially, are looking for change. They're looking for hope and they want someone young who caters to their needs and understands them, à la Meg Whitman.
That is why Brown's got to get started. He can't afford to play catch up, especially when he's got so much catching up to do. Brown especially needs to explain his past because he's no spring chicken. Being older (72 to be exact) and having led a life in politics, he may not represent what the state needs right now: change.
But Brown actually does represent a good amount of change. In the past, he's brought lawsuits against numerous major oil companies, he's fought against illegal campaign funding, he's supported space exploration, and he's acquired state and federal funding to open up two charter schools.
Explain how your past, Brown, could be Whitman's downfall. Your past equals experience and know-how. Hers doesn't. In the end, it could mean all the difference.
Reach reporter Laura Cueva here.