California
The 5 Things Jerry Brown Needs To Do To Win: Part 1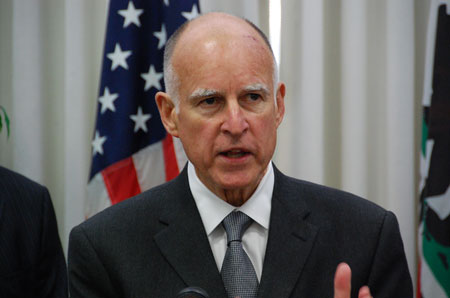 There are two major players in California's gubernatorial race: Republican Meg Whitman and Democrat Jerry Brown. Though preliminary polls have shown Brown in the lead, Meg Whitman is not the type to give up without a fight. Slowly it seems Brown is falling by the wayside and Whitman's marketing team continues to do a fantastic job. If Brown wants to maintain his lead and gather the votes he (desperately) needs, then he's got to kick up his campaign and kick it up soon.
Here are some words of advice to the Brown camp on what he needs to do to win.
#1: Attack Meg Whitman's Past
Meg Whitman's latest attack ad chronicles Jerry Brown's life in politics and calls his legacy a "failure." Decade by decade, she outlines just where Brown has gone wrong in the past, painting him as a tax-crazy politician who ruined the state's economy. If Brown wants to win this election, he needs to take a page from Whitman's book and amp up his counterattack.
Prior to Whitman's attack ad, Brown did run an ad that did an excellent job of attacking part of Whitman's questionable past: She didn't vote in an election for 28 years. While this was a good start, Whitman's ad blew Brown's out of the water.
So now, Brown, it's time to attack again. Whitman made eBay the juggernaut it is today, but left under some shady circumstances. Juggernaut or not, many of its users say it's now home to fraudulent sellers and unwary buyers (just look at the user comments on this New York Times blog post). Electing a former C.E.O. also may not bode well in a state with an enormous budget deficit and an enormous unemployment rate. She's been linked to Goldman Sachs, she has no political experience and she's spending millions and millions of dollars campaigning in a state where everyone is broke. You've got the material, Brown, so start using it!
While negative attack ads are usually frowned upon by voters during election time, they do make a difference. They influence voters who usually don't bother to find out whether the outrageous claims made in the ads are true or not. Meg Whitman has shown she doesn't care. She's got the money to make the ads, so if you don't fight back, Brown, you're going down.
To reach reporter Laura Cueva, click here.