Film and TV
'Scream Queens' Season 1, Episode 11: 'Black Friday'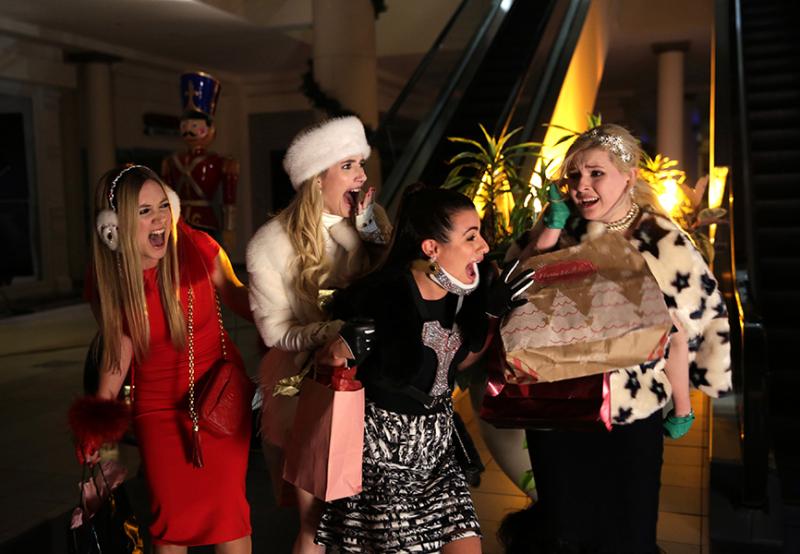 The last broadcast before next week's two-hour season finale was jam-packed. After many poor episodes, "Scream Queens" finally threw in many worthy plot twists. Now we can actually be excited when we find out who the Red Devil killer is.
The episode begins with a monologue from Chanel (Emma Roberts), who is preparing for her favorite "holiday" – Black Friday. She boasts about how she is able to get into the mall half-an-hour early before regular opening time and relishes in watching crazed people see her buy all the things they want. In addition, she buys her minions' cheap presents on purpose. Only hours after the wrecked Thanksgiving dinner from the previous episode, Chanel and her cronies decide to head to the mall. However, Dean Munsch (Jamie Lee Curtis) tries to step in, assert some authority, and stop them. Chanel is undeterred by Munsch; before leaving, she completely insults her, her career, and her failed attempts to have Kappa house shut down.
While at the mall, the Chanel's are shopping when the power shuts off. Chanel #5 (Abigail Breslin) is horrified to discover that they have been locked in. To make matters worse, the Red Devil appears, armed with a bow and arrow. Terrified, the Chanel's are able to make their escape, but Chanel decides to stay behind and confront the Red Devil herself, convinced that it is Dean Munsch. She taunts him or her until they shoot her in the shoulder with an arrow. They take aim again, but Denise (Niecy Nash) shows up, having been promoted to Police Chief after the mayor fired the entire police force. While she is bragging about her new job, the Red Devil shoots a police officer with an arrow and is able to escape.
READ MORE: 'Scream Queens' Season 1, Episode 10: 'Thanksgiving' Recap
With her arm in a sling but her mind still intact, Chanel holds a Kappa meeting. She proposes that they kill Dean Munsch, and Grace (Skyler Samuels) shockingly agrees with Chanel. Zayday (Keke Palmer) tries to convince Grace that killing isn't the answer, but Grace is sure that Munsch is the killer and has to be stopped. Aside from Zayday, the girls vote to poison Munsch, which they do by putting fish poison in apple cider, Munsch's favorite drink. Chanel and Grace later meet with Munsch under the pretense that they are creating a feminist society at Wallace and want Munsch to be their leader. They toast to their new "club" with apple cider, but surprisingly, the poisoned drink has no effect on Munsch.
Chad (Glen Powell) summons Pete (Diego Boneta) to the Dickie Dollar Scholars house, as Boone (Nick Jonas) wrote a will and left everything to Pete. Pete is shocked that Boone mentioned him at all, although it turns out that Pete and Boone somewhat knew each other. Boone provided information to Pete about the ugly truths of Greek life. Chad taunts Pete, as he was rejected as a DDS pledge last year due to clothing choices and the fact that he knew nothing about golf, but decides to give him a second chance because he was Boone's friend. To Chad's chagrin, Pete declines the offer to join the fraternity and leaves.
Frustrated, Grace rants to Pete about wanting to kill Munsch. He tries to talk her out of it by telling her that she is a good person and the Red Devil will eventually be brought to justice. They begin to passionately kiss and Pete suggests they have sex, but Grace reveals that she is a virgin and is unsure about losing her virginity. Pete agrees to wait and says that Grace is worth it. Later that night, Chanel holds another house meeting to strategize other ways to kill off Munsch. Influenced by Pete, Grace announces that she is backing out of the Chanel's murderous plans. Disgusted, Chanel and her minions vote to kick Grace out of Kappa. Grace is horrified and tries to convince Zayday to leave with her, but in shocking turn of events, Zayday now agrees with the Chanel's plans to kill Munsch. She tries to assure Grace that they will always be friends, but Grace doesn't believe her and storms off.
READ MORE: Film Review - "The Good Dinosaur"
Grace then goes to see Wes (Oliver Hudson), and Pete shows up there too. Both of them have been doing more research on Gigi (Nasim Pedrad), and Pete was able to convince the psychiatric ward to give away her file. Gigi's real name was Jess Mayer, and her sister was Amy Mayer (Chelsea Ricketts), the girl who tried to help Sophia Doyle (McKaley Miller) 20 years ago. Amy took the babies and tried to raise them herself, but the experience proved to be too stressful. Feeling guilty about her part in Sophia's death, she committed suicide. Her death caused Gigi to have a mental breakdown, and she was then sent to the asylum. Gigi then raised the babies to be killers so she could get revenge on the sorority that pretty much caused her sister's death. After Pete leaves, Wes confesses that amidst the disturbing information, he still liked Gigi because he felt that she actually cared for him. He then tells Grace that he thinks Pete is good for her and that when she is ready to be intimate with him, she'll know.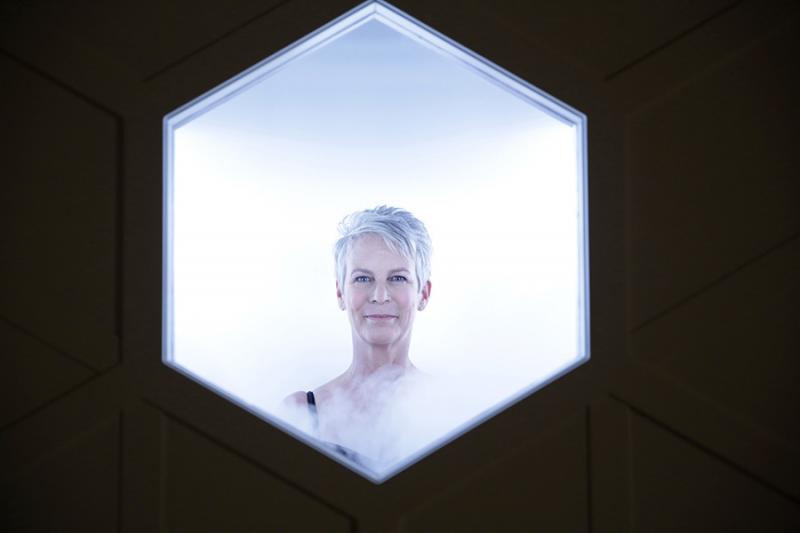 Meanwhile, the Chanel's plan to murder Dean Munsch is all but successful. First, they take her to a spa and lure her into a sauna, where they turn the temperature to below freezing. Even though Munsch should've frozen to death, she is somehow still alive and well when they open the door. Chanel is frustrated beyond belief and decides to invite Dean Munsch to the university pool, where she will then drown her. She relies on the Chanel's and Zayday to meet her at the pool at a specific time, but they are too busy arguing with a salesperson in the mall to notice their cell phones going off. Munsch meets Chanel at the pool, but she is able to let her know through facial expressions that she figures they are trying to kill her. Unofficially busted, Chanel angrily heads back to Kappa.
Pete is in his dorm room, nervously packing up everything when he gets a mysterious phone call. Apparently, he and someone else need to make a run for it; he looks at the Red Devil costume in his closet and sighs. Later, Grace shows up and kisses him, telling him that she is ready for her first time to be with him. He rebuffs her efforts and tells her that he is far from the great guy that she thinks he is. She is confused until he chillingly tells her, "I don't want your first time to be with a murderer."
It took way too long for "Scream Queens" to deliver an episode that actually advanced the plot and was interesting, but it finally came. Next week is the finale, and the Red Devil will at last be unmasked.
Reach Staff Reporter Adrianne Ramsey here.