Film and TV
'Scream Queens' Season 1, Episode 10: 'Thanksgiving'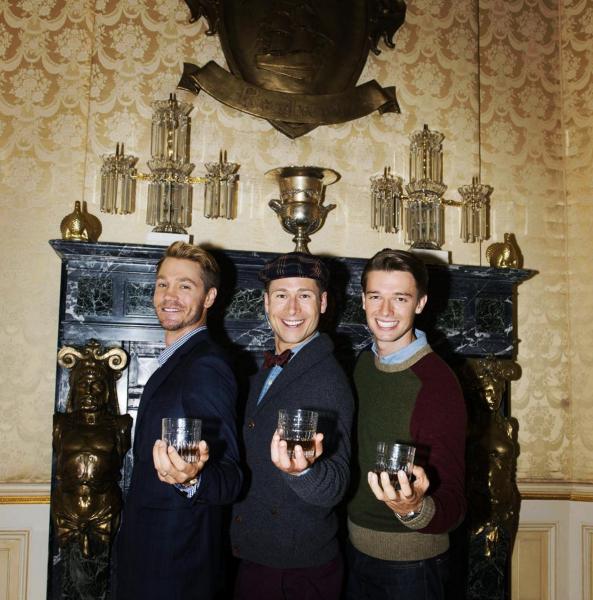 Tonight on "Scream Queens," more than just turkey was carved. Dark secrets were revealed and everyone has a target on their back, as we are coming closer to finding out who the Red Devil killer is.
The episode begins with Chanel (Emma Roberts) revealing to Chad (Glen Powell) that she killed Hester (Lea Michele) so she could stop interfering with their relationship. Chad is half-horrified, half-excited because he wants to see the body. Chanel takes him to the meat locker, but of course Hester's body isn't there. Elsewhere, Gigi (Nasim Pedrad) and the Red Devil make handcrafted turkeys. She orders room service to show her gratitude that the Red Devil is spending time with her, as she abandoned her family years ago.
Chanel #3 (Billie Lourd) goes to her family house for Thanksgiving, where she is promptly insulted by her parents and brother and relegated to eating dinner with the help. "Dinner" is simply their family's frozen food line's Thanksgiving meal. Frustrated, #3 disowns her family and heads back to Kappa. She comes across Dean Munsch (Jamie Lee Curtis) in the kitchen carving a turkey, and they decide that they will spend Thanksgiving dinner together. Upstairs, Grace (Skyler Samuels) receives a call from Wes (Oliver Hudson), who says that Gigi never showed up to his dinner and that he'd like to join her and Zayday (Keke Palmer). Grace begrudgingly agrees to let him come to Kappa for dinner.
Next, Chad takes Chanel to his family's house for Thanksgiving dinner. Mr. Radwell (Alan Thicke) and Mrs. Radwell (Julia Duffy) both make it clear that they are not happy to see Chanel, as they consider her to be a poor gold-digger. We are also introduced to Chad's siblings, Thad (Patrick Schwarzenegger) and Brad (Chad Michael Murray), and Brad's wife Muffy (Rachele Brooke Smith). Not surprisingly, they are all shallow and incredibly condescending towards anyone who is not their own. But then, the biggest shock of all happens…Hester shows up – she's not even dead! She thanks Chanel for pushing her down the stairs because she's sure it cured her scoliosis. She once again announces that she is pregnant; although at this point we're all pretty sure that she is not. Mrs. Radwell is horrified at her presence and threatens to sue the pants off of her.
READ MORE: American Music Awards 2015 - Winners
At Kappa, the dinner attendees gather around the table and decide to announce who they think the killer is. Munsch thinks it is #3, simply because her birth father is Charles Manson. #3 thinks it is Munsch because she ran into Munsch at the mall eating a bologna sandwich, proving that she was the one who killed her ex-husband Steven (Philip Casnoff). Then, Wes accuses Grace of being the killer. Apparently Grace was visiting Kappa house during admit days when Melanie Dorkus (Brianne Howey) was disfigured, but she refutes being the Red Devil because #3 and Chanel #5 (Abigail Breslin) kicked her out before the incident with Melanie even happened.
Wes's next piece of evidence shows the glaringly obvious inconsistencies in the writing for this show. Wes says that he saw Grace talking with the Red Devil one night, and Grace dispels this by saying it was Pete (Diego Boneta) dressed up as the school mascot. However, the outfit that Grace is wearing is the same one that she wore in the first episode, when she saw the Red Devil stalking campus and didn't know who that person even was. She then went on to Kappa for rush activities. She met Pete the next day, but didn't even know that he was the school's mascot until the second episode. Completely messing up a previously shown scene in a television show is a huge no-no.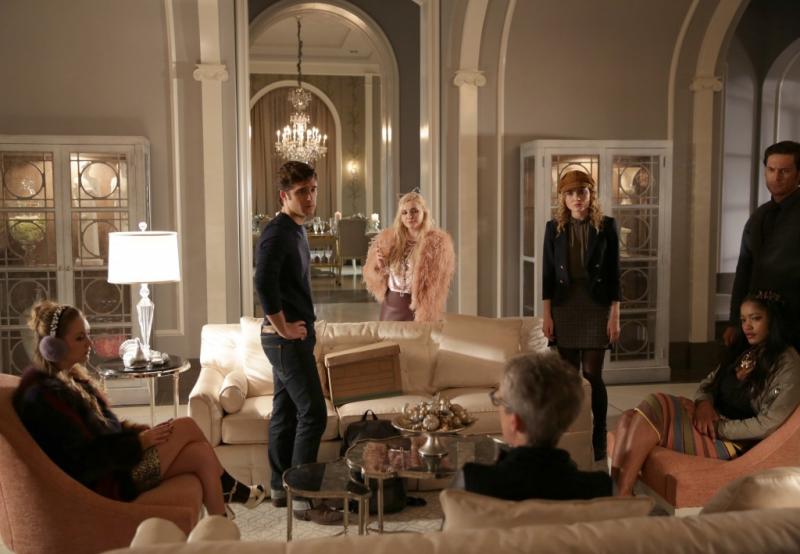 Things aren't getting much better for Chanel at the Radwell's. She calls her mother for sympathy and advice but her mother is drunk, saddening Chanel. Mr. Radwell interrupts her call to offer her $50,000 to leave Chad alone, but she refuses. There isn't much time to talk, as it's now time for a traditional game of Pictionary. However, all it really turns out to be is the Radwell's calling Hester a "neckbrace whore" and laughing about it. Disgusted, Chanel completely demolishes the Radwell's, apologizes to Hester for her attempted murder, and breaks up with Chad. Both she and Hester head back to Kappa.
READ MORE: Scream Queens, Season 1 Episode 9 Recap: 'Ghost Stories'
However, the twisted game of "Who is the killer" is not over. Pete accuses Wes of being the killer, having found out a couple of disturbing things: one, that he attended a party in the Kappa tunnels when he was at Wallace and therefore could've used them to sneak into the house during the Kappa slumber party, two, that he blacked out all the cameras in the meat locker (he claims he stole the meat for his new diet), and lastly, the most shocking – he is the father of Sophia Doyle's children, discovered by DNA evidence. That can only mean one thing – the bathtub babies/Red Devils are his. He and Grace are both horrified at this turn of events and he swears that he knew nothing about this. Grace decides to stick by her dad and declares that she will stop at nothing to turn her half-siblings in.
Chanel and Hester arrive back at Kappa, with a surprise – Chad has come back too, not because he realized his family is terrible, but he genuinely wanted to have a turkey dinner with Chanel. Thrilled, Chanel gets back together with him, which is honestly a little disappointing at this point. Munsch then serves the turkey, and Chanel opens the lid and discovers a little surprise – Gigi's severed head.
At this point, "Scream Queens" is beyond ridiculous. The plot gaps and annoying commentary are close to unbearable, but we're only one episode away from the two-hour season finale.
Reach Staff Reporter Adrianne Ramsey here.