Food
Whole Foods Finally Finds Its Way Into Downtown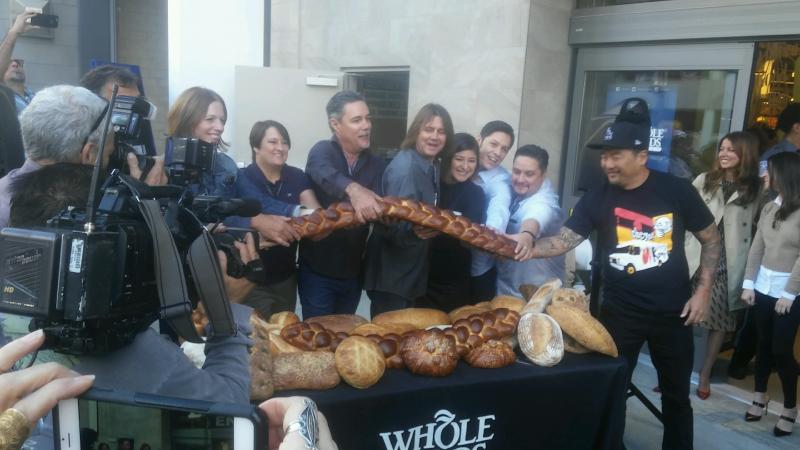 Downtown Los Angeles just got a little more hip. The Nov. 4 opening of Whole Foods at the corner of Eighth Street and Grand Avenue in Los Angeles is part of the growing renovation taking place in the downtown area.
"You are going to see a store that is not only unique to the grocery store industry but also unique to the Whole Foods Market," said Patrick Bradley, president of Whole Foods Market Southern Pacific Region. The new location is equipped with a full bar, lounge and record station, features other locations do not have.
The move was part of the growing gentrification taking place in L.A. As gentrification began, some businesses were pushed out. But, some downtown residents and workers see Whole Foods as a necessacity.
"I think that this has been a very necessary business in the area and obviously by the turn out you see here the residents and those who work here feel that way," said Don Vital, an L.A. resident who works in downtown. "I think it's going to continue the development that's happening in the area."
SEE MORE: CIVIC HACK NIGHT GATHERS DOWNTOWN COMMUNITY TO ADDRESS HOMELESSNESS
Besides the new Whole Foods, developments in L.A. due to gentrification spurred building projects costing millions of dollars and some billions. For example, the former Butter Company Warehouse, set to go into development in 2016, sold for $21 million and The Reef mega development, which will create a 208-room hotel and two condo high-rises, costs $1.2 billion. Vital and others say the expansion has brought in new residents and more workers to the area and the people are used to paying higher costs for everything and that includes higher food prices at Whole Foods.
"Rent in this area is very high. The cost of living in L.A. as a whole is very high and I think that obviously people tend to find the want and don't mind paying top dollars for groceries," Vital said. "I think that it's a common item and the reason Whole Foods is such a big company is because people are willing to pay for it."
And pay for it they will. The grocery chain specializes in organic goods which are more expensive than non-organic foods. Consequently, the grocery store has higher prices for items that are listed organic. A writer for Business Insider, Kathleen Elkins, compared Whole Foods' organic items with non-organic items and found it could cost up to $135 more depending on which food item a customer is shopping for.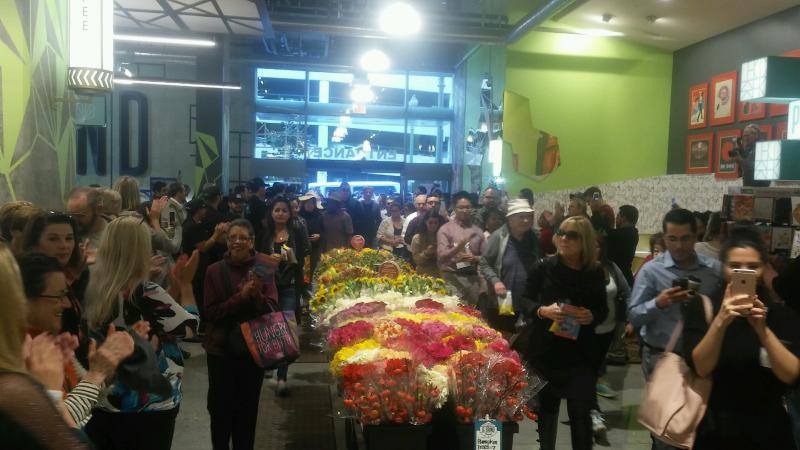 SEE MORE: #REVIVEDTLA: LIVE, WORK AND PLAY IN DTLA
However, Whole Foods' executives say they have affordable options to fit the financial needs of all of their customers.
"Our prices are actually competitive to everybody else," said Sylvia Gonzalez, the marketing team leader for the new downtown L.A. location. "Our 365 private label is a great way to save money if you are shopping on a budget."
The 365 private label items are Whole Foods' personal brand, which they are able to set at more affordable rates compared to produce and goods they acquire from outside vendors. Whole Foods' in-house products also have organic options that are comparable to its other products. "All of our products that are cost effective still have our quality standards," said Gonzalez.
With the opening of the new location, the grocery chain partnered with chef Roy Choi, owner of Chego, to enhance the services it provides to its customers. Choi said his company kept prices at levels that are cost effective for residents and workers in downtown.
SEE ALSO: DTLA: BY THE NUMBERS
"We decided to go with a two-price option, $12 and $7, said Choi. "The price of our bowls at our Chinatown location are $8 to $10, so we really didn't go up that much." The chef said he reworked his recipes and gave his business a new over-the-counter concept to suit the needs of Whole Foods' customers.
Mondo Howard, a customer who lives in the luxury apartment complex upstairs from Whole Foods, said he "frequents" the restaurant often and finds it affordable for his family.
"I've always seen Whole Foods as a healthy alternative, so it'll give these people a lot of different options of making meals," Howard said. "It's cost effective, so we don't have to buy as many foods and things."
The majority of shoppers at the new location found the store suitable for their daily needs, but there are some customers who are tentative about their decision to shop at the chain.
SEE ALSO: L.A. COUNTY VOTES TO RAISE MINIMUM WAGE WITH NO EXEMPTIONS
"I'm hoping it will bring more lunch options for us as workers a few blocks away," said Lauren Ponce, another employee of the downtown community. "I think there are a lot of young professionals here that are going to be shopping here, but I don't know if I'll shop here personally. So, I came here to look at the prices."

L.A. resident Karen Gonzalez said Trader Joe's is her grocery store of choice, but she shops at Ralphs grocery when she's closer to downtown. She said there are reasons she would like to shop at Whole Foods due to the health quality of the food but it is not her grocery store of choice because the prices are out of her budget.

Whole Food's Gonzalez said the Whole Foods market came to the community to help it grow and have a good time.
"If a community is getting better and working together to make something good, we want to be a part of that and help in any way we can," said Gonzalez.
Reach Staff Reporter Lamarco McClendon here.