Politics
USC College Republicans Host Radio Personality Ben Shapiro As Guest Speaker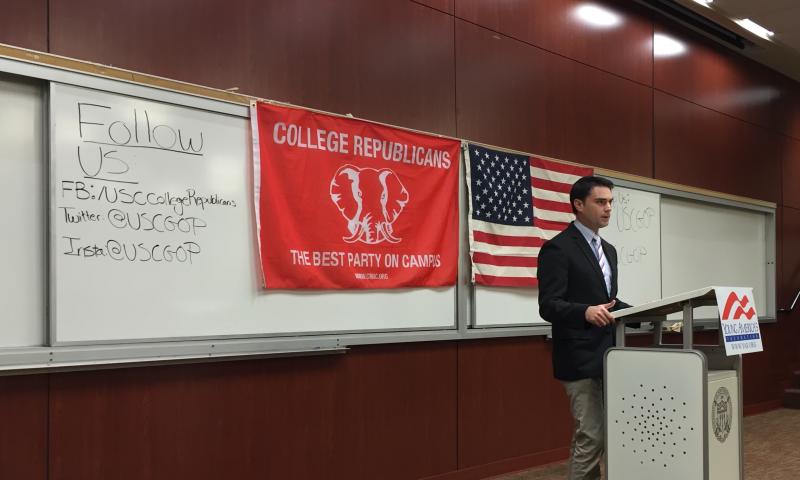 Political commentator and radio personality Ben Shapiro
told University of Southern California students Wednesday evening that the political left is key in furthering the radical Islamist agenda on college campuses.
Shapiro said the agenda is two-fold: to end free speech about human rights violations in Muslim countries with charges of Islamophobia, and to subsequently destroy Israel.
"They have to both happen, because if you are going to destroy Israel, then you have to silence any critics about the Muslim world and radical Islam," Shapiro said. According to Shapiro, this is because if you ever contrast the two, a massive moral contrast is apparent.
The Facebook flier for this event, hosted by the USC College Republicans, said, "Ben will confront the truth about anti-Israel bias on campus" and he "will confront the lies of the left and explain their tactics and goals."
The USC College Republicans often get attention for hosting guest speakers with strong opinions that vary widely from those of their Democratic Party counterparts. President Jacob Ellerhorn said variety of opinion is important on college campuses, and that is a large factor in his group's speaker selection.
"On campus, [opinion is] really dominated by the left and I think the diversity of thought is never really thought about," Ellerhorn said.
Shapiro, 30, is co-host of talk-radio show The Morning Answer on AM 670, editor-at-large of Breitbart (a conservative news and opinion website), and at age 17 became the youngest nationally syndicated columnist in the U.S.
READ MORE: Rape Culture Is Real No Matter What You Tweet
Shapiro said Wednesday that evil is fostered by the "liberal left" ignoring ideology and humoring unjustified self-esteem and microaggression mentality. He said the war on the west is being carried out by radical Islamists and anyone who ignores that terminology is willfully ignorant, because evil people are motivated by their ideas.
Shapiro also said the left willfully ignores the difference between radical Islam and Muslims in general, thus perpetuating overgeneralized anti-Israel bias.
Regarding unjustified self-esteem and microaggression, Shapiro said members of the left create the ability for radical Islam to thrive by bolstering Muslim self-esteem to an artificial high which makes Muslims over-sensitive to slights and thus prone to acting out violently and disproportionately, therefore creating radical Islamists.
Shapiro was the only speaker, so no counterpoints were made at the USC College Republicans' event Wednesday.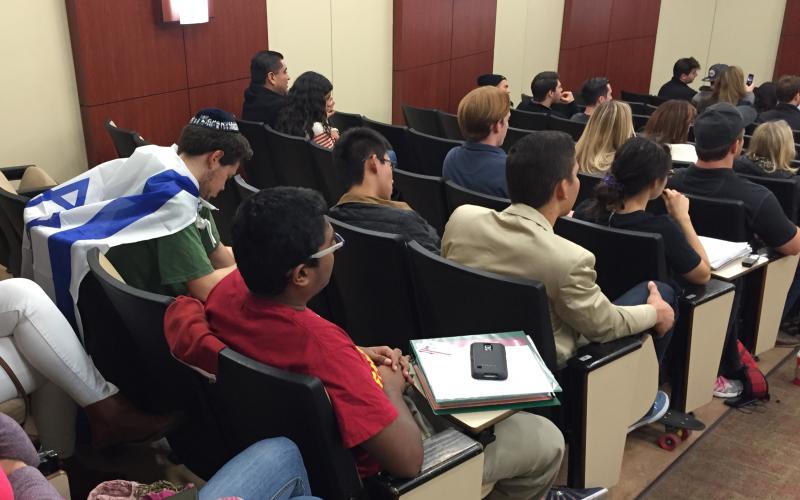 Shapiro's talk drew a very diverse crowd, including USC students, students from other universities, parents of students and other unaffiliated local members of the conservative community.
Ellerhorn said his group works with the Young America's Foundation and the David Horowitz Freedom Foundation to book its speakers, and they helped bring Shapiro to campus.
"We try to bring in young, [prominent] figures from the conservative media, so that they can relate to and inspirecollege students," said Karey Cavaney, USC College Republicans Chief of Staff and sophomore public relations and political science major.
Past guest speakers of the group include Ann Coulter, Milo Yiannopoulos (who has been called "the pit bull of tech media" by The Observer) and Elisha Krauss, one of Shapiro's two co-hosts on The Morning Answer.
READ MORE: Ann Coulter Sparks Protest At USC
"Bringing speakers who present a different point of view is interesting," Ellerhorn said. "It's a shame that a differing point of view is looked at as controversial but that's how it is on our college campus."
Cavaney said the next speaker they hope to bring to campus is Tomi Lahren, host of a segment called "Final Thoughts" on Blaze TV.
According to Cavaney, it was Lahren's statement in response to the death of four U.S. Marines at a military registration office in Chattanooga, Tennessee that initially drew the group's attention to her as a potential guest speaker.
Lahren said in a message during her segment in July that went viral, that what killed the Marines was not climate change, gay marriage or income inequality, but radical Islam. "Radical Islam is becoming the rule, not the exception. Yesterday's moderate is today's terrorist," Lahren said.
If all goes as Cavaney plans, Lahren will speak at a USC College Republicans meeting in spring 2016.
Shapiro's speech took place Wednesday night at USC's College Republicans meeting, held on campus in the Salvatori Computer Science Center. Immediately after his talk at USC, Shapiro left for Columbia, Missouri to talk to students at the University of Missouri.
"Somebody has to tell the truth to a group of spoiled college kids so fixated on their own self-appointed victim status that they're willing to trample American rights," Shapiro said. His talk at Mizzou is titled "Truth Is A Microaggression."
Reach Contributor Stephanie Haney here.