Los Angeles and Region
Three Arrested in Murder of Downey Police Officer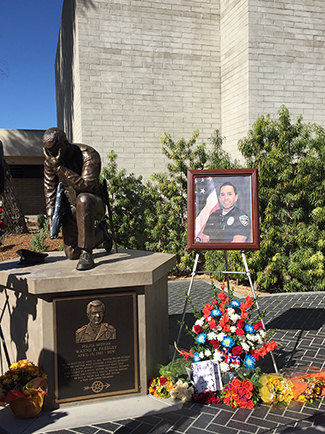 Three people have been arrested for the killing of a Downey police officer who was fatally shot Wednesday evening.
Two men and a 16-year-old boy were taken into custody in connection with the slaying of Officer Ricardo Galvez. The identities of the three people in custody have not yet been released, but all three suspects will be facing murder charges, authorities said.
During an early morning news conference Thursday, Downey police Chief Carl Charles described the fatally wounded officer.
"This morning I stand before you with a heavy heart," Charles said. "It is with great sadness that I report one of Downey's finest was shot and killed."
Galvez, 29, was gunned down in the west parking lot of the station around 11 p.m. Wednesday, said Lt. John Corina of the Los Angeles County Sheriff's Department. He died at the scene.
Galvez was sitting in his personal car when two men approached and opened fire. He had just returned from K-9 training and was not wearing his police uniform at the time of the killing, police said.
SEE MORE: Ferguson's Movement: Perspectives of a Former Cop and On-the-Ground Organizer
Authorities believe that the killing was the result of "a botched robbery attempt." The suspects admitted "they were attempting to rob Officer Galvez, not realizing he was a police officer," Corina said. "I don't even think he saw these guys coming up on him." It was unclear if Galvez and the suspects exchanged words before the shooting.
"If you could mold a police officer, you would mold that police officer after Ricky Galvez," said Lt. Mark McDaniel, a department spokesman.
Officers with the Downey Police Department heard the gunshots, saw the car and went in pursuit of the vehicle. While one officer was pursuing the vehicle, another Downey officer went outside and found Officer Galvez.
SEE ALSO: LAPD Calls Shooting Of Two Women 'A Tragic Misinterpretation'
The shooting sparked a police pursuit and manhunt that began in Downey and ended in the general area of Carob Way, near Washington Boulevard in the neighboring city of Montebello. SWAT officers assisted the sheriff's department and swept surrounding neighborhoods. One person was detained following the Wednesday evening pursuit and two others were detained after officials conducted a follow-up investigation and served multiple search warrants early Thursday morning.
Detectives reviewed surveillance video and evidence at the scene in addition to conducting suspect and witness interviews, Corina said.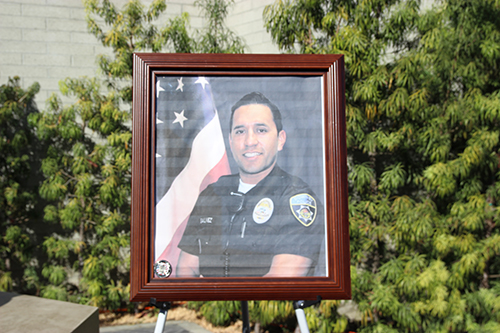 Authorities said they obtained a handgun that they believe was used to commit the murder, but would not comment on the number of shots fired.
Investigators believe the two men and the third individual — described as the getaway driver — were intent on robbing the officer. Although police initially stated that Galvez had been targeted, they later said they do not believe he was targeted personally or for his profession.
The five-year veteran of the department was also in the U.S. Marine Corps. Prior to becoming a police officer, he served two tours of duty in Iraq and Afghanistan.
An American flag was draped over Galvez's body as a police procession carried it from the crime scene to a coroner's van.
"He loved serving his city and he loved serving his country," McDaniel said.
"We have a lot of police officers here who are hurting. We'll never get over it and we'll always remember Ricky," he added.
Gov. Jerry Brown issued a statement Thursday on the death of the Downey officer saying that flags will be flown at half-staff at the Capitol in Sacramento in honor of Officer Galvez.
Galvez was from Whittier. He is survived by his mother, brother and two sisters.
Reach Contributor Whitney Ashton here or follow her on Twitter here.