Arts+Culture
What Thanksgiving Could Mean In The Midst Of Tragedy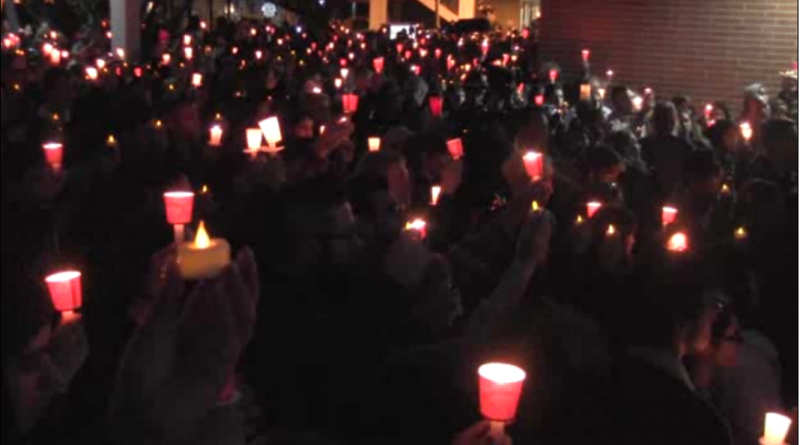 Last Friday was a dark day for hundreds of people worldwide: there were terrorist attacks in Paris,
an earthquake in Japan
and Mexico, a funeral bombing in Baghdad and
a suicide bombing in Beirut
.
In lieu of these recent tragedies around the world, this Thanksgiving may be especially poignant.
This year, the holiday allows students and staff at the University of Southern California to step back and reflect deeply on what thankfulness means.
SEE MORE: CSULB Memorial: Community Remembers Successful Student
Doctor Gerald Davison, a psychology professor at USC, said the Paris disaster could serve to help people appreciate what they have. He also said one of the strongest findings in psychology is that social support is critical in helping people deal with trauma.
"Family and friends can certainly be sources of social support," said Davison. "It is possible that even families with conflict could come together when there is as horrific an event as what happened and is still happening in France, given that there is a real possibility that terror attacks are part of our future and not just the recent past."
Erin McGillivray is a graduate student at USC. She's read about the Syrian refugee crisis and cannot imagine what it would be like to be in those shoes.
"What it would take for us to leave this place, and how dangerous it would be for all of us to cross a bunch of borders makes me thankful for my families health and happiness," said McGillivray.
Third year Andrew Litwak, a business major at USC, said he's thankful for privilege.
"I am thankful that I have opportunities to do something in the world, make a name for myself and be a successful person," said Litwak. "A lot of people don't have that opportunity."
Travel Tension
Some students are worried about going home to join their families for Thanksgiving. Summer Seo is a sophomore engineering major and her parents live in Maryland. She said she's not flying back to spend the holiday with her family because of the attacks and commotion.
"I wouldn't travel anywhere far, especially where ISIS has announced there are states that are targeted," said Seo. "A lot of people are changing plans because of what's happening around the world and I'm one of them too."
The recent events have also caused tension when it comes to the renowned Thanksgiving tradition, Black Friday shopping.
Lars Perner is an assistant professor of clinical marketing at USC, and he said if the media gives more coverage towards safety precautions for Black Friday shoppers there will not be as many crowds in malls and shopping centers. This could be due to the rise of online shopping and Cyber Monday deals, but precaution specifically from terror attacks may drive away even more shoppers this year.
SEE MORE: 2 Air France flights from U.S. to Paris diverted because of bomb threats
"In the past, there have been isolated incidents of violence during Black Friday shopping," said Perner. "If there is a lot of media coverage, many people will probably be discouraged from going Black Friday shopping. Once you decide to go shopping, there probably is not a lot you can do to protect yourself from bombs."
With so many events out of our control, one professor suggests concentrating on the little things in life.
Professor of Sociology Nina Eliasoph said there are always horrible things happening in the world, but she's thankful for life.
"There's nature and flowers," she said. "When you think about the amazing miracle of eyesight or all the infinite parts of a bug or anything there's always something there to be thankful for."
Contact Contributor Joy Hahn here.