California
CSULB Memorial: Community Remembers Successful Student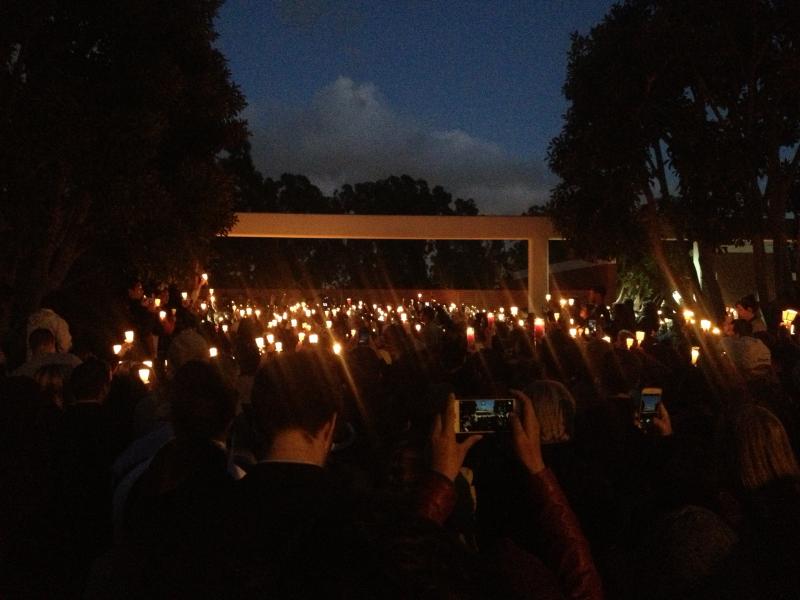 The last time Pearl Wang saw Nohemi Gonzalez was a couple months ago, just before she left for Paris. Wang was a student at Cal State Long Beach, with Gonzalez, and also worked with her at a local retail store for two years. He remembered that encounter, and knew she was about to go abroad, but didn't think much of it at the time. It didn't cross his mind that it'd be the last time he'd ever see her.
"So many students go abroad," Wang said. "College students do that on a regular basis. But knowing that our safety is at risk because we're trying to learn new things and broaden our experiences, it's really sad, and terrifying."
Hundreds gathered at the University Student Union building at Cal State Long Beach to celebrate the life of Gonzalez, a senior design student, who was killed during the recent terrorist attacks in Paris. Gonzalez was studying abroad for the semester at the Strate College of Design with 16 other CSULB students, none of whom were also injured in the attacks. At least 129 people were killed in the attacks.
Administrators, teachers and classmates spoke at the memorial service, which was followed by a candlelight vigil outside the building. The CSULB student choir performed at both the memorial and vigil.
California State University Chancellor Timothy White spoke at the memorial, and attempted to quantify sadness felt across the 23-campus system.
"We pray for a world without violence, we want to imagine that in your name," White said. "But then, we run out of words."
Martin Herman, chair of the school's design department, spoke about the effect Gonzalez had on it, where she was an assistant student worker.
"She was a charismatic leader," he said. "She exuded such energy and enthusiasm and infused the entire department with those same qualities by her daily presence."
Herman also went through Gonzalez's accomplishments as a student, calling her "successful" and "globally engaged." Her designs for sustainable packaging of food products won second prize at the 2016 International Real World Design Challenge.
Some of Gonzalez's friends and her boyfriend also spoke of her work ethic and outgoing personality. They urged those in attendance not to be sad or overwhelmed by grief, but to live out her positive spirit.
"Always, always remember," one of her friends said, "Nohemi wants us to be happy, successful and strong."
After the memorial, friends from work, high school and college continued to remember her, and wonder how something so tragic could happen.
Carissa Mosqueda went to Whittier High School with Gonzalez before enrolling at CSULB. The two were on the swimming and water polo teams together at Whittier, where Gonzalez also ran track.
"Knowing her the last two years, it's hard," Mosqueda said. "She was a really outgoing person. She was just a go-getter. She just had a very strong personality. It hasn't sunk in. And it's sad that I have to see her all throughout the Internet for all the wrong reasons. It's a tragedy just to know she's no longer here."
Selene Perez worked with Gonzalez at a local Hollister clothing store for two years. She said they both worked to get by, but were looking for jobs outside of retail, which was something they bonded over. Perez regretted the fact that they were not in touch as often since they stopped working together.
"We were both trying to get out," Perez said. "We were both trying to find another job. So whenever I was on my break, we would get together and discuss 'Oh, so I got an interview,' so we got to relate so much on what we were trying to do."
Perez said she too was planning on studying abroad in Europe, but the attack has her questioning whether to still do so.
"I was actually planning on going abroad this spring," Perez said. "My mom is super skeptical now. She's like 'Do you really want to go?'"
Several of Gonzalez's other friends said they were still in shock, unable to believe that something like a study abroad program could prove to be so dangerous, or that something like this could happen to someone they knew. They said, however, that the memorial was a touching tribute to Gonzalez and truly captured how beautiful of a person she was.
"I know Nohemi, as positive as she is," Wang said, "she would wish for us to give her positive vibes."
As one of the students from the group who spoke at the memorial said, "Don't forget to design some bad-ass things in heaven, the way you always did."
Reach Staff Reporter Luke Holthouse here.