USC Sports
Meet Jamie Fink, USC Soccer's Leader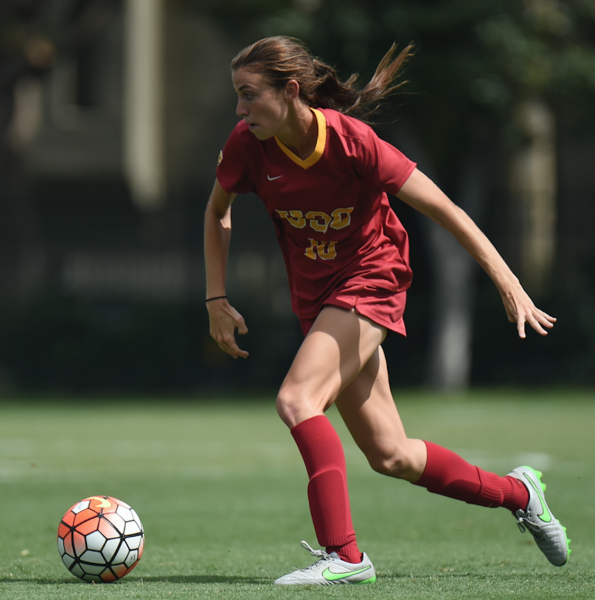 While many people idolize professional athletes, USC women's soccer star Jamie Fink calls her older sister Amanda her biggest sports here and also her biggest competitor.
The senior forward started kicking around a ball at the young age of three, but also played tennis competitively until the age of 13. She was then faced with a decision to make: tennis or soccer?
It was Fink's competitive rivalry with her sister helped her make her final choice.
"I really wanted to be different than my sister," said Fink. "My sister played tennis here [USC], so I chose the soccer route."
She wanted to differentiate herself from her sister so much that USC was not her initial dream school, but she was sold after a little push from her parents to tour the campus.
"Right when I stepped on campus, everything about it; the academics, the soccer, the legacy here and the social kind of aspects of it. I just fell in love with it all."
Fink has been a starter for the Women of Troy since she became arrived at the university. Over the last four years, she has been a major contributor on the field and has gained valuable assets from the program.
"I think that soccer has done a lot for me," said Fink. "It taught me a lot of attributes that are needed in the future and what is needed out of me in the real world."
One of those attributes she speaks of is leadership. Fink has been a captain on the team for the last two years and has come a long way from her freshman days of barely speaking up.
"I was way too scared with the atmosphere and kind of needed to find my place," she admitted. "As the years have gone by, I've realized that I need to take on that leadership kind of role and be more of a communicator."
Although she already had her senior night, Fink had to remind herself that her days competing for the Cardinal and Gold are not quite over.
"It was pretty emotional just knowing it was coming to an end," said Fink. "At the same time it's like, 'Jamie you've got more games coming at you; you're in the NCAA tournament.'"
The last time the Women of Troy made it to NCAA Championships was back in 2010 before Fink even stepped foot on campus.
"So you just got to keep your head up and look forward and be like you know your season isn't ending, it's actually beginning."
Fink is still unsure about her plans after she graduates, but she says they will definitely involve sports.
"I either want to play [professional soccer], or I want to get into sports broadcasting," Fink said. "I'm open to [covering] anything, just as long as I'm around sports."
Fink undoubtedly has made a lot of memories here at USC. So many, in fact, that it was too hard for her to pinpoint one favorite. But the one that has meant the most to her involves her beloved team.
"Being second place in the PAC-12 this year is totally a game changer for me because we've never been in that position before," said Fink.
The team finished 11th in the Pac-12 when she was just a sophomore, and now, two years later, they have moved up nine spots in their conference.
"We're moving forward and I think that soccer has definitely made a name for itself now," pointed out Fink with a proud smile.
As her four years come to an end, Fink said her teammates will probably be what she misses the most.
"Just the team aspect of it and the comradery amongst each other," she explained. "These girls are like my sisters."
For her, it's not a goodbye because she plans on still being around for her soccer sisters.
"I just want the girls to know that I'm always going to be there for them even when the season ends, and I'll always support them," she said. "I'm not really gone; I'll always be there."