California
Claremont McKenna College Incidents Spark Diversity Discussion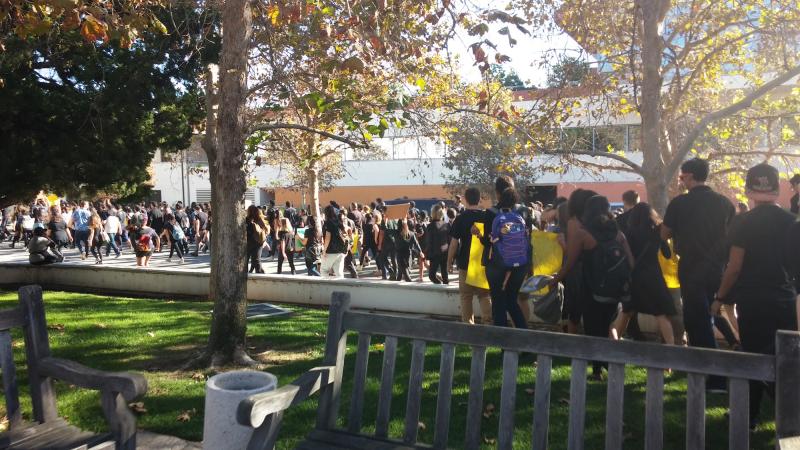 After a week of unrest at a small Southern California college, students are continuing their discussion around diversity and support for students of color at a historically white institution.
Claremont McKenna College has been at the center of a media firestorm after a dean was forced to resign in the wake of accusations of institutional racism. The small, elite private college, located in the eastern suburbs of Los Angeles, also saw the resignation of the junior class president after a picture posted on Facebook showed her with two fellow students wearing "mariachi" costumes that have been deemed cultural appropriation by many. The incidents have prompted intense conversations regarding inclusion and diversity at the school.
"These things served as catalyst for a lot of students who feel marginalized at CMC," said Claremont McKenna College senior Yeo Shang Xuan.
The events at Claremont McKenna happened in parallel to other racially charged incidents at the University of Missouri, Yale University and Duke University, among others.
Last Wednesday, students protested on Claremont McKenna's campus against the alleged lack of support for minority students. They also were a part of the #MillionStudentMarch on Thursday, which supported the Black Lives Matter campaign.
SEE MORE: Fight On For Mizzou: USC Students Stand In Solidarity
The Claremont McKenna-specific protest was sparked in part by an email from Dean Mary Spellman to Lisette Espinosa that insinuated Espinosa did not fit the "CMC mold." Students said that this one not a singular incident, and that students of color have repeatedly encountered racism at the college.
Claremont McKenna was founded as Claremont Men's College in 1946, and has historically "confronted deep-seated practices that, intentional or not, conceived of higher-education from a primarily white, heteronormative, upper-class, male perspective."
The college has tried to shake these values in favor of a more inclusive model, but a 2012 study found that remnants of these values still remained as the administration struggled hire diverse faculty and cultivate an inclusive campus culture.
Third-year Taylor Lemmons announced Wednesday that she would go on a hunger strike until Dean Spellman resigned, which she did Thursday.
The dialogue around the issues has had a prominent space on social media. A picture of the junior class president and her friends in so-called "appropriative" costumes was first posted on Facebook and following discussions were shared on Tumblr; the announcement of the hunger strike came on Medium. At the protest last Wednesday, students referenced a Yik Yak hashtag that read "#shushPOC," indicating that students of color should be quiet.
Tension on campus has been building for some time, current students said. The 2012 Report of the Campus Climate found that the college's commitment to increasing and maintaining conversations around diversity was waning. Just 60 percent of black students surveyed for the Campus Climate & Student Life survey said that the "CMC campus is free of tension related to race/ethnicity," in compared to 80 percent of other respondents.
Last April, about 30 students of color sent a letter to Claremont McKenna's president, Hiram Chodosh, asking for more institutional support for students of color, including funding for multicultural clubs and mandatory race-sensitivity training for students and faculty.
READ MORE: Not The First Time: Minorities At USC Speak Out Against Racism
Since the protests and subsequent resignation of Dean Spellman, students said that current conversations have expanded to include other points of view outside of the protests.
The Claremont Independent has been a forum for students outside the protest movement to express their frustrations. Student Ben Sacks wrote a letter to Dean Spellman that was published on the site: "I'm sorry that I have failed to stand up for my beliefs and your rights as an administrator because as a white, privileged, cis-gendered, able-bodied, male student my views carry no weight in the eyes of the masses and can easily ostracize me as an unsympathetic bigot."
On Sunday, The Claremont Independent released a letter that has reportedly gained 277 signatures denouncing the actions taken by protestors last week, but acknowledging that change needed to happen on campus.
"We acknowledge that marginalization is a problem throughout the entire nation, and regardless of the color of our skin we promise to continue to change the status quo until people of all backgrounds and dispositions can live together without any fear of racial intolerance," the letter read. "That being said, we do not condone many of the actions of the movement this past week."
The letter cited the alleged cyber-bullying of white women who dressed as "Mexicans" for Halloween and denounced the opening of a federal investigation against Claremont McKenna. They also criticized the hunger strike and the behavior of students at last Wednesday's protest after some students shouted at administrators while refusing to allow them to use the microphone to address questions.
READ ALSO: Movement Not A Moment
The discussions have not been confined to Claremont McKenna, but have also spread to the school's sister institutions. Claremont McKenna is part of the Claremont Consortium, which includes Pomona College, Pitzer College, Harvey Mudd College and Scripps College. The 5Cs, as they are colloquially known, share geographic space, unite to form NCAA sports teams, and allow students to take classes across campuses.
Each institution has a distinct culture, though. Each has different academic standards and values, but students often form friendships across school lines, meaning that issues at one school will almost inevitably spark discussion on every campus. Yeo said that many of the students at Wednesday's protest were Pomona and Harvey Mudd College students.
"In general, my sense is that these conversations, before these protests broke out, were more commonplace in general at some of the other Claremont Colleges," said Yeo.
Each school has a distinct history of student activism. Pomona College, the largest of the undergraduate institutions in the consortium, has had student protests following the firing of 17 undocumented workers in 2011 and organized die-ins in Frary Dining Hall following the events in Ferguson and the Black Lives Matter protests last year.
Helen Jun, a senior at Pomona College, said the events at Claremont McKenna have permeated her campus' consciousness. "I would say it's very restless now. Even in classrooms, at least the ones that I've been in, a good number of them have addressed it. In one, instead of doing the lecture we just talked about what's going on on campus. All the political unrest has been pervading every area of the school," said Jun.
Claremont McKenna announced the creation of two new positions to make diversity a priority, one under the Dean of Faculty and one under the Dean of Students. "This is the time for CMC to heal and move forward," said interim Dean of Students Jeff Huang.
Looking forward, students are unsure how the school will be able to cultivate a more inclusive campus culture.
"Ultimately, I think what is needed more than anything is for people to have a change in heart. I believe true transformation comes from within. For example, "I want to actually sit down and have a conversation with you and listen to you and be your friend,"" said Yeo.
Reach contributor Caitlyn Hynes here.