National
Fight On For Mizzou: USC Students Stand In Solidarity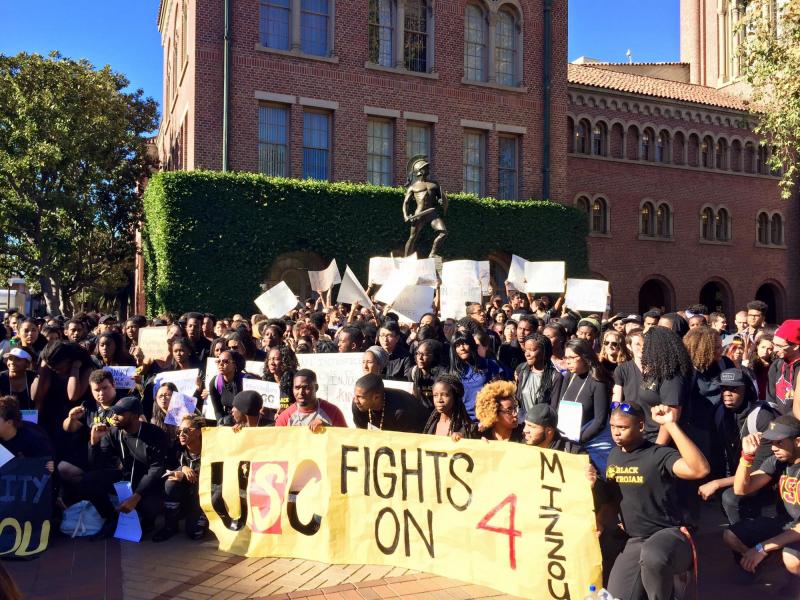 A #USC4Mizzou sign stood at the feet of Tommy Trojan, "Black Lives Matter" references were aplenty and "We Are With You Mizzou" posters were in the hands of many.
On Thursday at noon, just over 200 USC students surrounded the the iconic Tommy Trojan statue to protest in support of the recent events at Missouri. Donning all-black attire, with signs of solidarity and Yik Yak insults printed out and draped over their shoulders, they stood in a large circle, expressing their concerns and making their demands known through a megaphone.
"We, the students, are calling on administration to acknowledge the lack of diversity and inclusion on this campus," said a BSA official.
Protesters took turns stepping into the center of the circle, asking for things like true diversity and true inclusion, something they believe is nothing but a mere facade on campus.
"I wanted to do something peaceful, but I feel anything but peace," admitted a student whose rant came in the form of a poem.
"I'm here with this heavy backpack, with books about black people because this school won't teach me about them," exclaimed one student.
Testimony after testimony surfaced as black students and a few Hispanic students voiced their experiences with racial comments or situations they had found themselves in.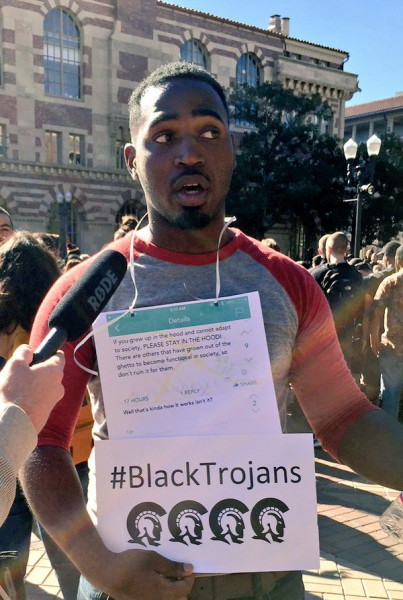 Graduate student Tyrone Young was one of the many who took hold of the mic and rallied those in attendance with his words. His message was simple, but powerful, as he riffed off the popular saying: "Keep Calm and Fight On" that was printed on a keychain he had recently purchased.
"You want me to keep calm and then keep fighting?" he asked incredulously. "How do you keep calm with the disparity of students of color here on this campus?
"I'm tired of fighting in these neat little boxes where you give me my one little corner of this entire campus," Young continued. "You gotta disrupt things, if you really want change."
READ MORE: USC Students Stand In Solidarity With Mizzou
After the rally, Young put things in perspective, contextualizing the goal behind the organized event.
"It's a protest in solidarity with the students at the University of Missouri, but also one where we realize the progress that needs to be made on this campus."

The administration responded by setting up an open forum assembly with USC Provost Michael Quick on Thursday evening. This is the first step toward what Young and many others hope will be change at USC in how it treats both students of color and international students.

"To redefine what diversity means," a student said. "So that the Trojan family can commit to this definition."
You can reach Sports Editor Paolo Uggetti here, or follow him on Twitter @PaoloUggetti