Los Angeles
L.A. City Council Votes on Tougher Gun Storage Laws
The Los Angeles City Council voted unanimously on Tuesday to pass an ordinance that mandates the safe storage of handguns in Los Angeles homes.
The ordinance, which was written and sponsored by Councilman Paul Krekorian, 2nd District, requires handgun owners in Los Angeles to store their firearms in a locked container, or to disable them with a trigger lock.
Owners will also be forced to keep the guns disabled and in their possession or within their close reach in certain scenarios, such as during cleaning.
The goal of the measure is to make children and families safer in their homes by preventing guns from falling into the wrong hands, and reducing the chance of an accidental discharge.

As of now, Krekorian said there are "absolutely no exemptions," to the measure.
That means that all Los Angeles residents, including law enforcement agents, will have to follow the safe storage law, which does not apply to larger weapons, such as hunting rifles and shotguns.
After its 14-0 approval by the City Council, the measure was immediately taken to Mayor Eric Garcetti's desk for approval. Although Garcetti is currently out of town, the measure will go into effect 30 days after he signs it.
SEE ALSO: Twitter Reacts To The First Democratic Presidential Debate
When Garcetti approves the bill, Los Angeles will become the largest "safe storage city" in the country.
"We hope it will be a model for other cities," Krekorian said.
Once passed, violators could face fines up to $1,000 and possibly even jail time if convicted of improper storage.
The scene at Tuesday's city council meeting was an emotional one. Three councilmen and five other speakers addressed the council and the crowd before votes were cast.
Councilman Mitch Englander was the first to address the Council Chamber. He said as a former police officer and someone who has lost a loved one to gun violence, he was in full favor of the ordinance. He said the intention was not to take away rights from gun owners, but instead to promote gun safety.
"This is less about gun control, and simply more about controlling your gun," said Englander.
After he urged his fellow members of the council to pass the bill, Krekorian asked if he could address the Chamber and show a brief public service announcement.
Krekorian showed a PSA of children and mothers pleading for safety in their homes. The councilman then listed some eye-opening statistics to support his ordinance.
"It may come as a surprise to you that more pre-schoolers are killed with guns each year than police officers," Krekorian said. "It's unacceptable to live in a country where it is more dangerous to be a pre-schooler than a police officer, and we can do something about that today."
READ ALSO: Will We Ever Crack L.A. County's Secret Government?
Councilman David Ryu added, "One death, one child, one life cut short is a price too high to pay. We must pass the vote today for a safer tomorrow."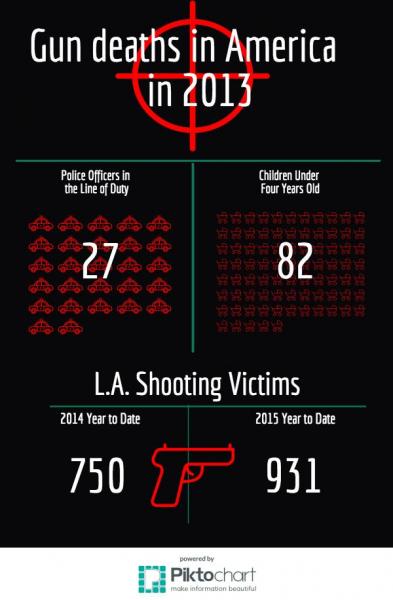 Not a single person in attendance at city hall publicly spoke in protest of the bill.

In a press conference after the meeting, Krekorian expressed happiness with the unanimous decision. "I had a broad degree of support over this [ordinance] because it's just common sense," he said.
When asked about enforcement, Krekorian said, "I don't expect that this is the sort of thing that will involve roving patrols of people inspecting bed stands to see if there is safe storage going on."
He continued, "What's much more likely to happen is that this ordinance will come into play when the police come into the sorts of situations that are most likely to lead to a tragic death or injury—a situation where there is domestic violence in the home, a situation where a county social worker comes into a home on a child welfare check—and of course, sadly, it will come into effect after tragedy has occurred."
Brandon Combs, executive director of the Calguns Foundation, a gun rights organization, opposes the ordinance. In a phone interview, he said, "[the ordinance] infringes on second amendment rights, potentially even fourth amendment rights in terms of searches."
"This is going to be an impediment to the exercise of the fundamental right of self defense," Combs added.
Supporters of the ordinance, however, hope that it will help curb the number of accidental gun deaths in the city.
Reach staff reporter Scott Cook here and follow him on Twitter here.