Arts+Culture
DTLA's Financial District is Two-Faced (or Three-Faced, or Four-Faced)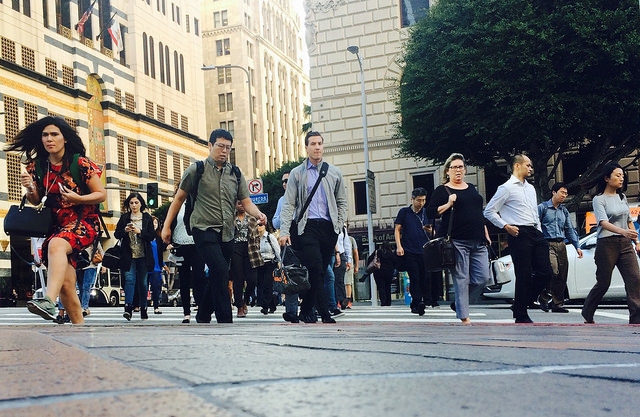 66 year-old Ray glanced at the Dash E bus hurdling across the crowded intersection between the
7th Street
metro station and the
FiGat7th
retail fortress. Perched on top of a sidewalk mailbox and clutching a Carl's Jr. hot dog (his self-proclaimed "personal office" during his lunch break from a job working security), Ray nodded at the mess of shuffling tourists, shoppers, finance gurus, small business owners and lone wanderers.
"They call that 'the jungle,'" he said.
This particular intersection exists as an ever-changing echo, one that absorbs the distinct energies and lifestyles of its myriad of inhabitants, whether they are permanent residents or transient passers-through. The area is not simply a tourist destination, a business hub or a vaguely unsafe patchwork of streets. It flaunts a unique aura that is most adequately illustrated as a sum of its parts.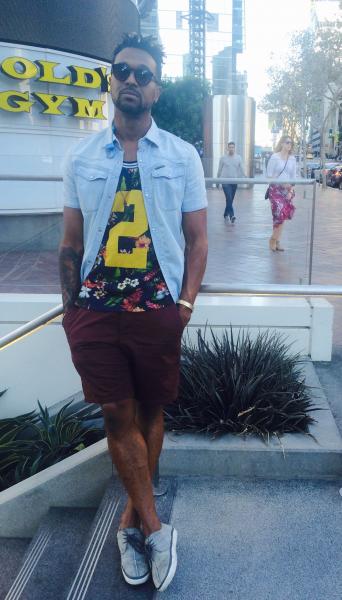 Jericho, a record label representative, leaned idly against the railing at the forefront of the FIGat7th shopping plaza, bobbing his head (presumably in time with the rhythm flowing from his white Apple ear buds) and absently tapping one sneaker against the pavement. Inky square-shaped sunglasses sat on the bridge of his nose while his left hand, garnished with a thick silver watch and a tattoo sleeve crawling up his forearm, hung loosely in his pocket.
Jericho struck poses for the camera almost as effortlessly as he purred, "I'm not photogenic," and then, "I'm an international music publicist for a record label." Meandering his way along the pavement toward his modest—but glittery—high-rise apartment building down the street, Jericho discussed his penchant for international fashion.
READ MORE: Locals Say NoHo Plaza's Business Strategy Falls Short
"I see all of these executives in Milan or Paris wearing these sleek jackets and tailored suits. Man, do they look good," he said, though he admitted his personal, slouchy style is predominantly inspired by his Southern California roots. All the while, Jericho's thick-rimmed opaque glasses balanced on his cheekbones, despite the shade.
Jenny, an assistant to a Hollywood talent agency executive with a goofy smile and a shrewd sense of humor, sat just a few paces north of Jericho at the corner of the 7th Street cross walk. Munching on the remains of a mint chocolate chip ice cream cone, she giggled about her afternoon's unforeseen turn of events.
"I got asked on a date earlier," she explained. "Which hasn't happened in a while."
In light of National Coming Out Day this past Sunday, Jenny posted on Facebook a link to a blog post she had written two years ago that was part review of French filmmaker Abdellatif Kechiche's 2013 Palme d'Or triumph, "Blue is the Warmest Color," and part personal narrative detailing her own coming out story. A young woman who had been Jenny's classmate three years ago saw the post and promptly maneuvered social media's capabilities to ask her on a long overdue rendezvous.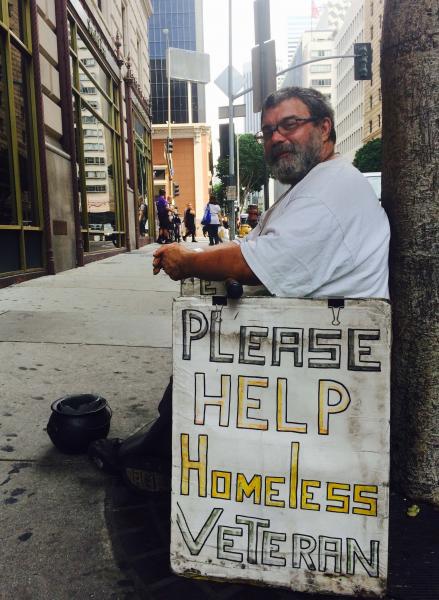 Giddy, and having consumed the last of her waffle cone during a frenzied 45-second pontification, she blurted out: "I said 'yes!'"
But just across the street, tucked into the shadow of the towering 7th Street/Metro Center, Jenny's charm and Jericho's trendy composure evaporated amid hollow jangles radiating from Elston Richard Truchanovich's plastic, cauldron-look-alike bucket.
Truchanovich, who wore glasses entirely wrapped in duct tape and prefers the nickname "Truck," has been homeless on the streets of Downtown L.A. for what he remembered as 10 or 15 years. He had just returned to his routine "lunch hour" sidewalk space against a lone tree trunk after being released from the hospital for what he thought was an asthma attack.
"Turned out to be a lot worse than asthma," he said. Truck did not elaborate; he just wrung his hands together, crusted red sores nestled in the cracks of his palms, blood seeping from beneath his discolored nail beds and a crisp hospital bracelet wrapped around one wrist.
A former operations specialist in the U.S. Navy, Truck was conditioned to value respect for human life, a courtesy that most of the passers-by in the Financial District do not afford him.
READ MORE: Whole Foods Finally Makes Its Way Into Downtown
"People here are very snobby," he said. "They won't even talk to a homeless person. They'll just walk by. They make other humans invisible."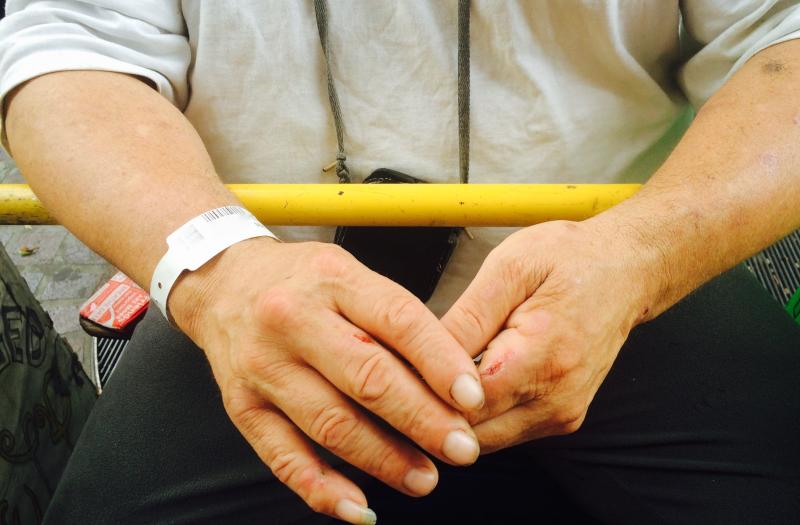 He lifted a hand to each pedestrian who sped past him, offering a small, "Hi," or, "Have a nice day." Though Truck did not allow the lack of reciprocation to sour his gestures, he commented on the strangeness of a culture that fears the homeless.
"Don't be afraid. I can't stand people who are afraid," he said, albeit without a touch of contention in his voice. He only extended a shaky hand to accept three quarters from a man with swift fingers and darting eyes, leaned against the bristly tree trunk and grinned.
"Are you being run by fear?" he asked, perhaps to no one in particular. "Is your life governed by fear? It can't be. You shouldn't let it."
Reach Staff Reporter Emily Mae Czachor here.