California
California State University Students Could Face A Two Percent Annual Fee Increase
The California State University system is proposing a two percent annual increase in tuition that will affect all 23 campuses, after concluding that Cal State universities will no longer be able to rely solely on state funding. This recommendation comes after the CSU received an additional
$216.6 million
in state funding for the 2015-2016 school year.
"It's just absurd, it's really ridiculous that these price hikes have been set up and stressing all these students out," former CSU student Franklin Hernandez said about the proposed tuition increase. "Education should be for everyone not just for the rich."

Hernandez left Cal State University, Los Angeles, in 1998 and is returning in Fall 2016 to continue with his studies, if he can afford it.
The Institute for College Access and Success released its annual report for the class of 2014 on Tuesday that found 69 percent of college seniors at four-year nonprofit private and public colleges are averaging $28,950 in student loans.
SEE ALSO: UC, CSU Tutition Increases: The Causes And Consequences
"I can't even pay my regular tuition fees, so I had to get a loan to make tuition for this quarter, said Fernando Bernabe a mechanical engineering transfer student from Cerritos College and now studying at CSULA.
His anxiety over funding his education is not an isolated fear. Even students whose parents help pay for school worry that it might be too much to handle.
"It wouldn't be fair to them if what I walked into Cal State LA paying isn't what I'm being told I have to pay now," said biology student Tatiana Eiley about the additional strain the tuition hike would have on her parents.
Rebecca Davis, a professor in CSULA's Dept. of Art, believes that it is unrealistic to expect that tuition will remain the same, but sympathizes with her students.
"I have students that work forty hours a week and go to school full time, and to have them have to work even more hours is going to be a real burden," said Davis.
SEE ALSO: Program Aims To Help Middle-Class Californians Afford School
Raising tuition would undoubtedly add a greater burden to students already working their way through college, which accounts for about 70 to 80 percent of those enrolled in colleges across the United States. A study by Georgetown's Center on Education and the Workforce found that although working while going to school is beneficial, the rising costs of higher education are making it almost impossible to cover tuition, let alone the cost of books, housing, and other expenses.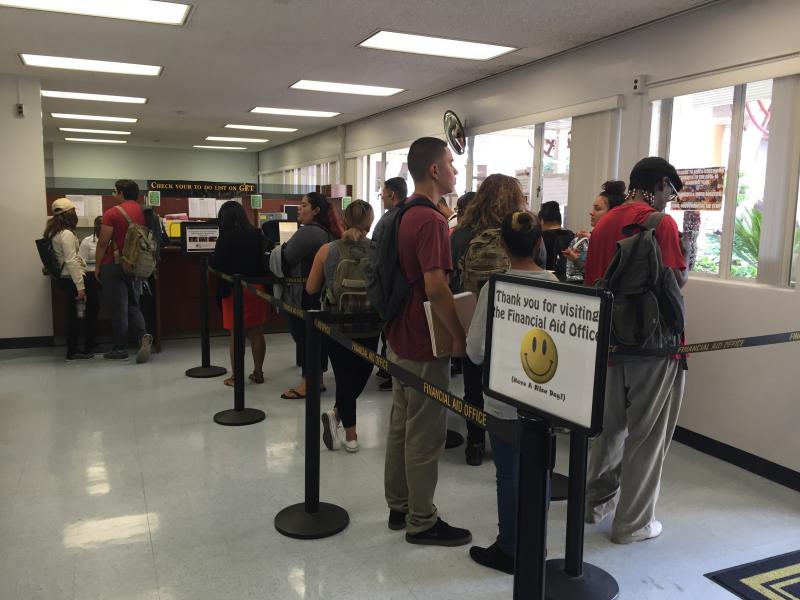 "What's considered an on time graduation at Cal States in general is already up close to six years and part of the reason why is because students aren't really full-time students, said Davis, describing the effects the increase might have on students' graduation rates.
"They may be meeting the minimum full-time requirement but they're not set on a track to graduate in four years," she said.
Vincent Brook, a part-time instructor in the TV, Film and Media Studies Dept. at CSULA, is generally not in favor of any tuition increases or even salary decreases - regarding the California Faculty Association's fight for a five percent raise.
SEE ALSO: In California, A Fight For Public Education
"It's simply a question of economic justice, I think, and certainly raising fees for those that can't afford it to begin with and reducing salaries for those who deserve it is somewhat unethical," said Brook.
Often times students who are hit with rising prices of tuition do not understand what their money is being used for.
"I have a lot of complaints from my students sometimes about the facilities not being up to snuff, said Brook. "So then they're having to pay more and they don't seem to be getting more for their money, that tends to rub the wrong way."
"There are so many wealthy people that could much more easily sacrifice a little bit of their wealth to support those that are less able to bear the burden," said Brook.