Style
New York Fashion Week Fall 2015: Naeem Khan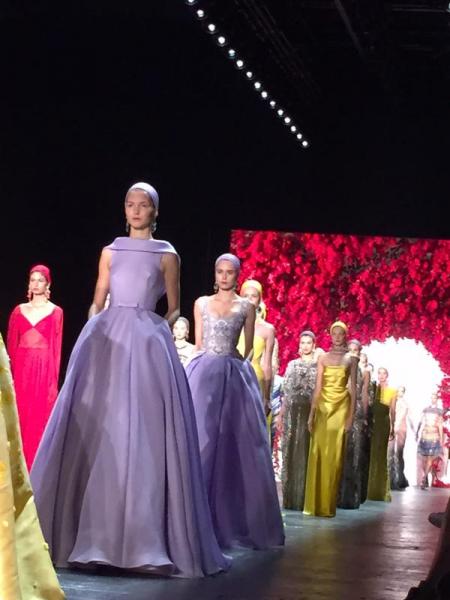 Indian-American designer Naeem Khan presented his Spring/Summer 2016 collection during New York Fashion Week. His use of color, floral patterns, and embellishments exuded a majestic quality that worked with every shade of the fashion palette.
The show was set against a background of overgrown roses on a countryside house. Musical accompaniment was of a regal sounding soprano, making one feel as if she were somewhere in the south of France.
The first few looks consisted of sheer dresses with swirly floral designs. These frocks were mostly multicolored, though there was lots of red in the patterns. Several dresses used the same pattern but were cut and draped differently.
READ MORE: New York Fashion Week Fall 2015: Monique Lhuillier
Every model wore chunky nude platform sandals, big multicolored earrings, and a headband that matched the outfit. Hair was pulled back in buns, and the makeup was simple with an emphasis on rosy cheeks and lips.
As the music shifted to an instrumental track of a violin playing, this section of the show had more solid colors, lines, and embellishments. A shiny linear pattern in various shades of blue was used in both dresses and pantsuits. There were pieces that looked metallic and were heavily embroidered to shimmer in the light. Most dresses tended to hug the body, but as the show progressed, more full skirts started to appear.
Some of the most elegant outfits included dresses of a single vibrant color with neckpieces made entirely of rhinestones. One of my personal favorites was an embroidered sheer top paired with a yellow flowing skirt.
READ MORE: Our Expectations Are Different Than Our Hopes For Fashion
The music shifted a third time to another classical number, causing the environment to embody a more regal feel. Fittingly, all of the dresses in this section had full length skirts with corset-like embroidered tops.
The show's finale was slightly different from most other fashion shows; Khan had two lines of models emerge from either side of the stage and all stop on the runway. The designer himself then walked between the lines, which created an aura of a royal entrance (perhaps fashion royalty?). He then led both lines of models backstage.
Khan's SS16 collection is one that fits beautifully with the season it was designed for, and each piece had a majestic quality that wasn't ostentatious. This collection definitely doesn't disappoint those who love grace and sophistication.
Reach Staff Reporter Angela Shen here. Follow her on Twitter here.