Los Angeles
"A Long Way To Go": Persian Businesses React To Iran-U.S. Nuclear Deal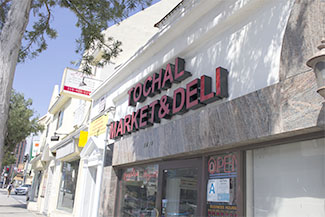 One should avoid unnecessary movement when browsing the wares of Tochal Market and Deli, as a single rogue elbow or clumsy misstep could send a barrage of colorful goods toppling dangerously to the ground. Boxes of bright red
zereshk
(perhaps better known by their English name, "barberries"), and bags of quartz-like crystalline sugar stuff the floor-to-ceiling shelves alongside hundreds of other Persian staples.
It's hard to believe the little shop on Westwood Boulevard could hold more merchandise, but owner Todd Khovavavi plans to take full advantage of warming diplomacy between the U.S. and Iran that could allow Khovavavi to import many more goods from Iran.
"Once trade sanctions are lifted, we'll be receiving a lot—a lot—more items from Iran that we haven't had for a while," Khovavavi says. "We'll have a much wider variety of products, and I think we'll see a lot more customers, too."
Khovavavi is one of many local business owners eagerly awaiting the end of the U.S. embargo on Iranian goods. Low estimates place Los Angeles' Persian population at 500,000, the largest outside of Iran and the source of the portmanteau "Tehrangeles."
BANKING BLUES
But even in Little Persia—the area between Beverly Hills and West Los Angeles that is particularly dense with Iranian businesses, including Tochal Market—not everyone shares Khovavavi's enthusiasm for the conditions of the deal. One rug dealer, who requested to contribute anonymously, remains skeptical.
"For groceries, markets…this seems like good news, but there is still a long way to go," he says. "Besides, Persian rugs are more expensive in Iran—why would we import them here? We would be losing money."
He sighs. "There will be many steps before we see a real difference, and I don't think the community in Los Angeles is going to see much of an economic change even then."
His observations ring true in at least one regard: Banking restrictions, long a source of anguish for many Iranian-Americans, must be lifted before trade between the two countries can resume. One story of an Iranian-American being wrongfully imprisoned for accepting funds from family in Iran has circulated through the press over the last few weeks, a sobering illumination of challenges faced by a population that still maintains strong ties to its home country. As many as 80 percent of Iranian-Americans have family in Iran, and thus, such tales are not uncommon in the Persian community, the rug dealer explains.
"But this is not unique to us," he adds. "I hope this is the start of a change in U.S. foreign policy in general, because there are many immigrants from other countries who must deal with these troubles as well."
ART, ANTIQUES AND AFFORDABILITY
At Westwood Gift Gallery, a shop specializing in Persian art and antiques, spirits are considerably higher. Matin, who wishes to identify by his first name alone, is an Iranian singer who assists the store's owner by translating English to Farsi. He expects that any loss to merchandise retail value will be more than compensated by improved business.
"It comes down to two things: sanctions and the recession," Matin says. "Together they have driven customers away, because people do not want to pay the prices we are forced to charge."
He places a hand on a large iron statuette of a horse. "This is from Iran, and it was very expensive to get here because we couldn't get it imported directly—we had to go through other countries," Matin explains. "Right now, we must sell it for $3000, but once sanctions are lifted it will drop to $1000."
He gestures around the store. "It is the same for all of our products: Once they are less expensive to get here, we will not have to charge as much, and more customers will be able to afford them, so it is good for business overall."
TOO LATE FOR LITERATURE?
Though Iranian antiques may become more common in American households, there is one cultural commodity that even international trade is unlikely to resuscitate: books. Persian literature is among the oldest in the world, but turbulent relations between Iran and the West have kept much of it from recognition in popular culture.
"What do you mean, how will sanctions impact my business? Thanks to the Internet, my business may be in trouble no matter what," Kikhosro Behrozi laments. His bookstore is a few blocks down from Tochal Market and is similarly packed with merchandise. Unlike Khovavavi, however, he does not expect to see a spike in customers when trade resumes.
"Even American bookstores are closing. No one reads anymore—they can just go to Google if they want to learn about Persian history," Behrozi says. "I am happy for diplomacy, but I don't think it will help my trade."
He shakes his head. "It is a great loss—not just for me, but for the world."
"THE LITTLE THINGS"
While the local economic impact of the US-Iran nuclear deal remains debatable for now, all four businessmen do agree that once sanctions are lifted, life will become much more convenient for the Persian community.
"There are certain things we have really missed," says Khovavavi. "High-quality saffron, sefidab [a Persian exfoliant]…things that just make life easier, you know?"
Contact Staff Reporter Helen Floersh here.