Entertainment News
Emmys 2015: 8 Best Jokes Of The Night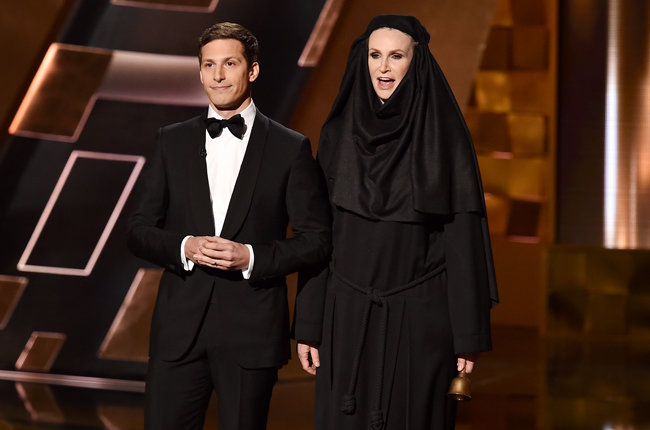 Andy Samberg can pat himself on the back for giving a safe and momentarily pleasing performance at this year's Emmy Awards. Our host this year may have given a flawless (yet forgettable) show, but there were still a few original gems to hold on to.
Jane Lynch as the Mean Nun
Samberg began to announce some impending changes this year, as speeches that went on too long would result in an interaction with the mean nun from "Game of Thrones." Jane Lynch was kind enough to give us some vivid imagery.
Wage/Age Gaps in the Entertainment Industry
Mr. Samberg decided to tackle some long-talked about issues in his monologue, as he shed light on Hollywood's age and wage disparities between men and women working in the industry. Well said, Sir.
"True Detective" Zinger
Samberg mentioned a few shows we'll miss. Especially "True Detective," even if it's still on air.
Bernie Sanders Thought
Bernie does always look like his flight is delayed! Presidential campaigns can do that to you, I guess.
John Oliver on Jeopardy
John Oliver delivered one of the most interesting moments of the night, as this rant seemed to pop out of nowhere. We love him for his dedication, as he proclaimed, "Just as everyone you know will die, and the sun will swallow the Earth, so too will every show on television eventually air its last episode. Every show, that is, except one."
"I Watched Every Show" (and I'm White)
Samberg's musical number (sans Justin Timberlake) was basically a musical listing of all current shows on air. It showcased brilliant cheorography and a funny (and true) last line.
Celebrating Women
Amy Schumer didn't disappoint her fans, as she brought light to the annoying realities of award shows. Even though this night boasted about celebrating diversity and women, many red carpet looks/body types are sure to be mocked Monday morning.
HBO Go Account
USERNAME: [email protected]. PASSWORD: password1.
Unfortunately, the account was locked about a minute after the broadcast, but hey, still pretty cool.
Reach Staff Reporter Sonia Gumuchian here. Follow her on Twitter here.