Film and TV
'Bad Girls Club' Has Run Its Course And Needs To End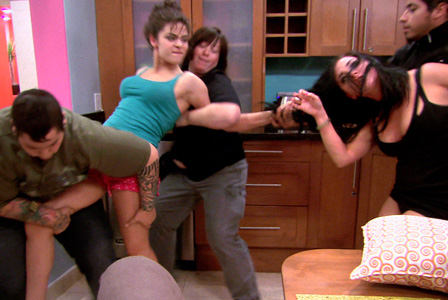 When I was in middle school, reality television was becoming a growing trend.
Bret Michaels' escapades with desperate groupies on "Rock of Love" was the talk of my science class, and Kim arguing with Khloé on "Keeping Up with the Kardashians" was getting more attention. Another show that was catching my interest was the "Bad Girls Club" – a reality program on Oxygen about seven rambunctious and high-maintenance women from diverse areas living in a house together for three months.
The original premise of the show was to see how this argumentative bunch could co-exist with one another away from their friends and family, with only one house phone and computer to connect them to the outside world.
READ MORE: Unpopular Opinions: Reality Television Brainwashes Young Women
The women could argue all they wanted, but if they got into a physical fight, whoever began the altercation was sent home. When one of the original girls was sent packing, a new roommate (often snidely labeled as a "replacement") moved into the house.
"Bad Girls Club" is entering its ninth year of broadcast. Two spin-off shows, "Love Games: Bad Girls Need Love Too" (a dating competition show featuring three Bad Girls from different seasons) and "Bad Girls: All Star Battle" (a competition game show featuring 14 Bad Girls from different seasons), have aired in previous years.
Nine years, 14 original seasons, and two spin-off shows later, "Bad Girls Club" has completely changed.
There are three big issues with the show, the first being the excessive physical violence. Fighting used to be kept to a strict minimum, with usually only a couple of altercations a season.
READ MORE: 9 Most Controversial Reality Stars
However, beginning with Season 6, there have been multiple fights, sometimes even a couple an episode, rarely with any of the previous consequences of being sent home. Another disturbing aspect of the show are girls getting "jumped," meaning more than one person is fighting a girl at once. For example, in the penultimate episode of Season 11, newly arrived housemate Hailey Wade got into a physical altercation with fellow cast-mate Jazmoné Adams, and was subsequently jumped by all the other five girls in the house. While security did get involved to break up the altercations and production had a meeting with the girls the next day, the only punishment was a cut from their paycheck – no one was actually sent home for the excessive altercations with one girl. The message that's communicated here is simple -- fighting is okay as long as you're willing to part with a few bucks. Heck, it seems the showrunners think fighting helps because it makes the show juicier.
In addition, a lot of the physical altercations on "Bad Girls Club" are over considerably miniscule issues that could easily be resolved without putting hands on someone else, such as in Season 10 when Jenniffer Hardwick got into three physical altercations with castmate Raquel Santiago during the same night because Santiago took a bite out of Hardwick's pizza pocket without asking permission.
Second, the numerous instances of destruction of one's property have become an integral part of the show. When another girl is considered to "cross the line," either one girl or a clique in the house will remove that castmate's clothing from her room, usually by throwing it outside of the house or in the pool. In Season Nine, Andrea Jones' clothes were handled in trash bags by four castmates, who then proceeded to leave the house by car and throw the bags out on the freeway. Other times clothing is destroyed by having food or other liquids poured on it. There seems to be no consequences for these actions.
Third, production's influence on the girls' behavior has become a suspicion by fans and viewers alike. Ten years ago, reality television's methods were a big question mark, but now, most people have a good grasp on what the producers do to make the show a hit.
READ MORE: Real Life Lessons From Reality TV
While it is illegal to script a reality show, producers push this to the highest level, usually by bribing the cast into acting a certain way with the pretense that they will get a bonus or some form of a reward. On "Bad Girls Club," it has become noticeable that some girls are "favorites" because they cause the most drama and fit into the storyline that the producers create.
For example, if one girl gets into a fight with several castmates, the producers keep that particular girl in the house, but if a girl gets into several fights with one specific castmate, they are either threatened to "cool it down" or are sent home. Several former "Bad Girls" have spoken out about having many issues with producers during their time in the house, such as being coerced into arguing with another castmate due to the producer's influence.
"Bad Girls Club" has a huge fanbase, although it is noticeable that the ratings have slipped over the years. The most recent season did not break one million viewers for any episode as of the writing of this article.

A majority of the content on this show is shockingly excessive and damaging to young women. Viewers see these reality "stars" acting this way and how many Twitter and Instagram followers these women possess, and might think that they'll get famous by acting similarly. If you look closer, a good portion of the girls on the show are not formally educated and do not have a legitimate job. At 20 years old, it is shocking to me to see some women who are only a year older than me (the minimum age to be on "Bad Girls Club" is 21 and the oldest girls are 28) acting this outrageous on national television and thinking it will get them somewhere.
"Bad Girls Club" Seasons 12 and 13 castmate Jada Cacchilli revealed in a YouTube interview that being on "BGC" has closed many doors for her, which is not surprising, seeing as how many former Bad Girls end up on more spin-off shows or doing club appearances and parties. (Note to Reader: Skip to 1:00:00 to hear Jada talk about lost opportunities due to being on "BGC.")
What's the solution?
Oxygen should cancel the show. At this point, not only have the ratings gone down, but the content being broadcast is ludicrous. The show does not provide a good example for young woman, all it is teaching them is that it is "okay" to punch someone in the face over taking a bite out of a pizza pocket, or that it's fine to destroy hundreds of dollars worth of clothing over something incredibly juvenille. Never mind if the show compensated the ruined property or not, the message rings loud and clear. It is also embarrassing that women in their 20s think it's fine to go on national television and act that inappropriate.
Contact Staff Reporter Adrianne Ramsey here or follow her on Twitter here.