Books
Judy Blume Talks Tweets, Times Gone By And Teachable Moments In Los Angeles
Long before
John Green
("The Fault in Our Stars" and "Paper Towns"), there was
Judy Blume
.
The iconic, best-selling author invented the YA genre decades before it was a thing, and has tackled challenging topics such as racism, bullying, body image, and teenage sexuality with compassion and humor. Some of her most well-known young adult classics include "Are You There God? It's Me, Margaret"; "Blubber"; and "Summer Sisters", but this summer -- to the delight of her loyal fans and new readers alike -- she published her fourth adult novel, "In the Unlikely Event," to rave reviews.
The novel's vivid and haunting story is a must-read; it weaves together three generations of families, friends and strangers, whose lives are profoundly changed by a succession of disasters, inspired by a series of real-life plane crashes that occurred in the 1950s in Blume's hometown of Elizabeth, New Jersey.
If you don't already know Blume and her work, you should. She recently visited L.A.'s Little Tokyo neighborhood downtown and dropped some major truth bombs in classic Judy Blume fashion: elegantly, eloquently, reassuringly, and honestly. She engaged in a lively and intimate conversation with KPCC radio host and "super Blume" fangirl, Alex Cohen, at the Aratani Theatre as part of the Los Angeles Public Library Foundation's ALOUD series (which also launched USC Professors Sandy Tolan's "Children of the Stone" and Josh Kun's "To Live in Dine in LA" books earlier this year).
READ MORE: New Book Showcases The History of L.A. through Menu Archives
The feisty author discussed her literary work -- which has won 90 literary medals, has sold over 80 million copies and has been translated into 32 languages -- as well as her passionate advocacy to protect the freedom to read, and shared her ageless and candid advice for young women (and men) just trying to figure it all out.
Here are a few of Blume's best quotes on life and love along with some juicy details about the book. (P.S. - You'll want to grab a copy for your beach bag for one last summer fling before school's back in session.)
On coming-of-age in the '50s
To set the mood, Blume took us back in time to 1951, when she was dancing at the local YMCA to Nat King Cole's "Unforgettable."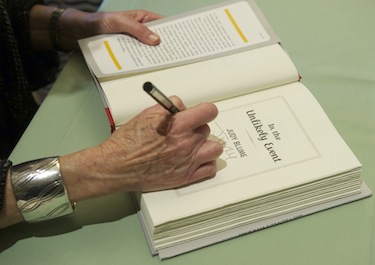 "I think that the first 10 or 12 years of my life -- when I look back -- are much more interesting than the teenage years," she explained, "because in the '50s...we were supposed to be happy. I mean, that's what our parents wanted. They had come through the Depression, they had come through the second World War, they were fighting in Korea...and so, we pretended a lot."
On sexuality
Fast forward a few years, and Blume and her college roommate were reading the now withdrawn sex manual "Love Without Fear" aloud to one another at night. And when Cohen read an excerpt from Blume's new book "In the Unlikely Event" -- which featured a very intimate scene -- there was a collective gasp from the audience.
When's the last time a novel did that to you?
On tweeting...and facing your fears
Though Cohen reminded us that the novel does contain stories about plane crashes and death, it's about so much more than that. "It's about how we move on," Blume said.
The next exchange is an example of exactly why we love Judy. When asked about a recent tweet that said, "'In the Unlikely Event' is in the Washington Dulles airport bookstore without a warning label, winky face," Blume smiled coyly and replied, "Well, they can put it down!"
"The truth is I tweet all my own tweets, always," Blume said. "This was one time that I didn't." Still, she said, "Sometimes it helps you to face your fears."
On aging
How does Blume maintain her trademark sassiness at age 77?
"I don't like being told what to do," she joked. Never one to shy away from a controversy, Blume frequently speaks out about the current culture of "political correctness" and was perhaps one of generation Y's most beloved feminist literary figures.
As for the current trend of "women in their 70s having a thing," as Cohen and Blume called it, she sort of shrugged off her age as a factor, and said it's just important to live everyday. "I like writing about Grandmas," Blume said. "Life goes on. I mean, kids are 50 now!"
On facing rejection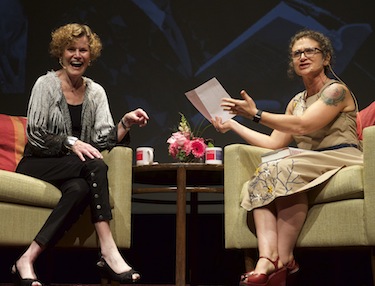 "It's so exciting when you first see your book for sale somewhere!" Blume said. But even she knows firsthand about dealing with rejection. Early in her career, she received a few more rejection letters than she might have liked to at the time.
"Well, I do remember one from the magazine 'Highlights for Children' because I kept it. It said, 'Does not win in competition with others,'" she recalled. "It's so good. You have to go through this. It doesn't mean as much if you just go out there and write something, and you get an agent and you get published. It's so much more fun to go through the bad stuff," she joked.
When it comes to fighting for what's right -- whether it's injustice at large or in your own life, "Be determined," Blume advised. "And always question authority."
For more Judy Blume, click here to listen to the full audio from the event.
The critically-acclaimed and groundbreaking ALOUD series has presented over 1,200 public programs featuring a range of authors, scientists, thinkers and artists. The series, which returns on Sept. 10, showcases a new line-up each season informed by current events and culturally relevant and intellectually engaging topics.
Reach Guest Contributor Kristin Marguerite Doidge here. Follow her on Twitter here.