Arts+Culture
New Book Showcases The History Of L.A. Through Menu Archives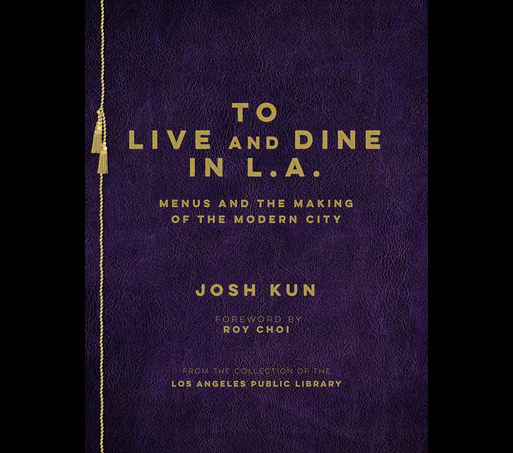 At the Los Angeles Times
Festival of Books, professor and author Josh Kun and chef Roy Choi offered a glimpse into their latest collaboration and historical recollection of the city,
"
To Live and Dine In L.A.: Menus and the Making of the Modern City."
The book, which Kun says contains up to 240 Los Angeles menus, aims to explore the eating habits of Angelenos and its direct reflection on the history of that time period. Using the extensive menu archives at the Los Angeles Public Library, Kun and his team of graduate students spent two years sorting through over 9,000 menus.
What was more difficult than sorting through the menus, Kun says, was putting them into a historical context. Kun recalls asking himself, "How can we look at the history of our city through menus? What are we seeing [and] what are we not seeing?"
READ MORE: 3 Words Cafe Provides Fresh, Healthy Alternatives For All
With the help of Choi, a self-proclaimed "spiritual guide" for the book, Kun was able to shift the book from an aesthetic "coffee table book" into something more controversial and in-depth.
"A lightbulb went off and it was our north star," said Choi. "Menus are more like short stories, more like novels. They're pieces of fiction. And they are written."
At Sunday's panel, Kun went through a PowerPoint of some of the featured menus in the book, including a preserved menu from Wich Stand, home to one of Los Angeles' largest ever sit-ins.
Kun's presentation, just a glimpse into the book's detailed analysis of a menu's reflection on a time period, had the audience gasping, laughing and cringing at every slide.
Kun's menu samplers told tales of food rationing, racism and immigrant upbringings in only an hour. One menu presented told the tale of a Southern-style restaurant in a predominantly white neighborhood during World War II, whose menu lay next to an add for Mexican beer, with anti-Japanese propaganda displayed nonchalantly above the appetizers. According to Kun, a menu like this wasn't unusual for that time period, either.
For Choi, who is best known for his Korean-American outlets across the city, the most telling menus were those of the banquets of the upper class in the 19th century, smothered with heavy cream-based dishes.
"I see heavy cream as a metaphor for racial hierarchy in Los Angeles," Choi joked with a hint of seriousness.
Once Kun and Choi saw how many banquet menus there were in the archives, they realized what they were dealing with- that this was going to be a book "about menus," which would not reflect the entire population of Los Angeles.
"Not everyone can afford this," Kun noted. On one of his PowerPoint slides, Kun mentioned that "nearly two in 10 Los Angeles families are food insecure," and we are the "epicenter of hunger."
"We live in both a foodie society and a food band society," said Kun. "How do you reconcicle those two things? How can restaurants and food be used to restore ideas around justice, around community?"
READ MORE: "Trouble in Paradise: Music and Los Angeles 1945-1975" Exhibition Opens At The Grammy Museum
As a modern example of a menu's story, Kun used Choi's own menu from POT, one of his restaurants at the Line Hotel in Koreatown. As Choi sifted through his menu, he pointed out his personal influence on the menu's design and linguistics, which characterized almost the entire page.
For Choi, creating a Korean-American melange was a reflection of his upbringing and his "double-life of home life and outside life."
"Being a Korean American, you're not really Korean but you're not really American," said Choi. "So POT was kind of our exploration of that. The names [of the dishes] became little poems to my life."
Explore some of L.A.'s oldest menus on the project's website here.
Contact Staff Reporter Morgan Greenwald here.