Film and TV
'Fan Girl' Director Paul Jarrett Talks Meg Ryan, Fandom and Female Empowerment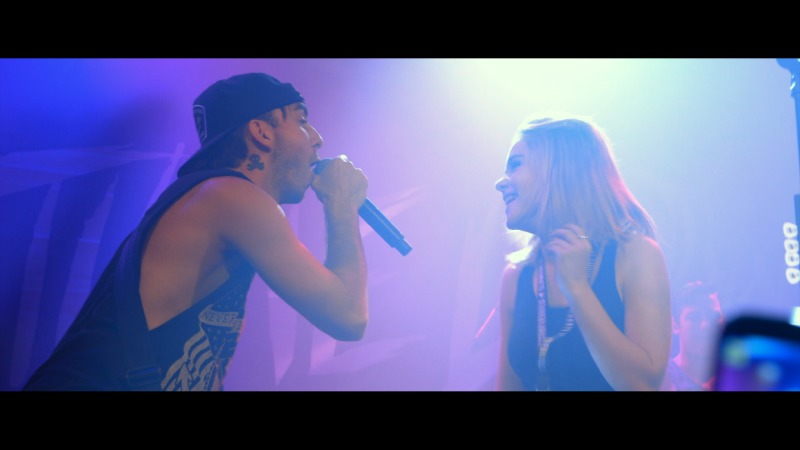 In the wake of a successful
Los Angeles Film Fest
premiere in June, first-time feature film director Paul Jarrett was more than happy to talk about the value of connecting with the fans of his new movie, "Fan Girl."
The indie film, which first premiered at the Bentonville Film Festival on May 5 to rave reviews, stars acclaimed actress and rom-com fave Meg Ryan ("When Harry Met Sally"), rising star Kiernan Shipka ("Mad Men") and Kara Hayward ("Moonrise Kingdom"). It's a "high school comedy for the 21st century" whose clever, decidedly meta plot explores what it means to be a fan — of music and filmmaking itself — and features authentic sound from the real-life pop punk band All Time Low.
"The more things change, the more they stay the same," Jarrett says of the social media-obsessed "fangirl" generation on which the film draws its ironic and artistic inspiration, and its observational, Instagram-esque cinematic style. "It's encouraging, and it's fun to shed a sort of silly light on it."
READ MORE: Film Review 'Fan Girl'
But the telling of a quirky story about one girl's ("Telulah" played by Shipka) relationship with the still-emerging world of social media needed an anchor from days gone by. The big get, of course, was getting megastar Meg Ryan to sign on to play Telulah's mother. Jarrett says they bonded over being newbies at feature film directing — him with "Fangirl," and her with the forthcoming "Ithaca" — and Ryan felt an immediate connection to the screenplay as a parent.
"She read it and she loved it," he said. "It's the most important relationship Telulah has [with her mother]."
Screenwriter Gina O'Brien ("Once More with Feeling"), based the screenplay in part on real life conversations with her own teenage daughter, a "true pop punk fan girl" in her own right. O'Brien, a former journalist and magazine editor, became fascinated by the conversations she overheard between her daughter and her friends about what it's like navigating high school in the digital age, and asked for more details.
"I didn't want to hear about tests and class work, but about the kids and their social lives. Specifically, I wanted to know if social media has changed the typical high school social groups I once knew (i.e. popular kids, jocks, burnouts)," says O'Brien. "I told the girls to speak freely, and that nothing they said would be held against them. Dazed and confused by the end of our conversation, I clasped the diagrams they felt necessary to draw for me, and went to work on 'Fan Girl.'"
So what does it mean to be a "fangirl" in 2015? More importantly, what does it mean to be a girl in 2015? I'm happy to say both identities — culturally, socially or otherwise constructed — seem to be having a great year, especially recently.
For way too long, being a "girl" in Hollywood has meant only one thing: skinny, white, young, and most often, not working behind the camera or in the director's chair, and in recent years, even worse: missing from screenplays altogether in a number of big budget films. But several new female-led films have been playing well on the festival circuit and are due out in theaters this summer and fall; and research initiatives like the Media, Diversity, and Social Change Initiative at USC (led by professor Dr. Stacy L. Smith) and the Geena Davis Institute are pointing to some promising progress being made thanks to policymakers like Senator Boxer privileging the Hollywood gender equality and diversity conversation, with help from some of Hollywood's most celebrated women speaking up, like Meryl Streep, Patricia Arquette, Salma Hayek, Mindy Kaling, and many others.
READ MORE: 4 New Films for Women, by Women
As for today's devoted fangirls — who have often been excluded from the full participatory side of media — Jarett says the "Fan Girl" film's message is one of female empowerment. "Telulah is a filmmaker," he says. "And being a fan of something can also be someone's art — it's a form of creative expression."
USC Provost Professor and participatory culture scholar Dr. Henry Jenkins explained in 2006 that fandom is "about having control and mastery over art by pulling it close and integrating it into your sense of self." The mastery of the digital, the observational, and of the ironic, 'don't-take-life-or-anything-too-seriously' is what seems to make this post-millennial generation so unique. There also seems to be a much greater intellectual interest and understanding (thanks in no small part to Jenkins' work and that of his mentor, John Fiske) of how fandom works to both resist and operate within an existing power structure (like Hollywood or the pop or rock music scene, for example).
"There's more to it than girls screaming at The Beatles or One Direction," says Jarrett. "And with social media, we can all connect better than we did even when I was in high school."
The soundtrack for the film — and All Time Low, the uber-popular band behind it — embodies this accessible connectivity that fuses the fan-artist-creator identity together into a passionate community, with over 3.5 million Facebook likes and Twitter followers alike.
As for me, I'll probably-definitely be fangirling on films like this coming out of the indie scene at the LA Film Fest forever…or at least until the next one comes out that's even cooler.
Reach Staff Reporter Kristin Marguerite Doidge here and follow her on Twitter here.