Film and TV
4 Upcoming Films By Women, For Women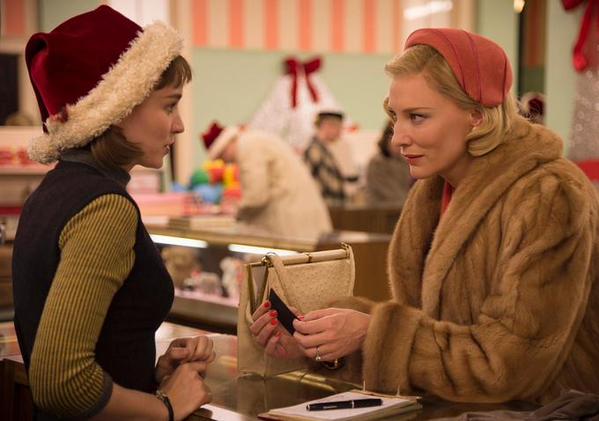 With the recent success of "Mad Max: Fury Road" being hailed as a cinematic feminist manifesto, it's time to keep an eye on upcoming releases that look to expand the boundaries of women in film.
Here are our four favorites for the 2015 year:
"Carol" (December 18, 2015)
Breath a sigh of relief: this is not another tragic lesbian lovers story. Adapted from the Patricia Highsmith novel "The Price of Salt," the film tackles the intricacies of forbidden love in the 1950s between a housewife trapped in a stagnant marriage (Cate Blanchett) and a timid young sales clerk (Rooney Mara). While the prejudices of the time keep thembound to secrecy, the ending remains open, if not happy. Indeed, the film was well-received at Cannes. But "Carol" didn't make everybody happy: according to screenwriter Phyllis Nagy, the feature was purportedly withheld from production because it so prominently featured women while offering few significant roles for men. Really?
"Ricki and the Flash" (August 7, 2015)
Meryl Streep plays Ricki, a washed-up musician and a prodigal mother who returns to help her family in a time of crisis. Streep is looking rough-and-tumble in her rock n' roll leather and take-no-shit attitude. She even learned guitar just for the film. With a script from Diablo Cody (the writer of Juno) this film is sure to be polished and snappy while offering a nice dose of sentiment. More importantly, there is a notorious dearth of films that feature women over 40. "Ricki and the Flash" is sure to make a notable dent in the statistics.
"Diary of a Teenage Girl" (August 7, 2015)
When "Diary of a Teenage Girl" debuted at Sundance, writer/director Marielle Heller had a festival favorite on her hands. Bel Powley stars as Minnie, an aspiring comic book artist exploring her adolescent sex drive. Her mother, played by Kristen Wiig, always has a drink in hand, and doesn't catch on once Minnie begins having sex with her mother's boyfriend. Set in the 1970s San Francisco, the film has a vibrant attitude with a fresh, no-holds-barred look at female sexuality. Visually studded with animated pen-and-ink drawings, "Diary" offers things never-before-seen in more ways than one.
"Sufragette" (October 23, 2015)
The mother of all feminist movies, the film offers a remarkable cast: Meryl Streep, Carey Mulligan, and Helena Bonham-Carter. Frankly, it's surprising the Suffragette movement has even taken this long to get its own film. British director Sarah Gavron portrays the harsher side of history: working-class women fed up with peaceful protest and (quite literally) smashing the patriarchy. Women in turn of the century England kicking ass and starting riots? I'm in. I'm so in.
Reach Staff Reporter Nate Gualtieri here.