Music
Eminem Calls Out 15 Stars In Expletive-Filled Rap, Including Caitlyn Jenner, Bill Cosby And Donald Trump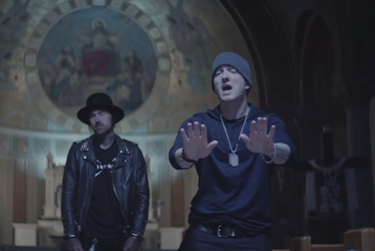 Eminem proved he's still the real Slim Shady by spitting an outrageous, six-minute freestyle on Shade 45's radio show "Sway in the Morning," calling out Caitlyn Jenner, Bill Cosby, Donald Trump, Miley Cyrus, Hillary Clinton and a host of other notable figures.
Here's 15 names the rapper dropped during his rhyming rampage on the SiriusXM radio station:
Caitlyn Jenner
"Hate and see who gives a f--k / I invented prick / And this a true statement: I see the bitch in you, Caitlyn / I keep the pistol tucked like Bruce Jenner's dick / No disrespect, though / Not at all / No pun intended, that took a lot of balls."
Bill Cosby
"Awful / I made monopoly off misogyny, sodomy / How many chocolatey JELL-O pops could he possibly lace / Walking atrocity, no wonder you scoff at me / It's still obvious / I'm as off-putting as Bill Cosby is."
READ MORE: 9 Memorable Eminem Songs
Donald Trump
"I'm f--ked worse than Donald Trump / On Lexapro in Mexico across from a Texaco in McDonald's drunk / Broke and out of gas, busted water pump."
Andrew "Dice" Clay
"Mic check, one, two / I ain't barely check the mic just yet / And I just sweared like twice as many times / In less than ninety seconds / Than Andrew f--king Dice ever did in his f--king life."
French Montana
"Excuse my French, Montana, but I am worried about nutting."
READ MORE: 11 Kardashian-Inspired Song Lyrics
Amanda Bynes
"Give a f--k, it's all part of my grand design / To get Amanda Bynes to come and f--king blow me like a dandelion."
Miley Cyrus
"You might wanna head for the fire exits / I'm coming through like a wrecking ball / You would swear I think highly of Miley / And I respect her, the way I backhand her."
Aaron Hernandez
"I'm what you get if Aaron Hernandez rhymed / So stand aside unless you plan to find out how handy I am with a branding iron."
Hillary Clinton
"But Hillary, I promise to wipe my server clean if you face subpoenas."
READ MORE: 15 Albums Turning 15 In 2015
Alyssa Milano
"Oh yeah, and me and Alyssa Milano hump / We do."
Rita Ora
"Adidas and Diadoras but I need at least three to four of those Rita Oras / In a four seater Taurus but tell them my face is the best seat in the house."
Anthony Weiner
"Got a name that speaks for itself like Anthony Weiner."
Byron Leftwich
"Be advised/due to this mental aggression / We advise you to back up, like Byron Leftwich."
Cindy Crawford
"And I give a fuck about sales, and fuck pop, I don't even like refreshments / Cindy Crawford tryna fend me off with a bendy straw."
Azealia Banks
"Oh and Azealia Banks just wanna tell you thanks / Now I got trailer skanks sending me ballpark franks in the mail as pranks / And hot pockets, thanks a lot."
READ MORE: 9 Lessons I Learned From Azealia Banks
Read the full freestyle lyrics here. Listen to Eminem's rap below.
Read Senior Entertainment Editor Kathy Zerbib here. Follow her on Twitter here.