Arts+Culture
World Premiere Of BalletNow Series Thrills L.A. Audiences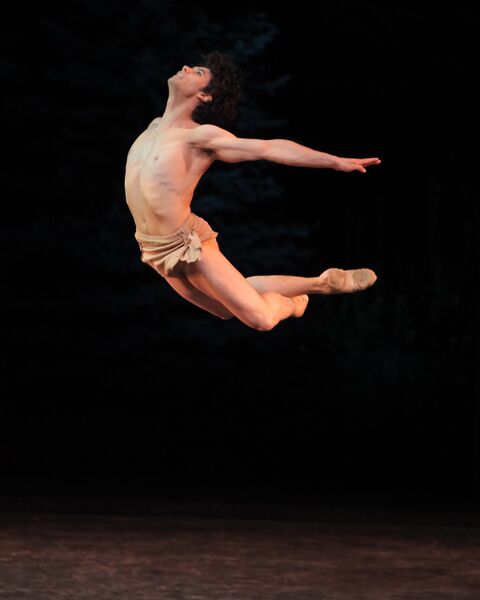 When was the last time the haunting sounds of Johnny Cash, floor-to-ceiling black and white film shorts and stunning classical ballet unfolded in front of you live onstage in one show?
For three days only, Los Angeles audiences were treated to BalletNow—an acclaimed, innovative program that reimagines the possibilities of ballet as a hybrid form of art—at The Music Center's Dorothy Chandler Pavilion this past weekend. It is the brainchild of beloved American Ballet Theatre principal dancers Roberto Bolle and Herman Cornejo, who served as artistic directors of the show and appeared on stage in several of the solos and pas de deux.
READ MORE: Spencer Liff Combines Choreography & ASL In Spring Awakening At The Wallis
Together, they curated an ensemble of 18 major dancers from 12 countries to create an original dance series commissioned specifically for Glorya Kaufman Presents Dance at The Music Center, with three distinctive performances that celebrate the extraordinary artistry and collaborative genius that unfolds when the top principal dancers from around the world stretch—literally—across continents to work together. Friday night featured stars from Europe (brought together by Bolle), Saturday night Latin American stars (brought together by Cornejo), and the Sunday afternoon performance combined the two.
READ MORE: Boris Eifman's 'Rodin' is a Blend of Muse and Medium
The result was exquisite. Every single extension, each jump, and every lift or fouette turn sequence was pure perfection; or, at least as close as any human will ever get to it. In fact, in a particularly clever piece, Bolle playfully demonstrated classic ballet positions and elements in the West Coast premiere of "Prototype," with mathematical measurements and specifications in the backdrop to evaluate how precise he was. And yes, he was as close as you can get to pure precision.
In a departure from the traditional two- or three-act full-length ballet program, BalletNow's lineup focused exclusively on a mix of contemporary solos like "Prototype," some of which were West Coast, U.S. and even world premieres. The dancers took on some of ballet's most beloved classical and neoclassical pas de deux from iconic choreographers, like the Tchaikovsky pas de deux (George Balanchine) and the Sleeping Beauty wedding pas de deux (Marius Petipa).
The sheer beauty of the principal ballerinas (anchored by Maria Kochetkova of the San Francisco Ballet and Lucia Lacarra of the Bayerisches Staatsballett in Munich) and the sounds of composers like Chopin, Erik Satie and Rachmaninov enveloped the audience in such richness that they didn't seem to miss the live orchestra. Crisp recordings served as a fine replacement, and in some ways, only heightened the visual experience further by acting as a backdrop along with video in some of the modern works.
"Passage," which first premiered at the Venice Film Festival in Italy in 2014, was one such work that incorporated a black-and-white video short and cutting-edge music by Fabrizio Ferri into its piece to add emotional effect. Bolle, who appeared in the film, arrived on stage in jeans and bare feet and proceeded to dance to Ferri's haunting composition. While many of the pas de deux celebrated flirtation and the delicacy or playfulness of love, "Passage" and the Johnny Cash piece, "Affi," danced by Marijn Rademaker of the Dutch National Ballet, were decidedly more solemn, reflecting the madness and pain that ensues when a loved one leaves or dies.
"Affi" in 2005:
The standouts were "Three Preludes" (Lucia Lacarra and Marlon Dino) and "Borderlands" (Maria Kochetkova and Henry Sidford), each featuring modern, minimalist costumes and choreography from two of the world's most creative people who -- fittingly -- help make ballet matter "now."
"Preludes" featured choreography from acclaimed artistic director Ben Stevenson, in which the dancers used a ballet barre on center stage to playfully dance through, away from, and eventually with one another to the piano sounds of Rachmaninov. "Borderlands" featured choreography by British artistic director Wayne McGregor and was pure elegance personified.
On a hot summer night with so many wonderful options for things to do in Los Angeles, all of the theater seats were full, and the energy was incredible throughout the performance. Nearly every dancer had to take multiple bows after each piece. And when the entire ensemble returned to the stage for final bows, they were given a long and enthusiastic standing ovation from the entire house: a well-deserved one. Who says Los Angeles doesn't love dance?
Glorya Kaufman Presents Dance at the Music Center continues its innovative programming this summer with "Moves After Dark," a series that uses alternative spaces to present four Los Angeles-based dance companies using architecture as its stage. For more info, click here.
Reach Contributor Kristin Marguerite Doidge here and follow her on Twitter here.