Theater and Dance
Spencer Liff Combines Choreography & ASL In Spring Awakening At The Wallis
When Deaf West Theater combined American Sign Language (ASL) with spoken English and song in its fall 2014 production of Duncan Sheik's pop-rock Broadway musical Spring Awakening, it sent vibrations through the LA and national theater scene. The Los Angeles Times theater critic noted the rendition's ability to induce "rippling goosebumps" in the viewer and American Theater ran an in-depth feature covering Deaf West's pioneering collaboration between director Michael Arden, Deaf West artistic director David Kurs and a blended cast of hearing and deaf actors.
The show's choreographer, Spencer Liff, is responsible for keeping this mixture in motion.
Known for his choreography work on "So You Think You Can Dance" (for which he received an Emmy nomination) and "Hedwig and the Angry Inch" with Neil Patrick Harris, as well as featured dance roles in Equus, Cry-Baby, and Big the Musical, Liff worked with ASL masters to create a unique synthesis of dance and signage first at Inner-City Arts Rosenthal Theatre and now at The Wallis for this second LA-based run of Spring Awakening.
Neon Tommy caught up with Liff between rehearsals and the opening night of previews to find out how this celebrity choreographer created musical dances in American Sign Language.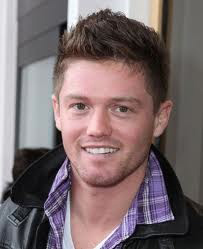 Neon Tommy: How did ASL influence your choreography?
Spencer Liff: My roadmap was the ASL. We have an amazing team of ASL masters that we have worked with for two years to create the most beautiful looking and also most understandable interpretation of these lyrics and that's including making sure that [there] are the right amount of signs to fill the music and that they rhythmically go well with the beats and the rhythm of the song. Once we have that then I can extend throughout the rest of the body. Our layer that our production has added on to this is certainly the layer of communication - the need to communicate and the need to express yourself. What's amazing is that dance, as well as ASL, is expressing yourself through movement.
NT: Did you have any familiarity with ASL before this project or did you learn?
SL: Other than a semester in high school where I took ASL as a foreign language I hadn't. You learn a language fastest when you are completely immersed in it. All day long throughout our rehearsal process I am communicating with both hearing and deaf actors. My wonderful associate on the show, [Alexandria Wailes], is deaf, so for us to be able to communicate, I had to learn how to speak to her and sign to her.
NT: Did your dance background help?
SL: I think that sign language is dancing. My mind wraps around it as it would choreography because it is putting moves and gestures to certain words and, in our case, to songs. So I think I was able to pick it up faster than most people because my brain was trained to do that already.
NT: You mentioned that your associate choreographer is deaf. How were you able to work with and communicate with her on choreography?
SL: Alexandria has been around in Deaf West and done many shows. She also works in dance companies that are not deaf companies. She's extremely good at reading lips, but what's nice about working with her is that I've been trying to watch the show through not only hearing eyes but also deaf eyes. To have someone's perspective to say, 'This is not visually right for us, or I don't understand the meaning of this,' sort of helped me to watch the show in terms of our two main audiences - deaf and hearing. But in terms of how we work together - that's been incredibly easy and seamless. Deaf West originally put her forward to work on this with me. We met and we instantly hit it off.
CC: As a choreographer, how did you create an environment where hearing and deaf actors could dance and move together?
SL: There's always a team of interpreters around us, trying to get everyone focused between looking at the interpreter who's able to see what I'm asking them [to do], and looking back and seeing what is being demonstrated, and then looking back to have it explained again. Where the cast even stands on stage, you have to consider. You have to carefully place hearing actors around at important visual points so that they can keep everybody in time. We also utilize a lot of cue lights in the show, which are perfectly timed. There are hundreds of those that the audience is not supposed to see or be aware of, so that it always looks magical. But it is a big part of what we spend our time in our rehearsal process creating.
NT: What did you learn from this particular project and rehearsal process?
SL: A good amount of patience. In the rehearsal process, I can't just sit in a chair and say what I want [the actors] to do. On "So You Think You Can Dance" I work with the best dancers that we have in the country and you can just bark things at them and they can do any turn and leapy thing that you would ever want. This was another level of communicating and keeping patience, knowing that it's not going to be perfect right away and that you just have to rehearse and practice over and over again.
A lot of other jobs you work on for two days and then you move on. This has become part of my life in the last couple of years and it's a part of my heart now. I've learned a lot about respect and differences in cultures and communication through this process.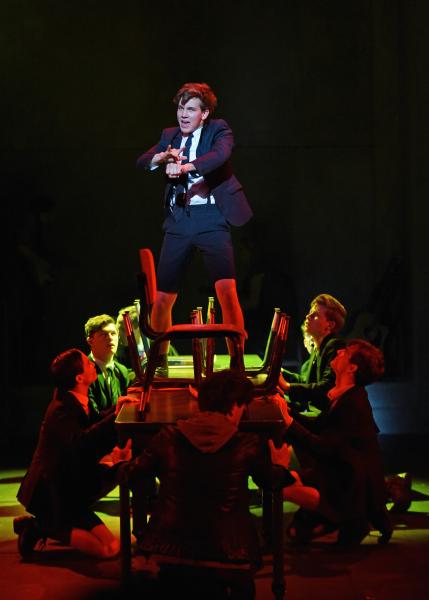 NT: In ASL there are multiple ways to sign the same words. How did you choose and select the signs that would have the best interpretation?
SL: We had very patient ASL masters who wanted to make sure that everything was communicated correctly. But they also wanted to make sure that [the signing was] working hand in hand with the choreography that we needed to make [the dances] look very beautiful and very musical. We also wanted there to be a big difference between what it looked like when the actors were signing scene work and dialogue and when they were signing songs.
You couldn't actually just do a word for word translation into ASL, nor does ASL really work like that. The structure of an ASL sentence is different than the structure of an English sentence.
So we'd look at what that sentence was actually saying and then the [ASL masters] would supply several versions of it. Some were just too many signs. They would never fit into the music. And when it came down to two or three options we would try them all at some point. Then it was really like, 'What is the biggest and most beautiful?' Also I would then weigh in on what a hearing person looking at that sign would feel, because sometimes [the signs] look very much like what they are. When you sign 'wind,' or when you sign 'pain' - that's very much identifiable for the hearing eye, so I sort of wanted to put in as many of those as possible.
NT: Speaking of identifiable moments, Spring Awakening is known for its graphic and controversial portrayal of sex on stage. How did you address those issues of sexual representation and also sexuality within the choreography?
SL: The whole theme of the show is growing up and coming into your body. For example with something like 'Touch Me,' I was able to take those signs and actually use two different bodies to make one sign. I've been able to fuse the sensuality of what it's like touching another person. Exploring your body is certainly at the core of it. I think that just sort of comes naturally because our cast is young and in their prime, so that energy is instilled in all of their movement. They're so free when they're on stage and they have no walls to break down. The way that they emote is so pure. It's just a beautiful thing.
NT: What would you say is your favorite dance that you've choreographed for Spring Awakening? And why is it memorable to you?
SL: There are some things that are very simple that I love. There are moments when the cast [has] to really watch each other and breath together and become a company. There's a beautiful scene where the whole cast becomes this big giant tree on stage. And all they are doing is breathing together and morphing around their bodies and that, in its simplicity, is so beautiful to watch, because they don't need to hear music or have dance training. It fits together like a beautiful puzzle.
Spring Awakening has been in previews since May 21 and officially opens May 28 at The Wallis Annenberg Center for the Performing Arts in Beverly Hills (9390 N. Santa Monica Blvd.). Tickets are $29 - $99. For more information, please visit www.thewallis.org
Contact Contributor Christina Campodonico here.
For more Theater and Dance coverage, click here.