Music
Summer Artists You Ought To Know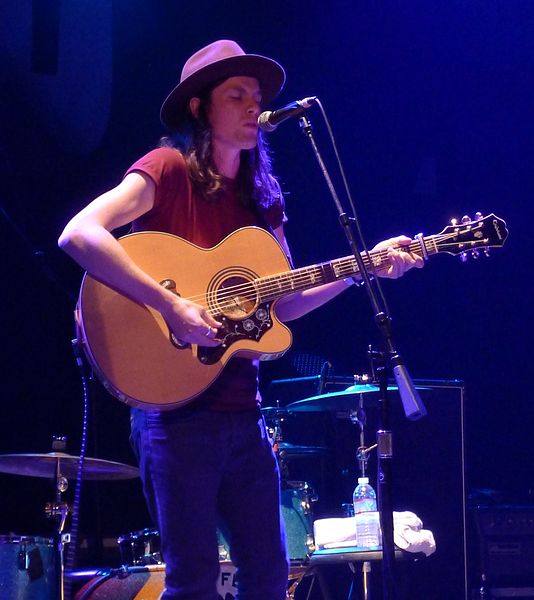 And so, the dog days of summer are upon us.
A soulless sultry singer once said, "Summertime is nice and hot and my life is sweet like vanilla is." While we know most of us are certainly not in the mood for vanilla, we could go for some music to satisfy our cravings.
Here are some up-and-coming artists you should listen to this summer and most importantly—why:
James Bay
Yes, this may appear to just be another crooning, handsome British bloke heavily marketed to win the hearts (and wallets) of women across the globe, but this is only half true. The singer-songwriter is actually extremely talented and has a voice that sounds like a young Bruce Springsteen with looks of a clean Johnny Depp (this is where most middle-aged women faint).
His debut album, "Chaos And The Calm," has a song for everyone—"Need the Sun To Break" for those who need that one person in his or her life; "Incomplete" for when you're over the games; "Best Fake Smile" for when you realize what really makes you happy. Essentially, there is a song for every emotion you've probably ever had.
Bay is the bae.
Tracks You Should Listen To: "Hold Back The River," "When We Were On Fire," "If You Ever Want To Be In Love"
READ MORE: 11 Candidates For Song Of The Summer
LANY
Yes! Finally, a mixture of synth 80s-inspired pop that doesn't make us want to slam our heads repeatedly against a wall. "4EVER!" is the most addicting thing you can purchase this summer besides the first season of "Love & Hip Hop: Atlanta." After releasing a debut EP, "I Loved You," LANY has embarked on a tour this summer. Be sure to catch them and shake your own "lany" around the dancefloor.
Tracks You Should Listen To: "Bad, Bad, Bad," "ILYSB," "4EVER!"
Kodaline
Some of my favorite Irish lads are back…and more anguished than ever. Lucky for us, their trials for love create magical music. For example, take the hauntingly optimistic "Everything Works Out In The End." The mesmerizing chorus takes us to surreal places of mysticism.
Another outstanding track, "The One," is heartbreakingly perfect as he describes what it feels like to find the always-elusive "one." With the lyrics "You make my heart feel like it's summer when the rain is pouring down," we're pretty sure you're "The One," Kodaline. To top it off, the music video (see below) is so adorable, it'll have you watching Hugh Grant rom-coms all day long. Pack up your Guinness and drive down PCH listening to their new album, "Coming Up For Air."
Tracks You Should Listen To: "Honest," "Better," "Way Back When" (An oldie, but always goodie)
The Weeknd
Okay, so the rest of America may be on my bandwagon with this one because you can't turn the radio on without hearing "Earned It," "Often," etc. However, his new song, "Can't Feel My Face" is addicting. There's this undeniable Michael Jackson essence about it, from the beat to the voice. Personally, we can't wait until the rest of his album is released this year. Until then, we're highlighting the sultry rapper's current hits.
Tracks You Should Listen To: "Often," "Can't Feel My Face," "What You Need"
Ryn Weaver
Ms. Weaver has had us snapping to "OctaHate" for over a year. Thankfully, Anna Kendrick's body double has released an album to satisfy our summer craving for watermelon and new music. Her debut album, "The Fool," showcases her magnificent voice and upbeat, pop-savvy tunes. She's got the electronic infusion, soul rhythms and alternative feel.
Tracks You Should Listen To: "The Fool," "Pierre," "Here Is Home"
Halsey
Sounding like a young Ellie Goulding (without all of that production she suddenly loves), Halsey just released her EP, "Room 93," this year. Since being an electro-pop sensation is such a fad right now, this chick fits perfectly into the mix. If you want to know more about the singer, her bio is this: "I am Halsey. I will never be anything but honest. I write songs about sex and being sad." We appreciate that this is one artist who gets straight to the point.
Tracks You Should Listen To: "Ghost," "Hold Me Down"
Vérité
Besides having a super unique name, Vérité also has very fun pop songs that are just as original. The New York singer released her EP, "Sentiment," this past week and we can't help but jam to every single track. Take her track "Wasteland," which gives us the line: "I want a heart unbreakable so I can feel it all." It's pure magic. From the regretful single "Sediment" to the rock-infused "Colors," Vérité is giving us all the feels with her rather brief EP.
Tracks To Listen To: "Sentiment," "Wasteland," "Colors"
Odessa
Just when we thought perfection only came in the form of European soccer players, Odessa proves us wrong. Her fresh, pure voice is matched with beautifully sincere lyrics and peaceful folk melodies. Just simply try to listen to "I Will Be There" and not cry/shake your hips to the line: "If you every need someone to simply adore you/ I will be there standing by your side." We enjoy the simple and articulate composure of Odessa's music.
Tracks To Listen To: "I Will Be There," "My Match," "Hummed Low"
Reach Music Editor Jillian Morabito here.