Music
A Love Song For Every State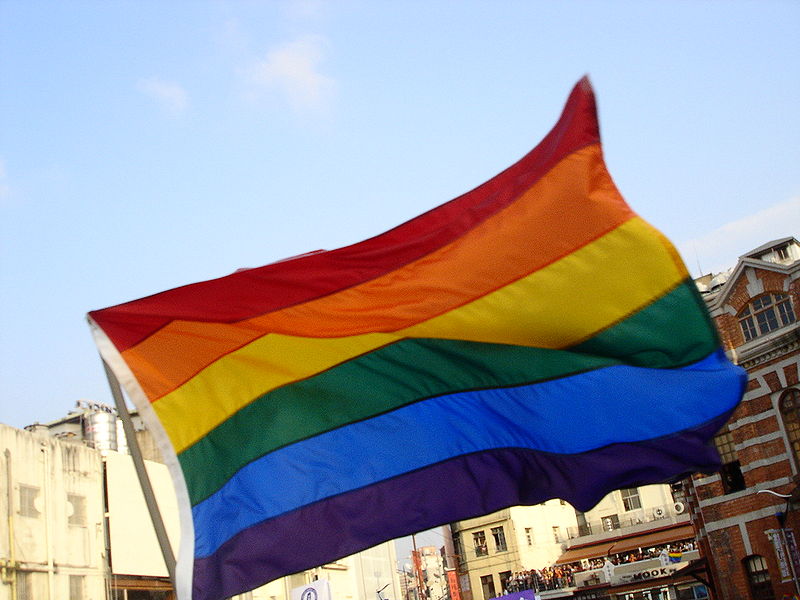 On Friday, the Supreme Court of the United States of America made one of the largest landmark decisions in the nation's 239-year history. Every person is allowed to marry the person they love, regardless of sexual orientation.
Although it will continue to baffle generations to come as to why it took the country this long to essentially legalize love, there is all the more reason to celebrate.
So join us as we lend every state in this great nation a love song. Whether you want it to be your first dance at your wedding or just, perhaps, to listen to with that special someone, find your state and enjoy. It doesn't matter if you're gay, straight, bi, etc., today we celebrate love in every form.
So turn down that Sam Smith and turn up that Beyoncé, because it's a great time to spend with those you love.
Alabama – "Hallelujah" by Jeff Buckley because the state has struggled with human rights since the beginning, and this is one small victory. Also, if this doesn't make you cry, sensitivity training is needed.
READ MORE: Same-Sex Marriage Legalized Nationwide
Alaska – "Love On Top" by Beyoncé because our cold northern state needs a little spark once in a while.
Arizona – "Underneath Your Clothes" by Shakira because we love the raw emotion of the singer as she describes love beyond the surface of exterior appearances. Also, there is need for little-to-no clothing in the sweltering heat that is Arizona.
Arkansas – "You're Still The One" by Shania Twain because this song has been played at every wedding and prom south of the Mason-Dixon line.
California – "Sea of Love" by Cat Power because the Golden State has hundreds of miles of coastline, yet it is best enjoyed with someone you love.
Colorado – "I Will Be There" by Odessa because this song is about the most important part of love—unconditional support. Whether it is just calling to say hello or driving to their house in the middle of the night, this is the clearest form of love.
Connecticut – "Grow Old With Me" by Tom Odell because who doesn't dream of growing old with someone you love in a colonial house with a white picket fence in this great state? Oh, only me? Okay.
Delaware – "The One" by Kodaline because now every American citizen can recognize marriage to his or her own "one." Oh, and this was the first state.
Florida – "U Can't Touch This" by MC Hammer because, let's face it, Florida would.
Georgia – "Let's Stay Together" by Al Green because I had to give the ultimate soul song to this fine southern state. There's also a good chance you're alive today because of this song. I'm going to let you think about that for a second.
Hawaii – "What A Wonderful World" by Israel Kamakawiwo'ole because no matter how many times we hear this, we will 1) never be able to pronounce Israel's last name without offense and 2) comprehend how this lyrically brilliant song is made so much more beautiful with a ukulele.
Idaho – "All I Want Is You" by U2 because this song hauntingly details one man's conscious. It's also rather sad as it reminds us of the endless fields of the state and the LGBT movie "My Own Private Idaho."
Illinois – "Couldn't Love You More" by John Martyn because though here lies the City of Brotherly Love, let's hope this universal love can surpass it.
Indiana – "The Way You Look Tonight" by Frank Sinatra because who doesn't get a glow just thinking about dancing to this track with that special someone. It's the perfect first dance/date/retirement home song because it is timelessly perfect.
Iowa – "This Will Be (An Everlasting Love) by Natalie Cole because we secretly always wanted to dance to this with our family on a cruise ship after seeing "Parent Trap." This has nothing at all to do with Iowa; we just think they need a little bit of fun.
Kansas – "God Gave Me You" by Blake Shelton because this song will help you understand the ones that didn't work so as to appreciate the one that does. Most importantly, to know that there is a plan for all of us that involves love.
READ MORE: Residents In California's Least Gay-Friendly County Respond To SCOTUS Ruling
Kentucky – "I'll Be" by Edwin McCain because somewhere in a K-Mart in Kentucky, they are playing this song…and we love it.
Louisiana – "La Vie En Rose" by Louis Armstrong because this is as close as we can get to France (holler King Lou XIV) and because we fall in love with the sheer croon of Armstrong's voice. Sing it, boy.
Maine – "The Promise" by Tracy Chapman because this is perhaps the best love song ever written. However, it is a bit sad. The lyrics detail a story of loss, unparalleled adoration and the promise that she will be waiting for her love to return one day. Until then, she is saving a place in her heart. Pass the tissues.
Maryland – "Marry Me" by Train because this could not be more applicable. The only thing about having this as your first dance song is…well…it's by Train. Just get a wedding singer to cover it and we good.
Massachusetts – "You Are The Best Thing" by Ray LaMontagne because his soothing voice and folk soul make you want to grab your special someone and dance all night long.
Michigan – "Your Song" by Elton John because it should be mandatory that every couple dances to this at least once a year. Okay, at least once because everyone should know how wonderful life is now that you're in this world.
Minnesota - "Tell Her You Love Her" by Echosmith because perhaps during this time, you have feelings for someone and haven't said anything. Well, this is the perfect time in America to celebrate love so do it now. Oh, and this is also a perfect song to listen to by one of the many lakes.
Mississippi – "At Last" by Etta James because this track has never been more relevant when we consider how long the LGBT community has been fighting simply to love someone.
Missouri – "Heaven" by Bryan Adams because this has been a wedding anthem and will continue to be for years to come.
Montana – "We Found Each Other In The Dark" by City and Colour because there is something so tender and pure about the essence of admiration in this song.
Nebraska – "The Way You Make Me Feel" by Michael Jackson because everyone should get the can't-stop-smiling, "butterflies" feeling with that special someone. If you don't, start looking for a new boo. You might be able to do this at one of the state's many corn festivals.
Nevada – "Bound 2" by Kanye West because the rather prolific music video reminds us of James Franco, deserts of the Wild West and that everyone is bound 2 fall in love eventually (even if he/she doesn't remember where they first met).
New Hampshire – "4EVER!" by LANY because whether you're in love with someone of the same sex or opposite, this new song will make you boogie.
New Jersey – "If I Should Fall Behind" by Bruce Springsteen because you have to list a love song by the Boss for the Garden State. Oh, there's also the fact that it's a track about loving someone for better or worse, so that's adorable as well.
New Mexico – "I Shall Believe" by Sheryl Crow because this song is erry'thang. It is believing in the two of you, despite all of the ups and downs. This track was used as Max and Liz's song in "Roswell" and we're still obsessed with it a decade later.
New York – "XO" by Beyoncé because we've secretly always wanted to dance along to this at Coney Island with a boo by our side.
North Carolina – "Unchained Melody" by the Righteous Brothers because this is most likely the essential love song. Thus, it must go along with the essential romance writer, Nicholas Sparks', great state. It also kind of makes us want to marathon "Ghost" and "The Notebook." Pass the popcorn and, perhaps, Ryan Gosling.
North Dakota – "Somebody Loves You" by Betty Who because sometimes we do forget this state, but we always love it. This song is perfect for those first feelings of falling in love—so get up and dance.
Ohio – "True Colors" by Cyndi Lauper because it takes the utmost courage and strength for a person to expose his or her vulnerable "colors" or soul. And yes, it is beautiful like a rainbow.
Oklahoma – "Then" by Brad Paisley because this song is positively perfect as Paisley details how he thinks he loves this person when he first meets her. However, as the song progresses, he realizes he loves this woman more each and every day. Each time, he utters, "And I thought I loved you then." ~swoon~
Oregon – "That's What's Up" by Edward Sharpe & The Magnetic Zeros because there is no better love song that reminds us of the PNW. Oh, and don't get us started with the music video. Nothing says it better than the lyrics: "Love is a shelter/Love is a cause/Love goes on forever/Yeah, Love will leads us all/Love! It is our honor/Love! It is our all/Love goes on forever/Yeah, Love it is our home." Children, adults, the elderly—love is for all. That's what's up.
Pennsylvania – "First Day of My Life" by Bright Eyes because there is something so cute about this quirky song which follows a boy that "thought he was blind" until he met this girl. The rest from then on, you can say, is history.
Rhode Island – "Somebody Like You" by Keith Urban because this feel-good anthem makes us want to drive down some cutesy, New England streets on the back of a motorcycle with a handsome fellow. Is this inspired by "How to Lose a Guy in 10 Days"? Absolutely. But after all, rom-coms have given us the highest notion of romance.
South Carolina – "Make You Feel My Love" by Adele because this state has a lot of healing to do right now and it begins with spreading unconditional love.
South Dakota – "I Will Always Love You" by Whitney Houston because this is probably the epitome of love—learning to let someone go for the better. You can feel the sheer emotion in her voice (no offense, Dolly) and understand that though this is a bittersweet ending, there is better in store for the both of you. There are also billions of other people on this planet, so best of luck.
Tennessee – "(I Can't Help) Falling in Love with You" by Elvis Presley because sometimes every time, the heart wants what the heart wants.
Texas – "Amazed" by Lonestar because there is no better song for the state that has plenty of "big" love. Speaking of which, can we get that Hilary Duff shirt finally?!
Utah – "You Got the Love" by Florence + the Machine because there will be trials in life, but having one (or, for some, multiple) to count on makes it far easier.
Vermont – "Make It To Me" by Sam Smith because even if you don't have a significant other right now, know that he or she is out there. Keep eyes open, but until then, live your life and celebrate love with friends and family.
Virginia – "Easy to Love" by Ivan & Alyosha because like the state, love should be effortlessly perfect.
Washington – "Only Love" by Ben Howard because this is so angsty but we kinda sorta are obsessed with it. Cuddle up with your organic herbal tea and cute lover in a thrift store sweater and relax.
West Virginia – "I Wanna Dance With Somebody (Who Loves Me)" by Whitney Houston because there isn't a single person who has resisted shaking their hips (and possibly belting out the lyrics) to this song. Now that everyone can legally dance to the court, let it play on speakers from sea to shining sea.
Wisconsin – "Everything" by Michael Bublé because we saved the cheesiest song for the cheesiest state. However, this one makes every heart melt with, "You're every line, you're every word, you're everything." Absolutely.
Wyoming – "When You Love Someone" by Bryan Adams because this song makes us want to lie in a field, gazing at the stars, while playing this song via one of our many smartphone applications. Oh, what a time to be alive.
Listen to our complete playlist on Spotify here.
Reach Music Editor Jillian Morabito here.