Los Angeles
LIVE STREAM: Watch L.A. Mayor Eric Garcetti Sign Minimum Wage Increase Into Law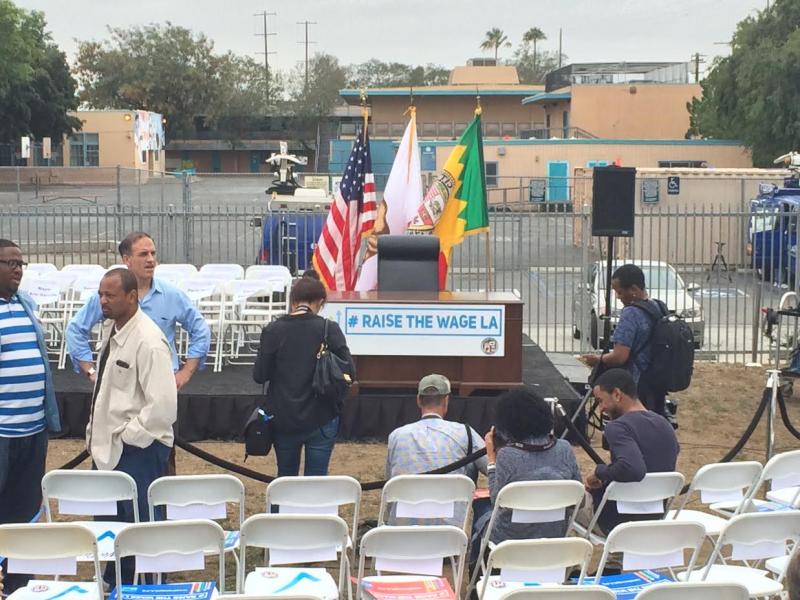 UPDATE (4:55 p.m.)
Several other speakers, ranging from members of the City Council to minumum wage workers, took their turns at the podium after Mayor Eric Garcetti. The speeches not only marked the progress the second-largest city in the United States has made, but the partnership between labor and some in the business community.
Laphonza Butler, president of the union that represents caregivers and nursing home employees, said, "Welcome to the beginning of the revolution."
Jim Cahill, of Solarcity and one of the business organizations in the city, also praised the ordinance.
Council President Herb Wesson, Jr. - one of the seven members of the Council in attendance, but only one of two to speak - said, "We did it [approved a minimum wage increase] because it was the right thing to do."
He also said, "We have a wage theft component that's second to none," but that does not seem to be good enough for the some of the restaurant workers in the audience.
____________________________________________________________
Today, Los Angeles mayor Eric Garcetti is signing his much-debated, much-celebrated minimum wage increase into law. Joined by members of the city council, Garcetti will sign the ordinance at Martin Luther King Jr. Park at 2 p.m.
Watch a live stream of the ceremony here.
The ordinance will raise the minimum wage in L.A. to $15 an hour by 2020.
READ MORE: A City Divided: Will The Minimum Wage Hike Make or Break L.A.?
Contact Civic Center Bureau Chief Max Schwartz here.