Film and TV
Film Review: 'Ted 2'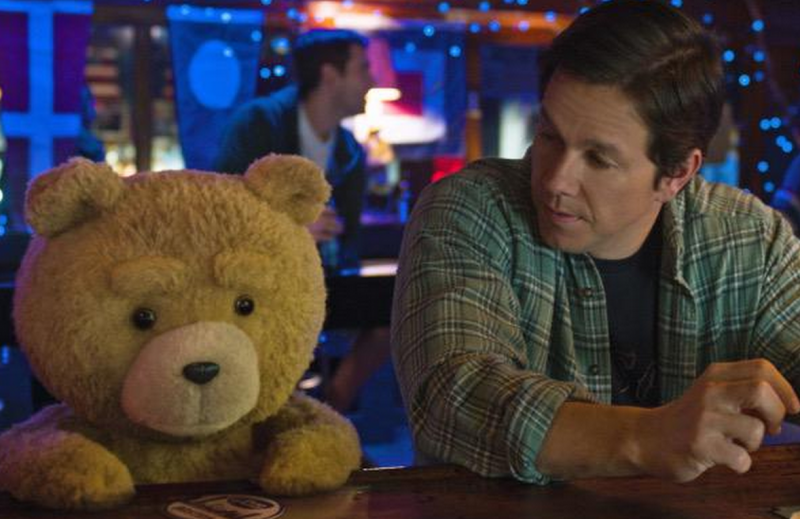 Seth MacFarlane is back with his biggest, most extravagant and poignant movie to date-- the second installment in his extremely popular "Ted" movie franchise. "
Ted 2
" is nothing short of an ambitious spectacle. With sensational musical numbers, action-packed scenes, and sentimental moments, this sequel may have out done the original.
Even with the non-stop laughter and elaborate sequences, the most fascinating aspect of this story is Ted's wish to legalize his 'personhood' in the eyes of the law. The timing of the film's premiere landing on the same day as the Supreme Court's Ruling to make same-sex marriage legal nationwide only emphasizes its theme more.
This premise, both inspirational and timeless, is executed beautifully throughout the film. When Ted (Seth MacFarlane) and his wife, Tami-Lynn (Jessica Barth), begin wanting to adopt a baby, Ted's request is denied on the basis that he is not considered a 'person' under the law. Soon, the government begins to take notice of his existence and starts taking away his job, bank account, and overall dignity, as they declare him 'property.'
John (Mark Wahlberg) and his best buddy head to court to prove Ted's personhood and soon meet the pot-loving and determined young lawyer, Sam (Amanda Seyfried). The three become a match made in heaven, as they work tirelessly together to prep for Ted's upcoming court case. Meanwhile, the Hasbro Company (Ted's creators) and Donny (Giovanni Ribisi) plot to use Ted for an evil scheme.
Filled with hijinks and ridiculous excursions, Ted's and John's friendship is one that's definitely worth following around for 2 hours. They make a mess wherever they go, and we couldn't be happier to join along.
Of all the stories to tell in "Ted 2," how did MacFarlane come up with this brilliant choice? It's interesting to speculate why a Civil Rights Allegory was the main focus of the film and even though we can't answer this on the writers' behalf, knowing that Seth MacFarlane is an avid Star Trek the Next Generation fan may give us a clue to the film's inspiration. I can't help but think the STNG episode titled "The Measure of a Man," in which Data must prove his sentience is worth that of a man with rights, could have sparked some ideas for this film. Regardless of where the film's influence came from, "Ted 2" (minus the present-day relevant pop-culture references) will be a story told for the ages.
The "Family Guy" super-fan, will notice some (very few) jokes and concepts have been already touched on in the show--notably the premise of a non-human character going to court and demanding civil rights. The Season 1 episode titled "Brian: Portrait of a Dog" (written by Gary Janetti) saw Brian Griffin treated like a second class citizen and appeal his civil rights case in court. Seth and his team seem to have a penchant for introducing inanimate objects/creatures that can't talk, treating them as human beings, and demanding they receive the dignity and respect they deserve. Instead of having their rights taken away, both Brian Griffin and Ted Clubber-Lang (once you watch the film, you'll understand) fight society's idea of who deserves the right to be a person.
The amount of random celebrity appearances and various film/cultural references were out of this world. Expect to see the likes of Tom Brady, Liam Neeson, and even Jay Leno show up throughout the film while watching a "BreakFast Club" tribute, "Lord of the Rings" jokes and a (subtle) "How to Marry a Millionaire" reference. That is just the tip of the iceberg, as naming the amount of celebrity guests and the tons of pop culture jokes would take up this entire article.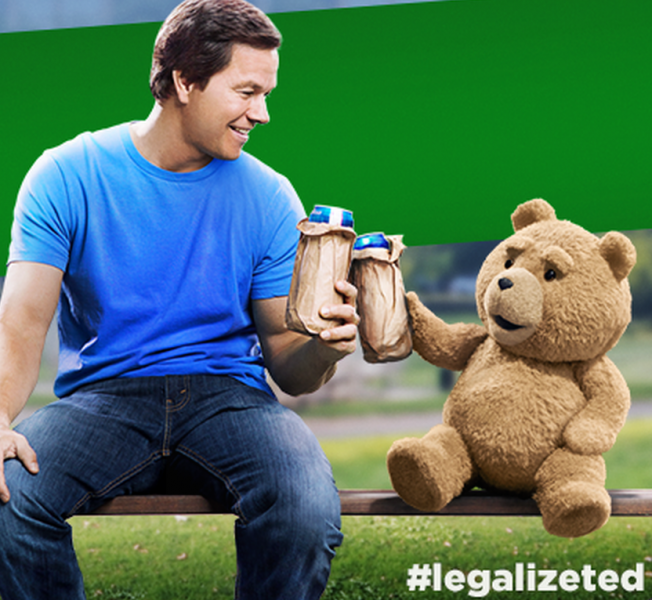 However, one celebrity whose missing presence I was worried would hinder the film was Mila Kunis. We left off last film with John and Lori's happy wedding and entered this one with a newly-single John during Ted and Tami-Lyn's ceremony. Though "Ted 2" started with John during his post-divorce depression, once Sam (Seyfried) joined the trio, their friendship became a perfect match; the budding romance was both believable and adorable. Through their love of weed and... their love of weed, the three bonded quite nicely and formed themselves a little dream team.
With a $85 million budget, the viewer will be treated to a variety of expensive locations and crazy action sequences (not to mention a dazzling opening number!) Though more episodic and frantic than the first movie, "Ted 2" is a writer's dream, as Seth, Alec Sulkin, and Wellesley Wild's crazy imaginations spared no expense. The only part of the movie I felt could have used a slight push would be its villain- Donny. In the last film, Donny managed to kidnap Ted and in this film tried to do the exact same thing. We love Giovanni, but did we really need the same character in the virtually same storyline? Though a bigger and scarier villain could have added more tension in the film, "Ted 2" needed all the time it could get to jam-pack the endless punchlines in 2 hours and adding a more intense second storyline would take away from all the hilarious bits that make this movie such a success.
If you thought "Ted 2" couldn't be any more polished, composer Walter Murphy's beautiful and versatile score adds an added richness to the movie, while Norah Jones' performance of "Mean ol Moon" is good enough to land another Oscar nomination.
Come for the laughs and stay for the sincerity in Ted 2, MacFarlane's best and bravest movie yet.
Reach Staff Reporter Sonia Gumuchian here. Follow her on Twitter here.