Film and TV
Film Review: 'Entourage'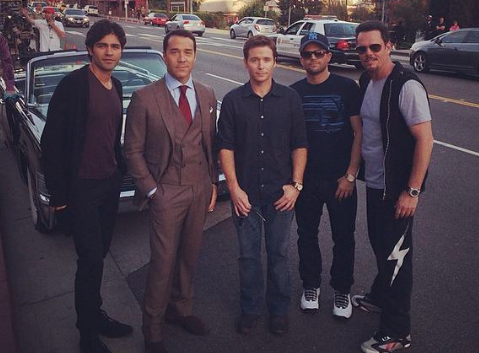 Whether you've seen the hit HBO show or not, "Entourage" on the big screen is like one long episode (
theme song included
). This means that fans of the show will love to see the cast back in action, but hate the fact that they're paying for it.
The film picks up where the show left off. Sloan (Emmanuelle Chriqui) and E (Kevin Connolly) are expecting a child, though they are still confused about their relationship. Vincent Chase (Adrian Grenier) wants to direct and star in his own movie with the help of his back-in-business agent Ari Gold (Jeremy Piven), who is now a studio head. Yes, Mr. Gold quit to save his marriage in the show, but what would "Entourage" be without quick, potty-mouthed Ari Gold?
The boys haven't changed. Johnny Drama (Kevin Dillon) is still struggling with his acting career, Turtle (Jerry Ferrara) is trying to get into a serious relationship, all with the usual nude women in between scenes.
"Entourage" gives fans what they would see in any episode: the challenges of being in Hollywood, as Vince, Johnny and the rest of the boys see good days and bad days that come with Vince's career. They still live in their big house and host parties and of course, Ari Gold is continuing therapy with his wife, trying to manage his anger. As for people who haven't seen the series, the film gives an introduction to the boys with interviews by Piers Morgan. To these people, the movie is just a bunch of guys from Queens facing Hollywood issues no one really cares about.
READ MORE: Ari Gold's Best Quotes In 'Entourage'
Vincent Chase is struggling with the film's budget to add special effects, but it's up to a wealthy studio man and his son to give additional funding (Billy Bob Thornton and Haley Joel Osment). Ari believes the film will be a success, but to us viewers, it looks awful, which makes us wonder why the rest of the film even goes on.
E is living it up with girls, which is surprising to the rest of the guys, and even to himself. Being the sensitive person he is, it backfires on him—the first time we see E having bigger issues than Johnny Drama.
With the extra time in the movie, we see more cameos, like Jessica Alba, Liam Neeson and E! News' Terrence Jenkins. As always, Ari Gold steals the show, but we can never forget his No. 1 pal (even if he doesn't admit it): Lloyd (Rex Lee), who is getting married and wants Ari to give him away.
The ending of the film actually gives closure to the characters, not leaving much options for a sequel. Whether the love for the show makes a Netflix comeback or not, you know that each episode/film will end with the boys standing together somewhere in Los Angeles, keeping the bond they've had for most of their lives.
Reach TV Editor Tanya Mardirossian here. Follow her on Twitter.