Film and TV
Ari Gold's Best Quotes In 'Entourage'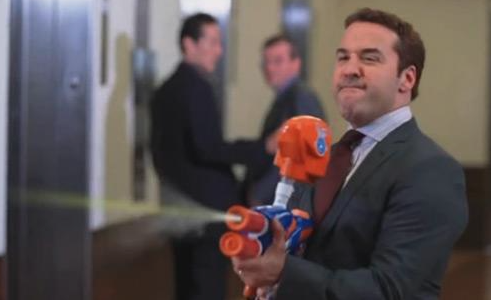 In honor of the "Entourage" movie coming out this summer, here's a reminder of character Ari Gold (
Jeremy Piven
). Ari is a dirty-mouthed go-getter, but No. 1 when it comes to being Vincent Chase's (
Adrian Grenier
) agent. Here are his very Ari Gold quotes throughout the series (and these are the milder ones).
1. I gotta know what you think so I can get you to think what I think." (Season 1, Episode 1)
2. "Call me Helen Keller because I'm a f****** miracle worker." (Season 1, Episode 5)
3. Answering the phone: "You got Gold." (Season 2, Episode 8)
4. After being fired: "I drove to work today in an $80,000 Mercedes and I'm going home in a prop car from 'Fast and Furious.'" (Season 2, Episode 13)
5. About the valley: "We're going to hell, so bring your sunblock." (Season 3, Episode 2)
READ MORE: 'Entourage' Movie Preview
6. To Vince about E (Kevin Connolly): "You know that your man has broken out of the Oompa-Loompa factory and is up to no good?" (Season 4, Episode 3)
7. "I parted the Red Sea for you, E, now don't piss on the sand." (Season 4, Episode 6)
8. To Vince: "This town loves a comeback, and since Britney f***** hers up, it's all you." (Season 5, Episode 2)
9. "A shattered world is what you get when you mess with Ari Gold." (Season 5, Episode 3)
10. To Lloyd (Rex Lee) "I mean, who could possibly replace the way that you picked up my dry cleaning? No one!…So, return to the king…" (Season 6, Episode 12)
Reach TV Editor Tanya Mardirossian here. Follow her on Twitter.