Film and TV
5 Things to Know Ahead of 'Pretty Little Liars' Season 6 Premiere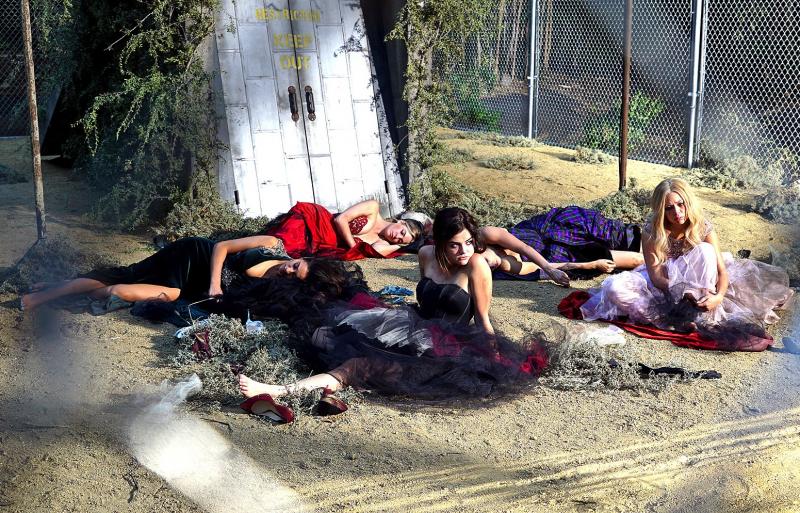 For five seasons, "Pretty Little Liars" has made our heads spin with all its many plot twists. One question would be answered just as soon as a 100 more new questions popped up.
Since ABC Family is promoting season 6 as the "Summer of Answers," we're expecting plenty of explanations. Beforehand, though, here's a look back at the explosive finale in March.
Mona Vanderwaal is alive and trapped in A's dollhouse.
Mona's death proved to be yet another plot twist and a pretty convincing one. We were led to believe Alison killed Mona to keep her identity as A secret. As it turns out, Mona (Janel Parrish) faked her own death, only to be captured by A and held captive for the past few months. As if that wasn't bad enough, she also had to pretend to be Ali whenever A monitored the dollhouse cameras.
The Liars are also trapped in the dollhouse.
Alison (Sasha Pieterse) is found guilty of murdering Mona after A framed her. The girls are subsequently arrested as accessories. As they rode together in a police van to another prison, A cyber-jacked them. They woke up in the dollhouse. The girls meet up with Mona and she does her best to fill them in whenever A's busy being A. Despite an attempt to escape at the end, the girls rushed out of the dollhouse only to realize they were fenced in. The camera zoomed out and revealed they're also stuck in the middle of a huge forest. The sixth season will open minutes after last season's finale, so expect to see the girls still trapped inside A's compound.
READ MORE: 30 Things You Probably Didn't Know About 'PLL'
Team Boyfriends finally banded together.
After news broke that the girls were missing, Toby, Caleb and Ezra did something they should have done years ago: They got more involved. The dream team, courtesy of hacker pro Caleb (Tyler Blackburn), discovered that A blocked the GPS in the van, preventing the police from locating it. As a good policeman would, Toby (Keegan Allen) shared the news with Detective Tanner (Roma Maffia) and she issued a warrant for Caleb's arrest. Tanner assumed Caleb was the one who hacked into the van's security system.
With a little coercing by Caleb's attorneys (Spencer's parents), Tanner agreed to let Caleb unblock the GPS to determine the van's location. Team Boyfriends led the police to Boo Boo's Ice Cream Factory, otherwise known as "the Campbell's farm." Campbell... as in Andrew Campbell (Brandon W. Jones), the geek-turned-hunk who kind of, sort of had a thing with Aria. Perhaps this is another ruse. Surely, revealing A's identity couldn't be this easy.
Tanner realized the girls were being targeted all along.
She and Toby found A's lair in the farm. The pair walked into a room full of televisions replaying scenes of the girls in the dollhouse. Tanner watched footage of the girls and, at long last, the truth hit her. The girls were not lying about being hunted down and they did not escape the van of their own accord. Still, this was a chilling moment. The girls are evidently in a forest far away from Campbell farm and there are no clues to find them.
A is named Charles.
Spencer discovered a group of alphabet blocks spelling out "Charles." But who is Charles? We're handed a bombshell clue when Spencer infiltrated Charles' secret room and discovered a home video of Alison's mom with her and two blonde twin boys outside of Campbell's farm. One of the boys is obviously Jason (Drew Van Acker), which leaves one mystery boy. Perhaps Jason has a twin. Perhaps the other toddler is Charles. Perhaps Charles is Andrew. Perhaps not.
Watch a sneak peek of the upcoming premiere here.
Season six premieres Tuesday, June 2 at 8 p.m. on ABC Family.
Reach Senior Entertainment Editor Kathy Zerbib here. Follow her on Twitter here.