Entertainment News
Is Posing Nude Or Topless Feminist?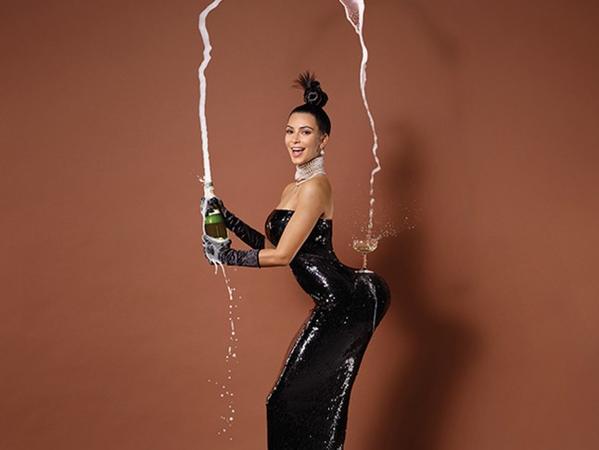 The idea of female celebrities posing nude or topless during magazine photoshoots isn't exactly new to anyone.
Kim Kardashian and Keira Knightley are just two of the latest celebrities to do so. And with all of the recent dialogue going on about feminism, especially in regards to the nude photo leak (unfortunately dubbed "The Fappening" by the interwebs), which targeted celebrities like Jennifer Lawrence, that happened earlier this year in August, many must be wondering whether these types of photoshoots actually help or hurt cause.
READ MORE: Is Jennifer Lawrence The Next Emma Watson?
Unfortunately, there is no clear-cut answer to this discussion, which is ultimately a case-by-case situation.
For example, Keira Knightley posed topless for Interview magazine's September issue, which contained images of what different photographers considered to be their "ideal woman," and only just recently revealed her decision to do so in an interview with The Times.
"I've had my body manipulated so many different times for so many different reasons, whether it's paparazzi photographers or for film posters," the British actress said. "That [shoot] was one of the ones where I said: 'Okay, I'm fine doing the topless shot so long as you don't make them any bigger or retouch.' Because it does feel important to say it really doesn't matter what shape you are."
Given these reasons and the theme of the particular issue that she was featured in, it's clear that the Knightley's photoshoot was definitely a move supporting feminism. By posing topless and making sure there would be no photo manipulation of any kind, the "Imitation Game" actress challenges society's notion of bigger breasts as more attractive and sexy: "I think women's bodies are a battleground and photography is partly to blame. Our society is so photographic now, it becomes more difficult to see all of those different varieties of shape."
Kim Kardashian's goal to "Break the Internet" via nude photoshoot for Paper magazine on the other hand? Not so much.
Yes, the reality TV star might have posed nude to "feel confident," which is all well and good, but the photos themselves don't exactly scream feminism for other women thanks to their being Photoshopped - as Kim Hastreiter, Paper's co-founder and editor, confirmed in an interview with Digiday.
READ MORE: Why Kim Kardashian's Naked Body Makes Sense
Also, consider the overall theme of the issue and photoshoot, which was breaking the Internet.
"This issue was actually our annual art issue and the fact that it would end up kind of a conceptual art piece slash commentary on virality, audience, and the power of social media, and the enormity of the superstars that own it really hit home for me," said Hastreiter. "We would collaborate with Internet superstars on the most viral ideas we could think of so every single story would have massive reach and audience that could be pushed out by everyone all on one day. And for the cover, who better than Kim Kardashian to break the Internet?"
... Which is basically just a flashy way of saying, "We want attention and we want it now!" (#SorryNotSorry)
There's a huge gray area when it comes to feminism and nude or topless photoshoots, especially in the post-Fappening world that we now live in, and there's unfortunately no definite answer to this issue.
If the celebrity is someone like Keira Knightley or fellow British actress Natalie Dormer - who's had plenty of nude scenes ("The Tudors," "Game of Thrones") and posed topless for GQ magazine in April - then, sure, the shoot's feminist.
(There is obviously something in the U.K.'s water supply...)
Neither of these actresses shy away from the discussion of gender (in)equality and the media's skewed representation of women, as is evident if you watch any of their interviews, especially in Dormer's case.
When it comes to someone like Kim Kardashian, however, the case for feminism (in a broader sense) is a little harder to make. Confidence is great - we all need more self-esteem - but, put together with the context of the Paper photoshoot, Kardashian's photos don't add anything to the discussion of feminism and gender equality.
They certainly don't change how women are portrayed in the media - if anything, the photos unfortunately reinforce the public's perception of the Kardashians as attention-seekers.
Reach Entertainment Producer Michelle Tiu here and follow her on Twitter.