Los Angeles
True Grassroots Efforts at Work Against Highland Park's Homelessness Problem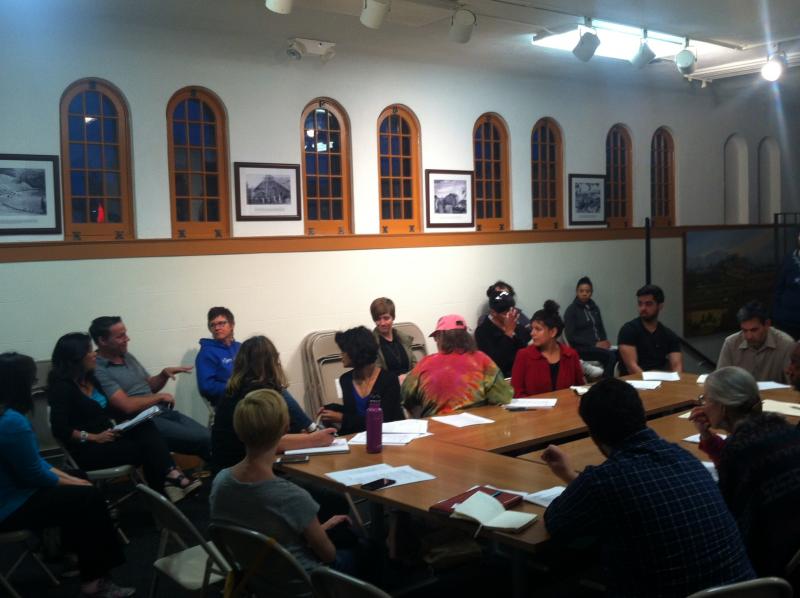 The evening after the Los Angeles Homeless Authority released a disappointingly high 2015 homeless count, a small but growing group gathered inside Eagle Rock City Hall to talk solutions about one of areas most affected by the 12 percent countywide spike in homelessness.
With 6,292 individuals accounted for in LAHSA's report, nearly a quarter of the homeless population lives in City Council District 14, which encompasses skid row and northeast neighborhoods like Highland Park, Eagle Rock and Boyle Heights among others. Of course, skid row is a huge reason that number is so high, but anyone who's driven along the Arroyo Seco recently knows that the homeless population in northeast L.A. has skyrocketed. And while most of the city's homeless services are centralized in skid row, the rest of the district is in need.
"We're the most affected area, but we're the most neglected," said Monica Alcaraz, president of the Historic Highland Park Neighborhood Council.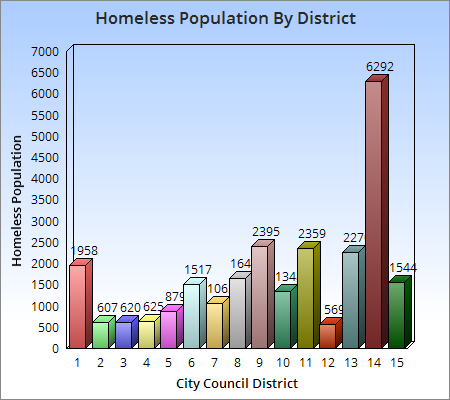 The group assembled this evening, the recently formed Northeast Los Angeles Homeless Coalition, is trying to change that. Made up of community leaders, local police and fire, and dedicated residents, the volunteer-run NELA Homeless Coalition is spearheading the effort to bring homeless services to the northeast neighborhoods.
"All of the services are concentrated on skid row," said Rebecca Prine, founder and director of Highland Park-based Recycled Resources for the Homeless and defacto leader of the NELA Homeless Coalition. "Until each community takes responsibility for its homeless population, skid row will never go away."
READ MORE: An Hour On Skid Row
She said skid row is a dumping ground for other communities' homeless because of the resources, but that the homeless of Highland Park grew up in the area and don't want to leave, even though they've lost their homes.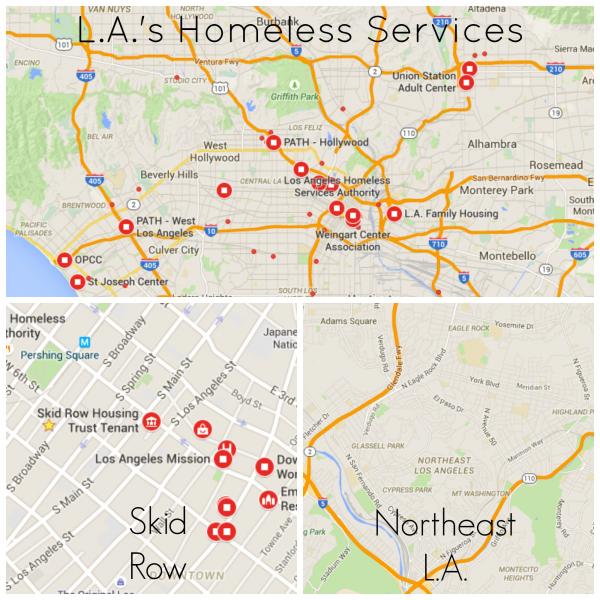 "To want to stay close to what you know makes total sense," said Alcaraz, adding that many of the people she's talked with don't feel safe in skid row shelters.
This group has largely been focused on surveying the northeast L.A. area, which generally encompasses Highland Park, Eagle Rock, Glassell Park, Cypress Park, Montecito Heights and Mt. Washington, and getting them matched with services. May 1st marked the end of a 100-day outreach campaign aiming to get 5 housed and an additional 20 matched with Section 8 vouchers, which subsidize housing for low-income people. Despite exceeding the voucher goal, the campaign failed to put a roof over anyone's head, which Prine said is largely due to the staffing struggles of a volunteer-run entity.
"Nobody can work during the week; we all get off [our day jobs] at five, and the housing authority closes at five," said Prine, who's a skid row-based psychiatric social worker for L.A. County by day. "What we need now is a staff and a site to get us linked up with the housing authority."
Prine is meeting with councilmembers Jose Huizar and Gil Cedillo to get endorsements, and hopefully a little seed money, for just that. A business plan she shared with the group called for around $360,000 to fund salaries for a modest staff as well as rent and maintenance on a Highland Park resource centers. Prine, who had never before written such a proposal, asked the group to help her fine-tune it before she beings it to County Supervisor Hilda Solis.
"The Board of Supervisors is where the real funding is going to come from," Prine predicted. The Board of Supervisors finances social services like this out of the general fund, which has an annual budget of around $20 million.
READ MORE: Increased Funding Could Alleviate Homelessness In L.A.
Highland Park neighborhood prosecutor Gabriella Taylor was at the coalition meeting, and advised Prine to get letters of recommendation from established entities she'd worked with to show legitimacy when seeking funding. Within a day, Prine secured such letters from Housing Works, Ascencia and The Center at Blessed Sacrament. Volunteers at the meeting split up assignments to attend neighborhood council meetings throughout the northeast area to get further endorsements for the project.
The goal is a daytime drop-in resource center where the homeless can come to eat, take a shower and get connected to housing and other services. The center would function on a housing-first model, working to get people housed rather than forcing medical or substance abuse treatment.
"The idea is they drop in for coffee, and maybe they stay for a meditation session, then if they stay for that, maybe they'll be able to talk to a case manager," Prine explained.
Volunteers brainstormed possible Highland Park locations during the meeting, knowing that they'll likely come up against resistance no matter where they try to put a center like this.
"Whether you're sympathetic to the homeless or you don't want to see them, the end goal is the same: Housing," Alcaraz reasoned, proudly noting that the Historic Highland Park Neighborhood Council has already endorsed the center, which will likely be in that area to make it accessible by Gold Line.
This move is a big step for an organization that has been functioning on an annual, donation-based budget of $5,000, but the room is buzzing with energy about the project, and Prine is optimistic.
"I think we're finally getting to the point where people are listening to us," she said.
Reach Editor-at-Large Sara Tiano here. Follow her on Twitter here.