Los Angeles
An Hour On Skid Row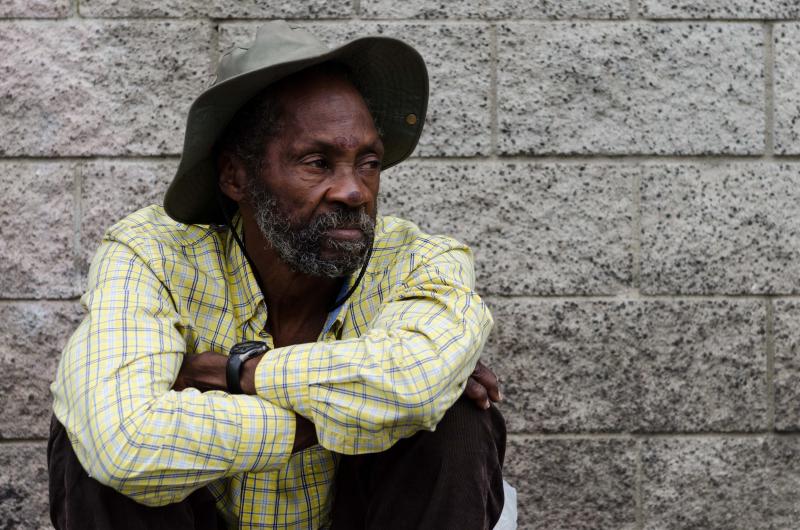 Skid Row.
Most people immediately think of poverty, despair, drugs and urban decay. I thought the same. And while it is true that those things exist in Skid Row, there are more stories to tell within the area's 50 city blocks, which occupy less than one square mile.
I was able to meet a few people who were willing to talk to me. One, only known as Tex, said that he used to play football at USC in the 70s.
When he heard about USC's loss against Washington State, he became extremely upset and cried out, blaming Lane Kiffin for the loss.
Tex is one of about 8,000 to 11,000 homeless people who call Skid Row home, according to the L.A. Chamber of Commerce.
READ MORE: "Downtown L.A.'s Economic Development Is A Mixed Bag"
Another Skid Row resident, Jimmy Griffith, claimed he was an actor and that I needed permission from his agent to take a photograph of him. After he said that, we both chuckled a little, and I breathed a sigh of relief in finding another friendly face.
He told me about a new reality TV show that he would star in about families that celebrate the death of loved ones and mourn the birth of new. Griffith said he chose to live a life of poverty and assured me he could live the luxurious life in Hollywood if he wanted to. Like Tex, he also claimed he played football. Except Griffith went one step further and said he was in the NFL for nine years.
After around 15 minutes, Griffith began packing his blanket away since he had to go to church. It was a Saturday though, so I asked him why he was leaving now. He laughed and told me he was going back home in Hollywood and that he needed a head start to get back in time. Before he left, we joked about working together in the future. Griffith wanted me to be his official photographer and help shoot promotional photos for his new show.
During our conversation, I felt like I had known Griffith for a long time. He was frank with me, and we talked about all sorts of things — from football and education to politics. As he walked down the sidewalk to the bus stop, I was a bit sad because I knew I would never see him again. It was like saying goodbye to an old friend.
Even though most of what Griffith told me was unverifiable, he did make some significant points. When we were joking about working together, he said, "I help you out and you help me out. Isn't that what we're supposed to do as people?" He told me that even though most of the homeless people in the area were "pretty bad," there are some genuinely nice people. It's the idea that one bad apple doesn't spoil the whole bunch.
However, perhaps the most important point that Griffith made is that the homeless are human and deserve to be treated as such. He decried the city's failure to provide for Skid Row and claimed that some of the more "brilliant" people in Skid Row could run L.A. better than the current officials.
While this claim is debatable, it does shed light on a problem: Why is there a massive homeless area a mere mile away from the center of the City of Angels?
This story is part of a Neon Tommy special on the revitalization of downtown Los Angeles. Click #reviveDTLA for more.
Reach Staff Reporter/Photographer Benjamin Dunn here.